Akumal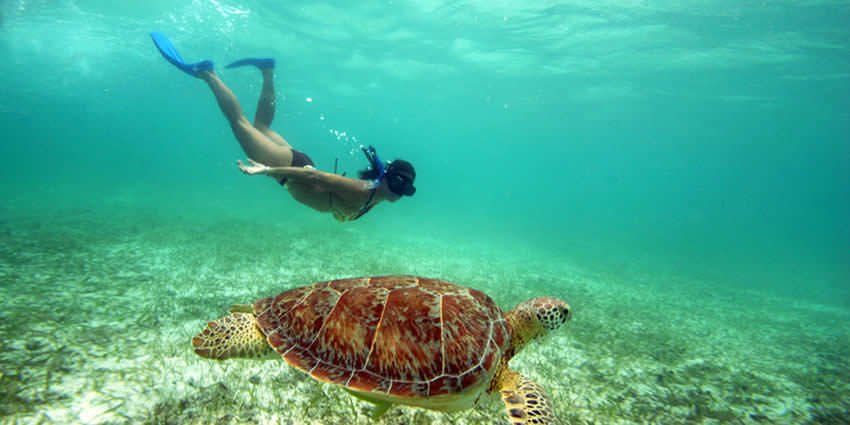 Akumal is a small seaside village located on the Caribbean coast of Mexico, about 60 miles south of Cancun in an area call the Riviera Maya.
If you are looking for the charm of the Caribbean at a slower pace of life, along with brilliant white beaches and excellent snorkeling and SCUBA diving, this is a great choice. Akumal is one of the best places to visit in the Mexican Caribbean for its great variety of beautiful beaches and tourist services.
Akumal is famous as a destination for snorkeling, where visitors can swim with endangered green sea turtles, who visit the shallow bay to feed on sea grass. The popularity of snorkeling has put environmental pressure on the fragile habitat.
The 2010 census showed a population of 1,310 inhabitants.
The name Akumal means "Place (land) of the Turtle", due to the fact that sea turtles nest here each year from the end of April to October. These magnificent creatures can frequently be seen swimming in the shallow waters near Akumal. An important local organization, the Centro Ecologico Akumal, is dedicated to protecting these animals.
However, what makes Akumal charming and fascinating for tourists from around the world, is its spectacular bay with clear waters and underground rivers. Akumal is one of the most peaceful places in the Riviera Maya: one protected shallow bay with a secluded beach and a nearby reef.
Akumal's shallow bays are a popular destination for scuba divers and for those who enjoy snorkeling. The water is an incredibly brilliant turquoise blue color with fantastic clarity.
The world's second largest barrier reef occupies these waters and the abundance of sea life is amazing. There are over 500 species of fish and 4 different species of sea turtles that can be seen here. For those who prefer fresh water, there are a number of cenotes (sinkholes) that provide entrance to underlying cave systems, offering the cave diver fantastic opportunities for exploring.
Adventures on land include exploring the surrounding jungle where hidden caves can be explored and where exotic flora and fauna can be seen. Deep-sea fishing is an active sport in these waters as well; the promise of a day's catch might include Mahi Mahi, Kingfish, Marlin or Sail Fish.
The town of Akumal has a rich and fascinating history. Akumal was originally a seaport and trading center of the Maya.
However, in the 16th-century a historic event occurred that had a lasting impact on the area.
In the year 1513, a Spanish galleon shipwrecked off its coast. Seventeen sailors made it to shore and were promptly made slaves by the Maya. Only two of these sailors survived their ordeal, one of these men, Gonzalo Guerrero, married a Mayan princess. Their union created the first mestizos. Gonzalo so integrated himself with the Mayan people, he no longer considered himself a Spaniard. Today, a statue of Gonzalo Guerrero greets the visitor at the entrance to the town of Akumal.
The town was officially founded in 1958 as a community for scuba divers by Pablo Bush Romero, a Mexican businessman, diver, writer, historian, and archaeologist. Pablo Bush's family still owns a portion of Akumal, including the hotel Hotel Club Akumal Caribe.
Akumal is also home to ONDARTE International Artist Residency.
Unless you plan on just staying in Akumal, you will need a rental car to get around. The closest sights are at least a 20 min drive. However, if you're not comfortable driving in a foreign country, there are plenty of taxis to take you wherever you need to go.
There are also colectivos, a local 15-passenger van service that runs between Playa del Carmen and Tulum. They're cheap (35 pesos per person), and usually full, but run very frequently. You can catch the colectivos off the main highway. If you are standing on the side of the highway the driver will flash his lights at you if he has room in his van. This is the preferred local way of getting around.
Sections of the reef and the main feeding ground of the sea turtles are completely closed to the public due to severe overcrowding by humans and the resulting spread of diseases in the turtle population. This is enforced by federal military.
With the destruction of hurricanes and popularity, the reefs near Akumal have been damaged, but are protected and gorgeous. Sea life abounds. A snorkeling trip is very worth the time and expense. Snorkeling is free, life vests are suggested but not mandatory, and beaches are public – remember that! There are three options for snorkeling:
1. Go on a tour provided by one of the two great dive shops in town. It is $40 USD per person.
2. Go on an "unofficial" tour. If you stand on the beach with a clueless look on your face, a local may approach you and offer to take you snorkeling on his glass-bottomed boat. It is usually $20 USD per person and includes snorkeling equipment. The guide will attempt to find the famous sea turtles for you and show you different corals and fish. Make sure you are comfortable swimming with flippers as the guide may swim quickly from site to site. Not always legal business', hence the deals.
3. Rent or buy your own equipment and swim out alone. The coral reefs are not too far from the shore and can be easily accessed by swimming, especially with the help of a life preserver. Much of the bay is not more than five feet deep. Be very careful to stay away from the "fire reef" marked with buoys and a distinctive red colored coral. It stings and excessive contact can be fatal.
There are sea turtles living in the bay that visitors will see while snorkling, enjoy this incredible experience.
Respect the nature
Since coral dies on human contact, you should avoid touching coral at all costs. It is also illegal to touch the wildlife, such as the sea turtles, so please do not try to ride them or bother them in any way.
Scuba diving
Cenote/cave diving
Sunbathing: enjoy the sunny beaches
Birdwatching tours
Deep sea fishing tours
Sailing tours
Whale sharks tours
Ecological Center (Centro Ecológico Akumal or CEA) at the end of Akumal bay to learn more about the area's ecosystems, species and local environmental events.
As an added additional concern, the locals have developed a very high concern for ecological issues. They prefer that your sunscreen be biodegradable, and that you not touch the bottom over the eelgrass beds where the turtles feed.
They have also roped off an area of the reef for free snorkeling with a buoy line. Although small, the area is more than adequate to see many turtles and some interesting spotted and regular rays.
You can dial 078 from any phone, where you can find free information about tourist attractions, airports, travel agencies, car rental companies, embassies and consulates, fairs and exhibitions, hotels, hospitals, financial services, migratory and other issues.
Or dial the toll-free (in Mexico) number 01-800-006-8839.
You can also request information to the email correspondencia@sectur.gob.mx
MORE EMERGENCY NUMBERS:
General Information: 040 (not free)
SNational Emergency Service: 911
Radio Patrols: 066
Police (Emergency): 060
Civil Protection: +52(55)5683-2222
Anonymous Complaint: 089
Setravi (Transport Mobility): +52(55)5209-9913
Road Emergency: 074
Cruz Roja: 065 o +52(55)5557-5757
Firefighters: 068 o +52(55)5768-3700
Use these tags to read more related posts and reviews:
---
Let us know if this article was useful for you