IMAC Spanish Language Programs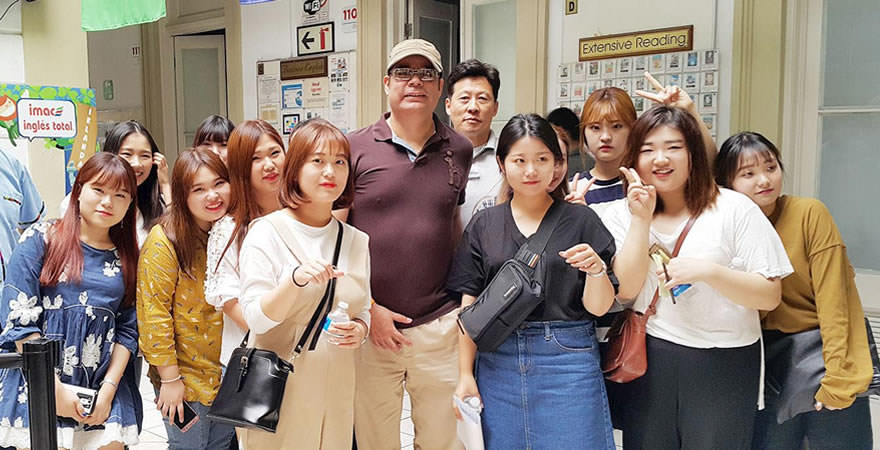 Study Spanish in Guadalajara, Mexico
We are IMAC Spanish Language Programs, the Most Accredited Spanish Language School in Mexico. In 2017, our country ranked as the sixth most visited country in the world.
We are an Educational Group based in Guadalajara, Mexico offering Spanish Language Programs. Our city is not just another beach location. Guadalajara is the birthplace to the most iconic symbols of Mexico; Mariachi, Tequila, Traditional Mexican Cuisine and Folkloric Traditions.
At this time, let us tell you about our accreditations; we are the only language school in our country to hold accreditation for all of the following:
Accredited by Instituto Cervantes/The Ministry for Education of Spain. Since 2009
Accredited by The Secretary of Education of Mexico. Since 1977
Accredited DELE testing center. Since 2009
Bildungsurlaub accredited in eight German federal states.
CENNI. Only Spanish language school accredited by the government of Mexico.
High academic standards are obviously high while our classes are yet filled with enjoyable and fun activities.
We offer:
Group lessons of no more than 10 students per class. New group courses begin every Monday.
Private lessons, begin on any weekday.
All Inclusive programs: Spanish Course plus Accommodation plus Airport transportation for one low price.
Specialty Spanish programs for specific purposes/career fields.
DELE (Diplomas of Spanish) exams, and DELE preparation courses.
Accommodation: Unique homestay program, only one student per family, three daily meals and private room. Hostels, apartments and hotels also available.
Excursions to historical and interesting sites outside of our city.
For more information on our programs: Please visit our website at Study Spanish in Guadalajara, Mexico or contact us at info@learnspanish.com.mx.
IMAC Spanish Language Programs
Donato Guerra No 180 (Historic Downtown Area)
Guadalajara, Jalisco. Mexico 44100
Toll Free from:
USA: 1-866-306-5040
England: 0-800-404-9844
Australia: 1-800-0611-0136
Canada: 1-877-442-0845
New Zealand: 0-800-449-282
Skype us at: imacspanishlanguageprograms
International calls: +52 (33) 3614-1414
Use these tags to read more related posts and reviews:
---
Let us know if this article was useful for you