Tepic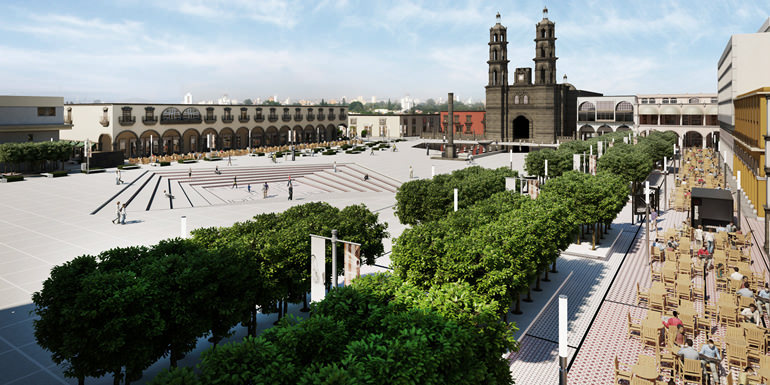 Tepic is the capital and largest city of the western Mexican state of Nayarit.
It is located in the central part of the state. It stands at an altitude of 915 metres (3,002 ft) above sea level, on the banks of the Río Mololoa and the Río Tepic, approximately 225 kilometres (140 mi) north-west of Guadalajara, Jalisco. Nearby are the extinct Sangangüey volcano and its crater lake. Tepic is the primary urban center of this rich agricultural region; major crops include sugarcane, tobacco and citrus fruits.
The city was founded in 1531 as Villa del Espíritu Santo de la Mayor España.
Indigenous Population
Tepic has the second largest indigenous population in ths State of Nayarit, with 4.375. The most prominent among them are the Huichol (3.276), Cora 527 and Purépecha (101).
Religion
Catholicism is the most prominent religion in Tepic with 94,2% of the population. Its Catedral de la Purísima Concepción, dedicated to the Immaculate Conception, is the cathedral episcopal see of the Roman Catholic Diocese of Tepic, a suffragan see in the ecclesiastical province of the Metropolitan Archdiocese of Guadalajara.
Juan Escutia: Boy hero of the Battle of Chapultepec. Born in Tepic, between 1828 and 1832, on the morning of 13 September 1847, he fought to prevent invading U.S. forces from capturing Chapultepec Castle in Mexico City. After a brave defense, he is reported to have wrapped himself in the national flag and leaped to his death.
Alexander Forbes: British consul to Mexico at Tepic, and author of the first English-language book on California
Luis E. Miramontes: Chemist, co-inventor of the first contraceptive pill
Amado Nervo: Poet and diplomat
La Chilindrina (María Antonieta de las Nieves)
Emilia Ortiz: Contemporary painter, caricaturist and poet, after whom the major downtown Centro de Arte Contemporaneo Emilia Ortiz has been named.
Gustavo Ayón: NBA basketball player
Francisco Guerrero (politician): Mayor of San Francisco, 1836-1842.
Luis Ernesto Franco: Mexican actor
Tepic has a humid subtropical climate (Köppen climate classification Cwa), with most rain falling in the wet season from June to October.
You can dial 078 from any phone, where you can find free information about tourist attractions, airports, travel agencies, car rental companies, embassies and consulates, fairs and exhibitions, hotels, hospitals, financial services, migratory and other issues.
Or dial the toll-free (in Mexico) number 01-800-006-8839.
You can also request information to the email correspondencia@sectur.gob.mx
MORE EMERGENCY NUMBERS:
General Information: 040 (not free)
SNational Emergency Service: 911
Radio Patrols: 066
Police (Emergency): 060
Civil Protection: +52(55)5683-2222
Anonymous Complaint: 089
Setravi (Transport Mobility): +52(55)5209-9913
Road Emergency: 074
Cruz Roja: 065 o +52(55)5557-5757
Firefighters: 068 o +52(55)5768-3700
Use these tags to read more related posts and reviews:
---
Let us know if this article was useful for you