Shipwreck diving on Riviera Maya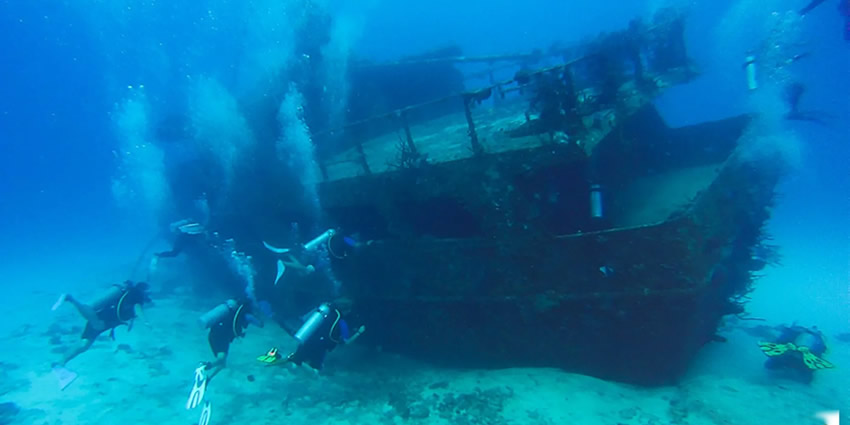 There's nothing quite like the thrill of diving to wrecked ships.
Descending, you gaze downward, trying to catch a glimpse of it. At first, nothing. Then a hazy outline appears, and for a moment you´re confused as your eyes try to sort it out. Then the wreck dissolves into clear view as you arrive upon it.
It is impressive to see big objects underwater as wrecks. It is even more impressive to see how nature slowly but surely takes over. Not to mention how corals populate every viable spot for growth.
Look up and see numerous Spotted Eagle Rays soaring above you. Occasionally you peer into the hatch of the shipwreck and look into the eyes of the deep sea creatures who reside within.
Diving in a shipwreck is a fascinating experience. There is a kind of aura that surrounds these dive sites. It creates an interesting mystery factor, full of surprising life and adventurous spirit.
In some of the shipwrecks around Isla Mujeres, is possible to penetrate and swim through the hull. It is a strange feeling, flying through the corridors and empty cargo bays of a shipwreck.
Coral usually grows on the bright side of the wreck. It takes the higher ground to be able to feed on the constant supply of water and nutrients.
You can observe that corals differ greatly depending on the part of the wreck they settle in.
For example, fire coral and hard corals settle on the side of the wreck where the current is generally stronger. This leaves the less current struck areas to house more of the soft corals like sponges and fans
Inside the wreck, however, there is not much coral. It is usually so clean due to the lack of light.
Wrecks are important fish aggregators. They increment the biomass of the site and more importantly, they create shelter for many species.
Mama Viña – In Playa Del Carmen, "Mama Viña" is a former shrimp boat intentionally sunk in 1995 for the fun of divers. At a maximum of 27 meters depth, you will enjoy this dive site which is also full of marine life!
C-56 Juan Escutia – Also, there is a wreck in Puerto Morelos. The wreck is an armed C-56 "Juan Escutia" donated and sunk by the Mexican Navy in 2000. This 30 meters depth site is known for the wreck of course but also because you might have the chance to see many spotted eagle rays.
C-53 Felipe Xicotenantl – In Cozumel there is a C-53 Felipe Xicotenantl, a Mexican Navy Minesweeper sunk in 2000. C-53 is in 80 feet of water and sits on the sandy bottom in Chankanaab Bay. The sides have been opened up to allow divers to enter and exit safely.
This reef is home to Sardines and other reef fish.
The C-58 Gunboat Shipwreck is probably the most popular wreck in the area. This wreck is also just a short ride from Isla Mujeres or Cancun, which makes it a convenient dive spot!
The C-55 Mine Sweeper Shipwreck has an incredible layout, it is divided into four pieces. It feels almost like an underwater amusement park! The engine lies in the middle and has an impressive marine life catalog.
Most of our surprise encounters with giant turtles, dolphins, and reef sharks happen around the C-55 Shipwreck!
The Ultrafreeze Shipwreck (also known as El Frio) is the wreck furthest east on the Caribbean side of Isla Mujeres. It is an interesting shipwreck because it is the oldest and it is close to the deep ocean drop-off.
It offers a wide array of marine life. Divers have spotted giant sea turtles, grouper, big mantas, and other very large fish. This site is popular among researchers and underwater photographers.
The Chairel Shipwreck was a car ferry that sunk around 1999. After it sunk, it flipped on its hull. Now the wreck sits upside down. It is reported that the boat functioned for some time as a restaurant in the early 90s.
Currently, the wreck is dominated by Lion Fish. It is a great place to see Barracudas, Sea Cucumbers, French Angel Fish, Groupers, and Snappers.
The Hondureño Shipwreck – Just off the backside of the Island, we have another shipwreck. It is located 2 short miles from the North Beach of Isla Mujeres. A quick 25-minute boat ride and you will arrive at the wreck of a 50ft steel shrimp boat.
The Hondureño tried to outrun one of the greatest hurricanes that the island has ever known. Hondureño sank battling the waves of Hurricane Gilbert that hit the Island in 1988. What remains has become home to Snappers, Nurse Sharks, and Parrot Fish.
Use these tags to read more related posts and reviews:
---
Let us know if this article was useful for you