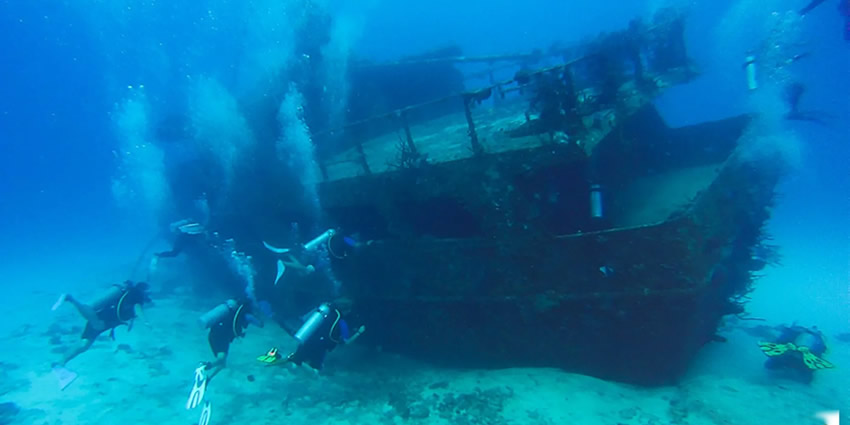 Shipwreck diving on Riviera Maya
There's nothing quite like the thrill of diving to wrecked ships.
The sunken ships serve as silent storytellers of the past, enhancing the breathtaking underwater landscapes. It's a unique opportunity to connect with history while exploring the mysteries that lie beneath the surface.
Shipwreck diving is a very spectacular dive, especially in the Riviera Maya. The Caribbean region, known for its crystal-clear waters and rich maritime history, is a treasure trove of old shipwrecks waiting to be discovered.
Shipwreck diving in the Caribbean is an adventure of a lifetime. These shipwreck dive sites have a unique aura surrounding them. This creates an interesting mystery factor, full of amazing life and an adventurous spirit.
As you descend, you look down. Nothing at first. Then a vague outline appears, and for a moment you are confused as your eyes try to make sense of it all. The debris then dissolves into sharp focus as you approach it.
It is impressive to see large objects underwater in the form of ships. It's even more impressive to see how nature is slowly but surely taking over. Not to mention the fact that corals inhabit all places suitable for growth.
Diving in a shipwreck is an exciting experience. You see many spotted eagle rays soaring above you. From time to time, you look into the hatch of a shipwreck and look into the eyes of the deep sea creatures living inside.
Some shipwrecks around Isla Mujeres (a small island near Cancun) can be entered and the hull can be swam across. It's a strange and surreal feeling to fly through the corridors and empty cargo bays of a sunken ship.
Corals usually grow on the light side of a shipwreck. Elevation is required to be able to feed on a constant supply of water and nutrients. The corals vary greatly depending on which part of the sunken ship they inhabit.
For example, fire corals and hard corals settle on the side of the wreck where the current is usually stronger. This leaves areas less affected by the current to accommodate more soft corals such as sponges and fans.
There is not much coral inside the sunken ship, it is clean due to the lack of light.
Wrecks are important fish aggregators. They increase the biomass of the site and, more importantly, provide refuge for many species. The ship's nooks and crannies offer shelter, breeding grounds, and feeding areas.
The world around wrecks is a thriving ecosystem where marine life finds a habitat.
Shipwreck diving in Cancun and Riviera Maya
In the Cancun area and along the Riviera Maya, including Playa del Carmen, there are numerous shipwreck diving spots and guided tours offering the exciting opportunity to explore sunken ships beneath the waves.
These tours provide a safe and informative way to witness the underwater shipwrecks. Whether you're a novice or an experienced diver, these tours cater to various skill levels, ensuring a memorable experience for all.
Experienced guides will explain the rich history and marine life that make these wrecks their home. This is an exciting journey to the depths, combining adventure and education for an unforgettable underwater tour.
Shipwreck diving, when conducted under proper guidance and with adherence to safety protocols, can be a safe and thrilling adventure. Professional dive operators prioritize diver safety during shipwreck excursions.
Here are some key factors that contribute to the safety of shipwreck diving:
Guided Tours: Opting for guided tours with certified dive instructors ensures that you have an experienced professional leading the expedition. They are trained to navigate through potential hazards and emergencies.
Training and Certification: Before attempting shipwreck dives, divers should have the necessary training and certification. This often includes advanced open water or wreck diving certifications, which equip divers with the skills needed for such environments.
Equipment Checks: Regular checks and maintenance of diving equipment are essential for safety. This includes ensuring that all gear, such as regulators, tanks, and buoyancy control devices, is in good working condition.
Pre-Dive Briefings: Dive operators typically provide thorough pre-dive briefings, highlighting the specific features and potential challenges of the shipwreck. Understanding the dive plan and safety procedures is crucial.
Weather Conditions: Operators prioritize safety by monitoring weather conditions. Dives are often canceled or rescheduled if weather conditions pose a risk and could threaten the safety of tour participants.
Emergency Protocols: Dive operators have emergency protocols in place, including communication systems, first aid equipment, and evacuation plans, to handle unexpected situations, ensuring swift effective help.
Physical Condition: Divers should uphold good health and physical condition. Certain medical conditions may limit participation. Discuss any concerns with your guide before the dive for a safe and enjoyable experience.
Shipwreck diving is a safe activity. Choose reputable dive operators, undergo proper training, and follow established safety procedures. Responsible diving practices contribute to an enjoyable and secure experience.
Mama Viña – In Playa Del Carmen, "Mama Viña" is a former shrimp boat intentionally sunk in 1995 for the fun of divers. At a maximum of 27 meters depth, you will enjoy this dive site which is also full of marine life!
C-56 Juan Escutia was donated and sunk by the Mexican Navy in 2000. This spot, 30 meters deep, is famous, not only for the wreck site but also for the fact that you may have the opportunity to see many spotted eagles.
C-53 Felipe Xicotenantl was a Mexican Navy minesweeper that sank in 2000. The sunken minesweeper is located on the sandy bottom of Chankanaab Bay. Its sides were open to allow divers to enter and exit safely.
This reef is home to Sardines and other reef fish.
The C-58 Gunboat Shipwreck is the most popular wreck in this area. This wreck is also just a short boat ride from Isla Mujeres or Cancun, which makes it a convenient dive spot for a captivating underwater experience.
The C-55 Mine Sweeper Shipwreck has an incredible layout, it is divided into four pieces. It feels almost like an underwater amusement park! The engine lies in the middle and has an impressive marine life catalog.
There are giant turtles, dolphins, and reef sharks around this shipwreck!
The Ultrafreeze Shipwreck (also known as El Frio) is the wreck furthest east on the Caribbean side of Isla Mujeres. It is an interesting shipwreck because it is the oldest and it is close to the deep ocean drop-off.
This place is home to a wide array of diverse marine life. Divers have spotted giant sea turtles, grouper, big mantas, and other very large fish. This site is popular among both researchers and underwater photographers.
The Chairel Shipwreck was a car ferry that sunk around 1999. After it sunk, it flipped on its hull. Now the wreck sits upside down. It is reported that the boat functioned for some time as a restaurant in the early 90s.
You can see barracudas, sea cucumbers, French angel fish, groupers, and snappers.
The Hondureño Shipwreck – Just off the backside of the Island, there is another shipwreck. It is located 3,5 km from the Isla Mujeres. A quick 25-minute boat ride and you will arrive at the wreck of a 15 m steel shrimp boat.
The Hondureño was trying to outrun one of the most powerful hurricanes the island had ever known. Unfortunately, this shrimp boat sank while battling the powerful waves of Hurricane Gilbert, which hit the island in 1988.
Over time, what remained became home to snappers, nurse sharks, and parrotfish.
Use these tags to read more related posts and reviews:
---
Let us know if this article was useful for you