Cotija de la Paz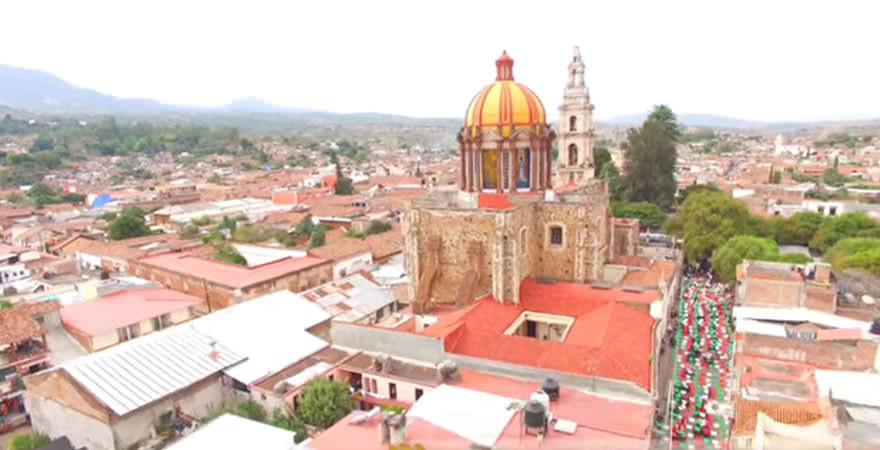 Cotija de la Paz is the municipal seat of the municipality of Cotija located in the Mexican state of Michoacán.
The municipality has an area of 504.05 km2.
The municipality had a population of 18,207 inhabitants according to the 2005 census.
Cotija municipality is the birthplace of several religious figures, including Saint Rafael Guízar Valencia and Father Marcial Maciel. The economy of the municipality is mostly based on agriculture and ranching.
Cotija cheese is named after the city.
Versions differ regarding the founding date of Cotija.
The Reverend Jose Romero places the founding between 1575 and 1576, in a site called Cotixa, which was situated near the Rio Claro (Clear River), Mr. Melchor Manzo de Corona built what became the first Spanish settlement in the region. From 1581 to 1595, 11 other Spanish colonists joined Corona in Cotixa. Some built their houses, and they attempted to make a living by raising cattle. Other Spanish families arrived.
At the time, this Spanish settlement was known as the Rincon de Cotixa (Cotixa Nook) and Mr. Melchor Manzo's hacienda was considered the heart of the settlement.
A primitive chapel was constructed in honor of Our Lady of the Pópolo, where a flea market (tianguis) was held on Sundays. By 1730, the chapel of the Rincon de Cotixa had a standing priest, but baptisms, marriages, and burials were not allowed.
Therefore, travelling to the town of Tinguidin for those religious affairs was necessary. This situation was not remedied until November 1740, when the Bishop of Michoacán, Fr. Marks Ramirez of the Prado, gave permission to the chapel of the Rincon de Cotixa to perform ecclesiastical burials.
Between August 2 and 5, 1759, Francisco Antonio de Echavarri decreed that the Rincon de Cotixa and the Llano of Titiacoro would be united and officially renamed as the Congregation of Cotija. In 1790, Cotija was reclassified as a city by Michoacán governor, Aristeo Mercado.
You can dial 078 from any phone, where you can find free information about tourist attractions, airports, travel agencies, car rental companies, embassies and consulates, fairs and exhibitions, hotels, hospitals, financial services, migratory and other issues.
Or dial the toll-free (in Mexico) number 01-800-006-8839.
You can also request information to the email correspondencia@sectur.gob.mx
MORE EMERGENCY NUMBERS:
General Information: 040 (not free)
National Emergency Service: 911
Radio Patrols: 066
Police (Emergency): 060
Civil Protection: +52(55)5683-2222
Anonymous Complaint: 089
Setravi (Transport Mobility): +52(55)5209-9913
Road Emergency: 074
Cruz Roja: 065 o +52(55)5557-5757
Firefighters: 068 o +52(55)5768-3700
Use these tags to read more related posts and reviews:
---
Let us know if this article was useful for you