Talpa de Allende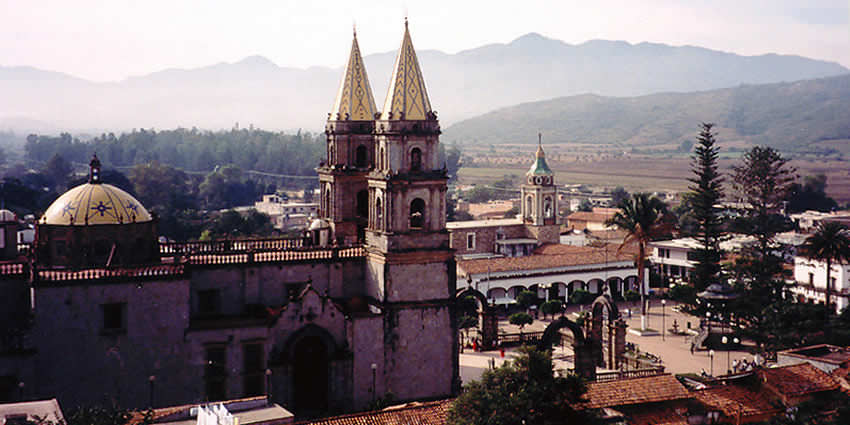 Talpa de Allende is a city and municipality in Jalisco, Mexico.
Surrounded by pine-covered mountains, Talpa de Allende is a silver mining town founded by the Spanish in 1599.
Embracing the green mountains you will find Talpa de Allende, a village of cobbled streets and multicolored casonas with tile roofs. In the evenings, you will hear a concert of crickets while the orange lights of lanterns illuminate the pines and bougainvillea. You will be able to experience the immeasurable faith of the town toward the pale virgin that protects the scented streets with a smell of chilte.
The name "Allende" is in honor of General Ignacio Allende.
Talpa is the destination of a popular pilgrimage route. In the center of Talpa is the church of Nuestra Señora del Rosario, which is the location of the tiny Virgen del Rosario, also called "La Chaparrita", meaning the short one, who they believe does miracles.
Her birthday is celebrated October 7th one of the popular dates millions of people walk to Talpa every year.
Another date she is visited is during Easter week. 3 million people attended in 2010.
The walk can be anywhere from a few kilometers to a hundred or more depending on the starting point. It includes several climbs of hundreds of meters. During Easter week, there are stands selling food and drinks all along to route.
Welcome arch dedicated to pilgrims and visitors in the entrance.
Calzada de las Reynas: opened on November 18, 2004, and created for he community of pilgrims that visit Talpa de Allende and in honor of all the queens of Mexico. A pathway of statues of the virgins.
Cruz de Romero
Museum of the Talpa Virgin where her story is told as well as the history of Talpa de Allende.
Maple forest of Talpa de Allende, the biggest forest in Latin America with more than 56,000 acres (23,000 ha) of maple and pine trees.
You can dial 078 from any phone, where you can find free information about tourist attractions, airports, travel agencies, car rental companies, embassies and consulates, fairs and exhibitions, hotels, hospitals, financial services, migratory and other issues.
Or dial the toll-free (in Mexico) number 01-800-006-8839.
You can also request information to the email correspondencia@sectur.gob.mx
MORE EMERGENCY NUMBERS:
General Information: 040 (not free)
SNational Emergency Service: 911
Radio Patrols: 066
Police (Emergency): 060
Civil Protection: +52(55)5683-2222
Anonymous Complaint: 089
Setravi (Transport Mobility): +52(55)5209-9913
Road Emergency: 074
Cruz Roja: 065 o +52(55)5557-5757
Firefighters: 068 o +52(55)5768-3700
Use these tags to read more related posts and reviews:
---
Let us know if this article was useful for you