Grottos of Tolantongo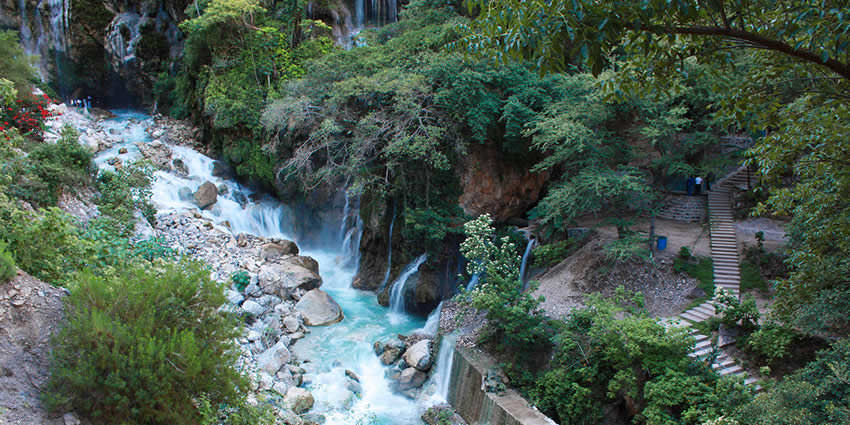 Located in the state of Hidalgo, in the Mezquital Valley, this beautiful set of caves is the ideal place to spend an unforgettable day, surrounded by nature.
Within Tolantongo there are lots to see, including the section known as Paraiso Escondido, where you can find 46 pools of hot water, great for swimming and enjoying the natural massage provided by the waterfall.
There is also a section known as "the grotto" located at 1,250 meters above sea level. It is the perfect place to relax in its warm waters.
Thrill seekers can also enjoy one of the longest ziplines in the state. It is divided into four lines and measures 1.890 meters.
The cost of this activity is $150 Mexican pesos (approximately US $9.00) and is only recommended for those who are not afraid of heights. But for those who wish to do it, we assure you that the view will take your breath away.
Children under 5 are free.
The ticket is valid from 7 am to 8 pm, and if you decide to spend the night there you will be charged 2 tickets worth to cover the entrance the day you arrive and the day you leave.
Within Tolantongo there are several hotels, like La Huerta, Paraíso Escondido, La Gruta, and Molanguito. They are quite cozy and cheap, but no reservations are taken, so you should arrive early.
It is advisable to go during the week as weekends and holidays bring in large crowds of people.
Another option is to camp. Tents are rented at $100 pesos (around US $6.00) and camping is free. Likewise, you can buy wood for fires, or rent a mattress for $120 pesos (around US $7.00) and new blankets for $100 pesos (around US $6.00).
It is also important to note that no credit cards are accepted so bring enough cash to cover the trip is strongly recommended. Pets are not accepted and alcoholic beverages are prohibited in some areas of the caves, near pools, rivers, ponds, and waterfalls.
You can dial 078 from any phone, where you can find free information about tourist attractions, airports, travel agencies, car rental companies, embassies and consulates, fairs and exhibitions, hotels, hospitals, financial services, migratory and other issues.
Or dial the toll-free (in Mexico) number 01-800-006-8839.
You can also request information to the email correspondencia@sectur.gob.mx
MORE EMERGENCY NUMBERS:
General Information: 040 (not free)
SNational Emergency Service: 911
Radio Patrols: 066
Police (Emergency): 060
Civil Protection: +52(55)5683-2222
Anonymous Complaint: 089
Setravi (Transport Mobility): +52(55)5209-9913
Road Emergency: 074
Cruz Roja: 065 o +52(55)5557-5757
Firefighters: 068 o +52(55)5768-3700
Use these tags to read more related posts and reviews:
---
Let us know if this article was useful for you