Comitán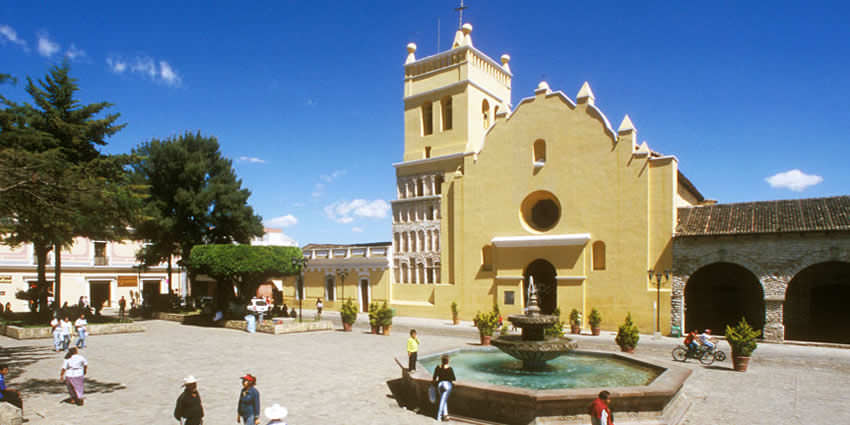 Comitán, formally Comitán de Domínguez, for Belisario Domínguez, is the fourth-largest city in the Mexican state of Chiapas. The town is located in the east-central part of Chiapas, near the border with Guatemala.
Comitán is the seat of government of the municipality of the same name. The municipality has an area of 1,043.30 sq km. Its largest other community is the town of Villahermosa Yalumá.
The original name given by the local Maya peoples is Balún Canán ("Nine stars").
The name was later changed to Comitán de las Flores and, in 1915, to Comitán de Domínguez, after Dr. Belisario Domínguez, who gave a memorable speech in Congress against the dictator Victoriano Huerta for which he was murdered.
Comitán is also a popular tourist destination, mostly for Mexican nationals, though some foreign visitors can also be seen. The town possesses colonial architecture, narrow avenues, and clean streets.
The climate is cool most of the year and can get quite chilly from October to March.
Comitán is approximately 2 hours away from San Cristobal by bus and approximately 3 hours away from Tuxtla. It is common for locals to travel 2 hours on the bus to see San Cristobal and then travel an additional hour in order to reach Tuxtla.
Tourists in Comitán can see many ecotourism sights:
Lagos de Montebello which are beautiful lakes complete with cabins and tour guides for those who want them
El Chiflon which is a series of waterfalls (this costs a few pesos to enter)
Tenam Puente is an archeological Mayan Cultural place
and much more…
You can dial 078 from any phone, where you can find free information about tourist attractions, airports, travel agencies, car rental companies, embassies and consulates, fairs and exhibitions, hotels, hospitals, financial services, migratory and other issues.
Or dial the toll-free (in Mexico) number 01-800-006-8839.
You can also request information to the email correspondencia@sectur.gob.mx
MORE EMERGENCY NUMBERS:
General Information: 040 (not free)
National Emergency Service: 911
Radio Patrols: 066
Police (Emergency): 060
Civil Protection: +52(55)5683-2222
Anonymous Complaint: 089
Setravi (Transport Mobility): +52(55)5209-9913
Road Emergency: 074
Cruz Roja: 065 o +52(55)5557-5757
Firefighters: 068 o +52(55)5768-3700
Use these tags to read more related posts and reviews:
---
Let us know if this article was useful for you