Tierra Colorada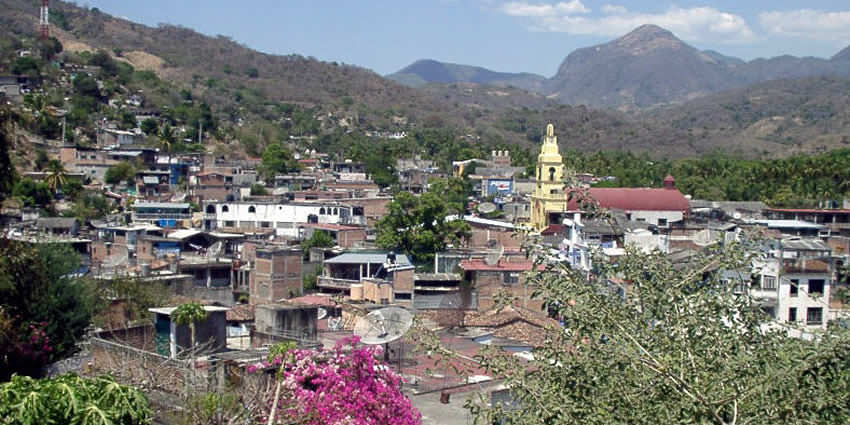 Tierra Colorada is a town in the state of Guerrero, south-western Mexico.
The city is crossed by Federal Highway 95 that connects Mexico City with Acapulco.
Its name refers to its location on an area of ​​red mountain soils.
This region, housed in the year of 1849 a hacienda, owned by General Juan N. Álvarez who baptized it with the name of "Tierra Colorada", having as its only reference to be one of the probable first settlers of that locality.
By 1854, the town would be founded with the name it currently holds.
According to the National Institute of Statistics and Geography (INEGI) in 2005, the city of Tierra Colorada had until that year a total population of 10,502 inhabitants.
Tehuacalco archaeological site
The Tehuacalco archaeological site is on a hill surrounded by mountains, which were worshipped by the Yope. Four mountains marked the cardinal directions and one (Compuerta) was used to mark solar events such as equinoxes and solstices as the sun rose behind it. Tehuacalco was occupied as a ceremonial site from about 400 CE to about 1100 CE.
Tehuacalco was the first archeological site associated with the Yope people to be excavated, in the 2000s.
The environment of the area is a deciduous tropical forest, whose trees lose most of their leaves during the dry season in the fall and winter.
The Tehuacalco site was opened to the public in 2008.
From Chipancingo:
By bus from Chipancingo to Tierra Colorada, 3$-7$, 50 minutes (twice a day)
By taxi from Chipancingo (around 40 min), 29$-40$
From Acapulco:
By bus from Acapulco to Chilpancingo, 6$-9$, 2 hours (buses run every 2 hours).
By bus from Chipancingo to Tierra Colorada, 3$-7$, 50 minutes (twice a day)
By taxi from Acapulco (around 50 min), 30$-40$
You can dial 078 from any phone, where you can find free information about tourist attractions, airports, travel agencies, car rental companies, embassies and consulates, fairs and exhibitions, hotels, hospitals, financial services, migratory and other issues.
Or dial the toll-free (in Mexico) number 01-800-006-8839.
You can also request information to the email correspondencia@sectur.gob.mx
MORE EMERGENCY NUMBERS:
General Information: 040 (not free)
National Emergency Service: 911
Radio Patrols: 066
Police (Emergency): 060
Civil Protection: +52(55)5683-2222
Anonymous Complaint: 089
Setravi (Transport Mobility): +52(55)5209-9913
Road Emergency: 074
Cruz Roja: 065 o +52(55)5557-5757
Firefighters: 068 o +52(55)5768-3700
Use these tags to read more related posts and reviews:
---
Let us know if this article was useful for you