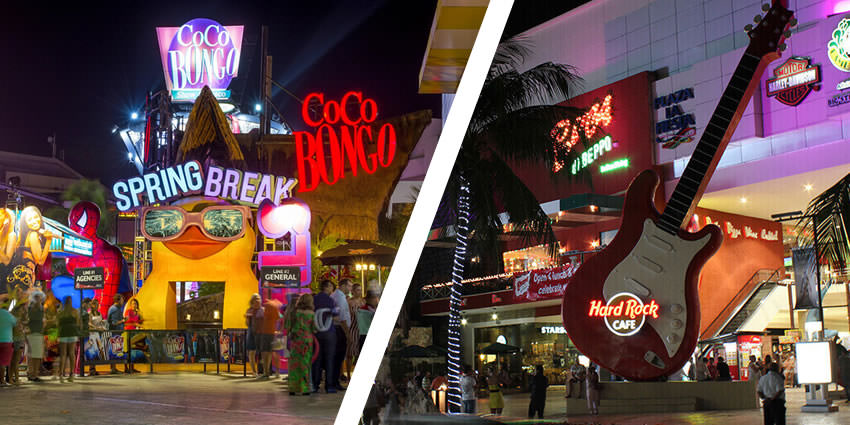 Nightlife in Cancun
Find out what to do at night in Cancun to make the most of the city's nightlife.
Cancun also has a totally hectic nightlife and a wide choice of places to visit. Finding out what are the best night tours, restaurants, and attractions in Cancun is very important so that you can plan your itinerary well.
What to do at night in Cancun?
Cancun's nightlife is a vibrant mix of pulsating music, shimmering lights of nightclubs, and the lively spirit of partygoers. At sunset, the city turns into a paradise for those seeking an unforgettable nighttime experience.
A myriad of bars and nightclubs line the bustling streets of the Hotel Zone. Nightclubs draw in crowds with their high-energy shows, featuring dazzling light shows, and renowned DJs spinning the latest music hits.
The atmosphere is electric, with revelers dancing into the early hours, creating a dynamic energy that defines Cancun's nightlife.
For those looking for a more laid-back evening, Cancun offers beachfront lounges and rooftop bars. Sipping on tropical cocktails while feeling the ocean breeze adds a touch of tranquility to the vibrant nightlife scene.
The variety of venues ensures that there's something for everyone, from chic lounges to beach parties and everything in between.
Cancun's downtown areas like Avenida Tulum also boast a lively scene. Here, you'll find local bars and clubs where you can mingle with both tourists and locals, experiencing the authentic side of Cancun's nightlife.
How is the nightlife of Cancun?
Most of Cancun's nightlife attractions are centered on Kukulcan Boulevard, which runs through the entire Hotel Zone, with restaurants, bars, and nightclubs, making it the perfect place for those who love a wild night out!
Most of Cancun's nightlife attractions are concentrated along the 9.5 km long Kukulcan Boulevard. These parties usually start around midnight and continue throughout the night until the early morning.
As it is a very touristy and crowded place, buses run all night, so there is no need to worry about how to get back to the hotel. This is also a great option for those who want to walk outside of the Cancun hotel zone!
Nightlife in Cancun downtown
Although the craziest parties take place in the Hotel Zone, there are interesting options downtown, and most are at more affordable prices. Wherever you stay, take a taxi or any bus that goes to the center.
Most of the establishments are concentrated on Avenida Náder, behind the Municipal Palace, or in the area of ​​the Plaza de Toros.
Spring break in Cancun
In early March and mid-April, during vacations at most world universities, students arrive in Cancun. It is common at this time for rappers and trendy DJs to appear. Parties are organized to have fun like never before.
Cancun's atmosphere is so good that it is convenient to schedule your dates well and go to a club every day or buy a bar-hopping package that allows you to go more than once on the same night. Reserve in advance!
Cancun is usually full at this time of year, so buy your cover in advance.
Use these tags to read more related posts and reviews:
---
Let us know if this article was useful for you