Río Lagartos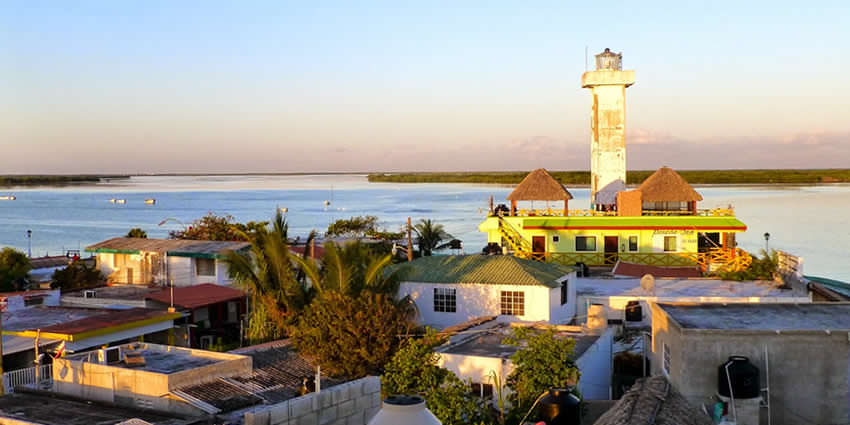 Río Lagartos is a town in the state of Yucatán, Mexico. The town lies 42 kilometres north of Tizimín. Mérida is approximately 230 kilometres further.
Río Lagartos is located at a lagoon, the Ria Lagartos, which is part of a natural reserve. This makes it an ideal place for birdwatching. This lagoon is part of the Petenes mangroves ecoregion, and the Ria Lagartos has been designated as an internationally recognized Important Bird Area (IBA). In 2004, UNESCO designated the area as Ría Lagartos Biosphere Reserve.
The creek where Francisco Hernandez's 1517 expedition tried to obtain water, was named El Estero de los Lagartos, because of the "many large alligators".
There is just one way to get to Rio Lagartos, just via Tizimin.
There is a bus From Valladolid (via Tizimin).
All buses from Riviera Maya (Cancun, Playa del Carmen etc) to Rio Lagartos also run via Valladolid and Tizimin.
You can dial 078 from any phone, where you can find free information about tourist attractions, airports, travel agencies, car rental companies, embassies and consulates, fairs and exhibitions, hotels, hospitals, financial services, migratory and other issues.
Or dial the toll-free (in Mexico) number 01-800-006-8839.
You can also request information to the email correspondencia@sectur.gob.mx
MORE EMERGENCY NUMBERS:
General Information: 040 (not free)
National Emergency Service: 911
Radio Patrols: 066
Police (Emergency): 060
Civil Protection: +52(55)5683-2222
Anonymous Complaint: 089
Setravi (Transport Mobility): +52(55)5209-9913
Road Emergency: 074
Cruz Roja: 065 o +52(55)5557-5757
Firefighters: 068 o +52(55)5768-3700
Use these tags to read more related posts and reviews:
---
Let us know if this article was useful for you