5 Best resorts in Mexico you must visit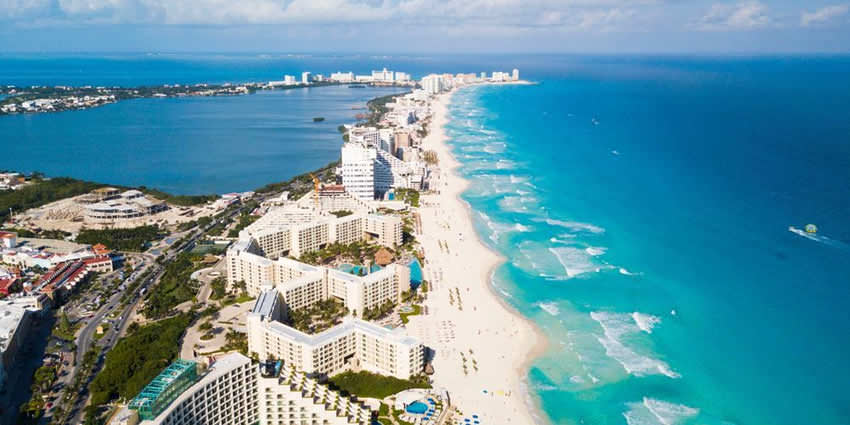 Best resort to go to in Mexico
Are you planning a trip to your dreamland, Mexico?
Mexico is a place of beauty filled with enormous mountains, deep canyon, sea coast, never-ending deserts, and dense rain forests. Mexico is a country of tradition and culture where you can explore pre-Hispanic and Spanish mix culture.
Mexico's resorts are perennial favorites among globetrotters: a variety of beaches and resorts, rich heritage, and fantastic food and drinks. There are a lot of mesmerizing tourist spots and resorts available which are located along the coastal sea area of Mexico.
Acapulco is a beautiful coastal city in Mexico located in the Pacific coastal region around 380 km south-west of Mexico City.
The resort city is filled with foreign tourists, beach resorts, high-rise hotels from where you can have a picture-perfect view of the beautiful town surrounded by the deep blue sea, and small hills.
There are little white houses situated along the Acapulco bay roadside with restaurants, cafes, bars, and pubs scattered everywhere.
Acapulco is the oldest beach resort in Mexico that has been famous for the last six decades and has been famous for Hollywood stars and millionaires to come and spend their spring vacation.
There are some of the chilled-out destinations of Acapulco:
The Cathedral Church will fascinate you with its blue onion-shaped domes and large Byzantine towers.
Fort of San Diego is the most historic place of Acapulco which will depict the history of the port city.
Plaza de Toros. During winter the most beautiful carnival can be observed here.
House of masks. A collection of masks from all around the world is present in this museum.
The tennis court and the Botanical Garden are also two more nearest attractions.
Acapulco is surrounded by beaches, lagoons, and islands.
Puerto Marquez, Pie de la Questa, Roqueta Island are some of them to visit for sure.
Cancun is a South Eastern Mexican city that dwells along the peninsula and the deep coastal region.
As a coastal city, Cancun offers a tropical climate to the residents and tourists. The famous storm Hurricanes can be seen here from May to December. Many small islands, lagoons, coral reefs can be explored.
Scuba Diving, Cliff Diving, Camel Walk, Kayaking, Para Gliding are some major attractions of Cancun. You can get yourself lost amidst the natural beauty of the islands and coral reefs of Cancun.
There are supermarkets, restaurants, cafes, barbeque joints, bars, pubs, and discotheques available in the city streets along with the colorful building blocks of the city dwellers stretched along the roadside.
Huatulco is a beach resort small-town city located 500 Kilometers South of Acapulco, Guerrero in the state of Oaxaca.
The total population of this city is around 50,000. It's a small resort city perfect for spending your vacation amongst the lush green meadows and the beaches of the Pacific Ocean.
Various options are available for tourists when choosing accommodation from small cottages to luxurious villas, vacation condominiums, luxury hotels, holiday resorts, etc. The Camino real Zashilla, Quinta Real Huatulco, Las Brisas, Dreams Resorts and Spa, Barcelo are some of the famous names among them.
Santa Cruz, La Crucecita, and Old Santa Maria Huatulco are some important communities to get known.
Waterfalls and ravines surround Huatulco. Maria Osorio Dain Biguid is the famous butterfly sanctuary must be visited. Llano Grande Falls and The Rio Copalitilla waterfall are renowned for their mysterious beauty.
The beach city Los Cabos comprises of 2 towns, San Jose Del Cabo and Cabo San Lukas. To talk about the city's landscape, it has everything, from breathtaking seas to large mountains, and fearful desert.
This beach city is a famous tourist spot for spending long vacations. It has all kinds of accommodation facilities for tourists, from high-rise hotels, mediocre motels, spacious villas, cottages, and holiday resorts.
Many hotels serve food also along with accommodation.
Glass Blowing Factory, Sea Lion Colony, Town Square, City Mission Church, Plaza Artesanos are some nearby attractions to visit.
Don't miss the opportunity to go kayaking and the boat ride, watch for the tropical fish beneath your feet, and take your camera out when you visit the 20-mile Tourist Corridor from Cabo San Lucas to historic San Jose del Cabo.
Puerto Vallarta is one the most famous beach resort city of Mexico like Acapulco and Cancun which is also situated along the coastal area of the Pacific Ocean. Unlike Acapulco and Cancun, the city is free from hassle and is not congested.
Mexican and foreign tourists also flood this place. The town offers a friendly warm tropical climate.
Some of the major attractions are listed below:
Church of Our Lady of Guadalupe is a famous tourist place. Pulpit and Baptismal Font- two rock formations near the South end of Los Muertos beach should also be visited.
The Malecon – paved walkway, Mercado Isle Cuale, and Mercado Municipal Cuale, John Huston Statue in Isla Cuale, Plaza de Armas-famous place for public concerts, are also some beautiful places to visit.
This article is contributed by Saleena from Up To Himalaya, a well known travel brand for Trekking in Nepal Himalayas.
Use these tags to read more related posts and reviews:
---
Let us know if this article was useful for you