Mexico driving guide – Road rules in Mexico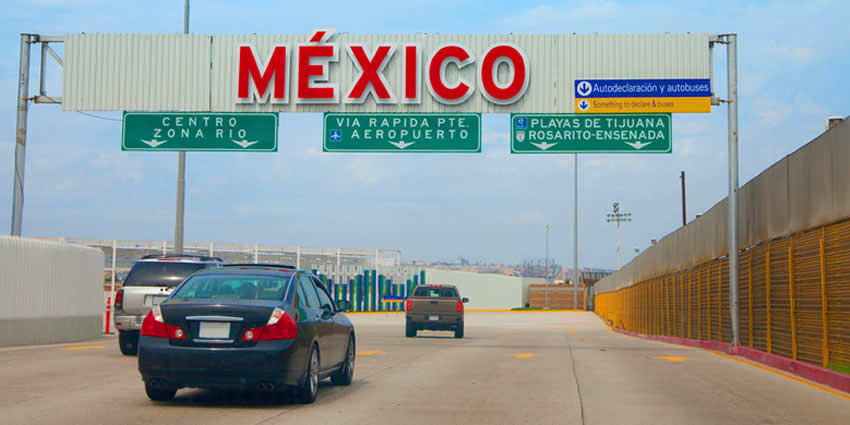 Are you looking for a budget-friendly journey around Mexico? A road trip is an unlimited way of enjoying this beautiful country. An international driving license lets you drive in Mexico. Experience your best travels through this guide.
Mexico is on the list of the 10 top countries most visited by tourists across the world. And this country has numerous reasons for it.
The third-largest country in Latin America, after Brazil and Argentina, Mexico is a tourism powerhouse that also serves as a gateway to other countries, including the United States, for tourists looking to do some country-hopping.
Visiting beaches in Mexico with a margarita in hand is likely one of the reasons you're visiting the country. Chilling in a beach chair with a drink, while the sun sets in Mexico is just breathtaking and amazing.
You can also go trekking in Mexico's mountain ranges, visit astounding churches, have a taste of their famous dishes, explore 35 UNESCO World Heritage Sites, and learn about their 30 centuries of rich history at museums and other historical monuments.
Driving in Mexico
Driving in Mexico can be an adventure of a lifetime since you get to decide to visit remote areas, which might be difficult to reach using public transportation. Having your own car in the country also allows you to travel to such areas at your preferred pace while being comfortable.
If you're on a business trip, driving a rental car in Mexico will make your trip easier. If you're ready to learn more driving tips to Mexico, read further to find out why the country is called the Land of Enchantment!
Road Rules in Mexico
Travelers need to know always what the laws are, whichever country they're going to.
This requirement applies to traffic rules and regulations, especially when you're driving. What's more, it helps you to have a wonderful experience, and at the same time, avoid fines and penalties that could've been avoided if you just followed the law.
Driving in Mexico is a convenient way to explore the country, as it saves you more time and money than public transport, like buses and taxi cabs. As mentioned, it also gives you the opportunity to tour places to your satisfaction.
But you may ask, is it safe to drive in Mexico?
Before you hit the gas, you have to bear in mind that driving on Mexico's roads and highways can be much different from driving back home, especially if you're from the US or Europe.
It's important to prepare, so you can stay safe, avoid accidents and unnecessary incidents, and most of all, enjoy your vacation or business trip. For foreigners driving in Mexico, requirements are needed to be observed.
If you're driving in Mexico as a tourist, it is important that you follow the rules to avoid cutting your trip short and getting into a traffic accident. Law officers and locals are often curious about why tourists are driving within their country.
That's why you need to fully understand the following regulations and implement them.
Slow down in remote areas
It is common knowledge for most Mexican drivers to slow down in remote areas.
Many of their civilians are walking the highways. Although generally what they are doing doesn't follow road etiquette, you still need to watch out for these civilians to avoid accidents.
Follow this rule when driving in Mexico's scenic countryside.
Driving while distracted is strictly prohibited
With many civilians crossing highways, and motorbikes suddenly appearing on roads, driving while distracted is a bad practice.
This practice could lead to serious irreparable issues. Moreover, if you're texting or calling somebody while in traffic, you might not notice the traffic sign. Being distracted will create delays and problems regarding traffic.
Always bring the essential driving documents for tourists
Many people, especially law officials, often look out for tourists who are driving within their country. That's why it is common for foreigners who are driving in a country with a rented car to be stopped and checked for driving documents.
So, always bring your driver's license, valid passport, and especially your International Driver's Permit.
An International Driver's Permit is essential in Mexico, especially if you cannot speak Spanish. Commonly, law officials in remote areas may require you to have one, as they might not understand English or your native language.
Tourists driving their own vehicles should bring their car registration documents to avoid getting fined.
General Standards
You need to observe general driving standards to avoid accidents and unnecessary delays in your journey in Mexico. Brush up on the rules of the country's roads, including unspoken but necessary driving customs. Here are some driving tips in Mexico:
Before driving:
You should be well-rested and sober, especially if it's going to be a long drive. Wear your prescription glasses if you have eye-vision issues.
Always bring your valid driver's license, IDP, passport, visa, car registration papers proof of car ownership, and auto insurance.
If you're going to cross the Mexican border by your own car, you should have a temporary vehicle importation permit. If you're renting one, always bring your car rental papers with you. Don't forget that insurance is necessary for worry-free travel.
Check your oil level, tire pressure, coolant, and battery. Make sure you have a good spare tire. You won't regret driving in Mexico safe and sound while having proper equipment and tools.
As much as possible, always drive in daylight and avoid doing so at night. Driving at night in Mexico can be dangerous. For one, lights on most highways are non-existent.
The presence of law enforcement is limited in some areas at night in Mexico, so don't go out alone if you have to drive and go somewhere.
And of course, make sure you have more than enough fuel for your trip. Many local gas stations don't have gas, so fill up the tank at the first petrol station. Don't be certain there's gas to fill up on at the next station.
While driving:
Observe road signs to avoid missing a turn or a stop. Remember to wear your safety belts and remain under speed limits. Keep your car doors locked and windows up while driving in Mexico.
Always concentrate on the roads. If you're from the USA, you may be used to riding on a certain lane when driving. In Mexico, cars move out of order on the roads. Intersections in the country have no road signs, so look both ways before crossing them.
Keep your music volume low, so you'll be able to hear clearly and avoid distractions, especially in Mexico where noise can be loud on the road. Don't entertain text messages or phone calls as it's illegal to use a mobile phone while driving.
It's highly advisable to drive on toll roads, known as "cuotas" in Mexico, due to their increased safety and better conditions, especially outside of major cities where emergency and local law enforcement presence is limited.
After driving:
Be careful when choosing a place to park. Don't just leave your car in the street. The chance of theft is very high, so it's better to use covered parking lots and garages. Or you can leave your car near busy shopping centers, hotels, or other establishments.
If you see a road sign with the crossed letter "E", this means parking is not allowed in that area. Avoid parking on narrow streets. That also goes for isolated roads, if you're going to leave your car for more than a few hours.
Speed Limits
Speed limits in Mexico vary, depending on the location.
Residential areas implement a 10 kph speed limit, while drivers must not go above 70 kph on main roads.
Towns and cities (vias locales) usually have 40 kph speed limits, while roads near schools, hospitals, and pedestrian zones enforce up to 20 kph or slower. Since there are more people and cars in these areas, avoid speeding up.
Major highways inside cities have 90-100 Kph speed limits, while major roads leaving or approaching towns or cities implement 100 Kph speed limits. It's for your benefit to drive slowly as you're allowed to on all kinds of roads since you'll be able to enjoy the country more.
If you're driving in Mexico, requirements are needed to be followed.
Driving Directions
If you're driving within the country, you need to follow all the rules that are set by the government regarding the road rules in the country. The following are the driving directions you need to note:
Overtaking must be done on the left
Every driver must drive on the right side. This is done to ensure order while driving on the streets of Mexico. Breaking this direction will result in the possibility of accidents. On two-lane roads, you must keep right before you take left turns to avoid car accidents.
Always look on both sides when merging in traffic
If you want to avoid any damage done to your rented vehicle, you need to be vigilant. Always look to your left and then right before you merge into traffic. Make sure no other car is about to go in the same direction as you will.
Therefore, you must always look at both sides before merging into traffic.
Be wary of the many roundabouts
In Mexico, there are many roundabouts, especially in Cancun, Mexico. It is paired with normal lights and can be very confusing at times.
You need to study both roundabouts and lights. If you can't figure it out, ask a local anytime as they can also understand some English due to how a majority of Americans or US Citizens often visit the country.
There are traffic road signs to guide drivers, including first-timers, in Mexico.
While most of them are similar to other countries, follow international standards, and are self-explanatory, you'll discover some Mexican road signs that are unfamiliar as they are unique to the country.
Red or yellow warning signs often advise of potential danger on Mexican roads. Take note of any warning signs you see in the country to be alert of possible dangers ahead
Most road signs in Mexico are information signs, which inform motorists about the road they're using and the road ahead
Follow all mandatory road signs in Mexico. They're not advisory signs but must be observed. For example, a mandatory road sign will tell you to pass on the right of a road only
Priority road signs in Mexico are designed to clarify who has priority or right of way on the road ahead
Prohibitory signs are used on roads to restrict certain types of vehicles, like heavy cargo trucks, and certain maneuvers such as U-turns, or setting maximum speeds
Right of Way
There is no right of way in most parts of Mexico, so if you've got a mini car, and you're coming up on the right of a 10-wheeler truck, don't expect the truck driver to give way to you. Always yield to other drivers if there's no urgency needed to avoid any hassles.
In mountainous areas, though, uphill traffic has the right of way.
If you're going downhill and see oncoming vehicles, pull over to the side of the road as far as you'll be out of the way. If you're the one climbing uphill, however, don't be certain the other driver will give way.
Legal Driving Age
The driving age in Mexico is at least 15 years old, provided there is parental supervision. Meanwhile, 18-year-olds can already drive without guidance, provided they have a license and correct documents.
But if you're renting a car, you should be at least 21 years old and have held your license for at least two years. Drivers under 25 years old may have to pay a young driver surcharge. The legal driving age in Mexico is quite different from other countries in terms of policy.
Laws on Overtaking
Overtake on the left if you choose to, except on roads where signs indicate it's prohibited. Be careful when overtaking, as this is a major cause of accidents in Mexico, where many locals drive without insurance.
Also, watch out for drivers turning without indicating. It's a notorious Mexican trait, so be alert.
Driving Side
Motorists in the country drive on the right side of the road. If you live in the UK or other countries where road users drive on the left, always bear in mind to drive on the right-hand side in Mexico.
As mentioned above, if you specifically commit this mistake, you might break a traffic rule, or get in trouble with other motorists.
The "Free Zone" in Mexico is an area 20-26 kilometers from the US-Mexico border.
In this area, requirements are less strict or alleviated. It is a zone marked at the end of the Mexican Federal Highway Number 15. A temporary vehicle importation permit is not required within this area.
Driving a friend's car in Mexico is possible. However, that doesn't mean that you should be doing that. Regardless of whose vehicle you are driving or whether you are renting a car, you need to take responsibility for the consequences.
As for rented vehicles, there may be guidelines as set by the car rental company from whom you rented your vehicle.
The worst part of any driving trip in any country is the fact that if you're a tourist, you often get stopped by the police.
A reason for this is that they would like to check whether you are a legitimate driver within your country with enough experience. It is for them to ensure that you won't cause future troubles within the country.
You could also be overspeeding, which is why they will stop you.
The following are the common requirements they will ask from you:
Native driver's license
Proof of Insurance
International Driver's Permit
Passport (if asked)
Checkpoints
This may be one of the most intimidating experiences for first-time drivers in Mexico: military checkpoints. Military personnel in full-army fatigues with automatic rifles stand on both sides of major highways in Mexico, with a structure or a sand hut nearby.
They are there for a good reason. The Mexican government installed a number of them to combat drug trafficking and other illegal activities. Military personnel always check for drugs and firearms. Bringing or possessing any firearm is illegal in Mexico.
Unless you want to experience Mexican prison, make sure you don't have any of that contraband with you.
When you approach a military checkpoint, young personnel (often below 20 years of age) either will let you pass through or flag you down. If they signal you to pull to the side of the road, be calm. Do so and wait for them to approach you.
Most soldiers are courteous to tourists since they're instructed to do so. Don't expect them however to speak in English. If you don't but have a good Spanish phrasebook with you, that will help your communication with them.
Military personnel will likely ask to inspect your car. Step out and let them check your vehicle. If they ask for documents like your passport, driver's license, and Mexico car insurance, present them. After that, they will let you go.
The best thing to do at military checkpoints is to smile at the soldiers. Having a friendly approach always coaxes courteous interactions with military personnel.
Driving through Mexico is safe during the day.
However, like in every other country, you need to avoid driving down the roads during the night. It is advised that you need to stop by somewhere if you are still a long way from your destination, especially before nightfall.
Also, keep in mind that there are roads in Mexico with poor road conditions, so be cautious when driving at night.
Driving in Mexico can be both fun and challenging. You can enjoy an extensive infrastructure of roads and expressways connecting major cities, and also see daily life in Mexico from the country's free (libre) roads.
But most roadways are congested daily, especially in Mexico City where cars are crawling for hours just to cover short distances.
There were more than 50 million vehicles in circulation in Mexico in 2019, a significant increase of 26.6 percent compared to 2015.
Local drivers can also be lax when changing lanes, using turn signals, and other traffic regulations. Foreign drivers used to driving in one lane should be aware of this in the country. When driving in Mexico, safety should be always kept in mind.
Accident Statistics
Minor traffic accidents are common in Mexico, and unless a serious one occurs, traffic authorities are not usually called. If you're involved in a minor accident, don't be surprised if the other driver just looks at you before driving away.
Most locals don't have car insurance.
There's also a chance that if you leave your car in a public parking space, you might find bumps and dents when you return. This is common, and most drivers in Mexico don't leave a note with their insurance details.
If you're renting a car, and it gets damaged by another vehicle, and the other driver speeds off, you will have to pay for the damage if you don't have full coverage.
But if the other driver is responsible enough to talk things over, wait for an insurance assessor to settle the matter.
Should you get involved in a car accident, don't run away.
A rental car or foreign vehicle can be easily traced by Mexican authorities, and you're going to face more problems when they find you. If you become a victim of a hit-and-run accident, report this to your insurance agency or a rental company.
Common Vehicles
Mexico may be considered part of North America, but most cars used in Mexico are different from the ones being driven in Canada and in the United States.
Drivers in Mexico prefer small and affordable vehicles, and sometimes pick-up trucks. Most brands used in the country are Nissan, Chevrolet, Volkswagen, and Kia. Honda, Ford, Toyota, and Mazda vehicles are also patronized by locals.
Cars commonly used by locals, like the Nissan Versa and Chevrolet Aveo, belie the stereotype that all families in Mexico are large or extended.
Toll Roads
Mexican toll roads are your best option for the safest way to arrive at your destination. They have ensured traffic flow since they are maintained properly. But since these roads are maintained properly, it comes with a price.
The price of using these Mexican toll roads also comes at a price. They can range from around 2.50 USD to 15 USD for passenger cards. This price will depend on the section of the highway.
Road Situations
The country has invested heavily in road infrastructure, improving its major roads and expressways. Authorities in the country are firm on the idea that when it comes to driving in Mexico, safety should always come first.
As mentioned, there are toll roads that are well maintained but are relatively expensive, even compared to those in the US. But they are a fast, safe, and effective way to travel across Mexico.
You can also drive on Mexico's free roads, but they will be crawling with traffic. Most of them only have two lanes. They are also less maintained than toll roads. Beware of potholes and gouges that could break an axle or flatten a tire.
During a heavy downpour, expect flooding on roads due to a lack of proper drainage. Dirt roads also turn into mud roads during rainstorms, which might get your vehicle stuck, unless it's a four-wheel-drive vehicle with high ground clearance.
The driving culture in Mexico, which tourists who plan to drive in the country should know, varies across the country.
Like every other country with a similar land area as Mexico, people in different areas have different cultures. As for Mexico City drivers, they don't usually follow the rules and rarely use indicators.
However, Yucatán drivers are polite and always drive by the speed limit.
Asking Directions
A GPS device or a reliable road map will help you get to your destination stress-free, but sometimes you need the help of a local to get to your destination faster and safer way.
During your journey, you'll likely ask locals for driving directions in Mexico. While some of them speak English, it's best to practice basic Spanish to get the best responses from them when asking for help.
Do you need a passport to go to Mexico?
Yes, all US travelers need a valid passport whether they're traveling to Mexico by air, land, or sea.
All United States citizens must present a valid passport when flying in and out of Mexico.
Passport cards are not accepted when traveling by air.
All US citizens must present a valid passport when traveling to Mexico by car.
Passport cards are also accepted when traveling to Mexico by land.
There are no exceptions to this rule.
One exception is traveling on a closed-loop cruise that starts and ends in the United States, you do not need a passport. On a closed-loop cruise, US citizens can use any government-issued ID with a photo and proof of citizenship.
Proof of citizenship includes a birth certificate or naturalization certificate.
Use these tags to read more related posts and reviews:
---
Let us know if this article was useful for you