Playa del Carmen real estate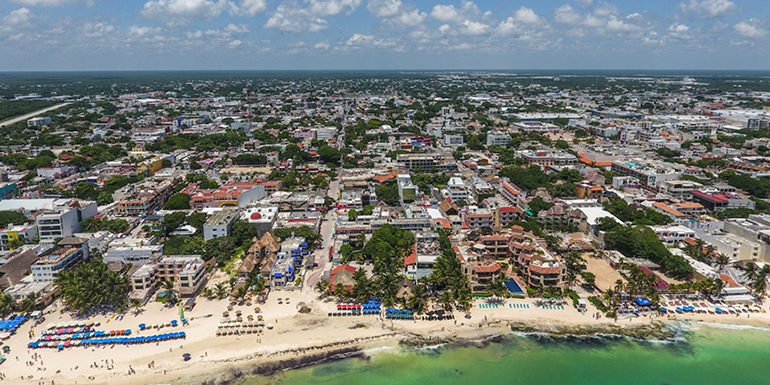 Laid-back towns are great places for retirement or vacation
Playa del Carmen has amazing tourist attractions. Beautiful cenotes, Maya ruins, and white sand beaches.
Does it feel like there are more people and traffic in Playa del Carmen? Does it seem like there are a lot of new places opening all the time? It should feel more crowded. The 2020 census numbers show a whopping growth of 103% increase in the population numbers of 2010.
And in the past 6 years, Playa del Carmen's population grew just over 63%. This all goes to show that Playa del Carmen is still growing, even though at one time Playa del Carmen was one of the fastest-growing cities in the world for just a short while ago.
What is driving the increase in population? It is mainly younger people from other parts of Mexico moving to Playa del Carmen. It is the lure of work that mainly attracts people.
The second reason is the lifestyle and weather. This not only attracts nationals but more and more foreigners each year. As big as Mexico is, and all the coast it has, there are relatively few beach towns that offer a strong economy and opportunities.
The Cost of Living in Playa del Carmen
Playa del Carmen is a walkable city where you have access to all the utilities that you need like hospitals, stores, and all the other facilities to lead the lifestyle of your dream. A lot of North American expats have chosen Playa del Carmen as their second home.
Pros of living in Playa del Carmen:
When traveling solo it's often cheaper to eat out than it is to cook and use gas & electricity.
Food/drink is cheap and GREAT quality.
Transport is super cheap and efficient – taxi/bus/boat.
Cons of living in Playa del Carmen:
Because of the economy, the earning potential is much less.
You can't always find the brands or material possessions you've become accustomed to back home.
Can foreigners buy real estate in Playa del Carmen?
The Mexican laws allow foreigners to buy property within 50 km from the coast or 100 km from the international border to set up a so-called fideicomiso.
Fideicomiso is a provision by which a testator leaves his inheritance or part of it entrusted to a person so that, in a specific case and time, he transmits it to another or invests it in the manner indicated.
Playa del Carmen is an important center of the Riviera Maya. With its grandiose real estate projects, Playa del Carmen is an interesting choice if you are considering buying property or investing in Mexico.
Real estate in Playa del Carmen is growing fastly. This cozy Caribbean town is experiencing strong tourism growth which presents a great opportunity for investment.
Condos are extremely popular in Playa del Carmen particularly if you want to be close to the beach.
Budget Real Estate | $50,000 – $140,000 USD
For this budget, you will get a lovely space on the other side of the highway around a 5-10 minute drive to downtown Playa. It's near impossible to find any condos under $140,000 USD.
Midrange Real Estate | $160,000 – $300,000 USD
This type of budget will afford you a nice condo downtown. More expensive condos will be toward the north end of the center. In Playacar (a gated community), there are a few houses in this price range too.
The midrange budget will give you lots of options to look at.
High-End Real Estate | – $300,000, $1,000,000 USD
With this type of budget, you are going to live very comfortably in Playa del Carmen, you'll find properties among the most sought-after residential areas such as Playacar, and a number of impressive estates in the Ejidal area.
Luxury Real Estate | $1,000,000 + USD
And if you are lucky enough to live lavishly the million-dollar mark will get you the best of the best. Think beautiful oceanfront houses in the Playacar region and grand condos lined with golf courses!
Use these tags to read more related posts and reviews:
---
Let us know if this article was useful for you