Puerto Peñasco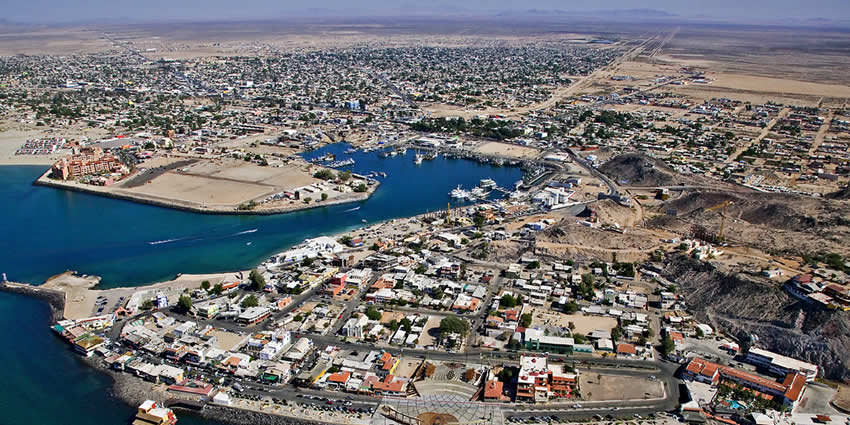 The city is known by two names, Puerto Peñasco in Spanish and Rocky Point in English.
Puerto Peñasco is a resort town located in Puerto Peñasco Municipality in the northwest of the Mexican state of Sonora, 100 kilometres (62 mi) from the border with the U.S. state of Arizona.
According to the 2015 census, it has a population of 62,177 inhabitants.
Since the late 1990s, there has been a push to develop the area for tourism. It is now one of the most important tourist destinations in northern Mexico. Puerto Peñasco is often called "Rocky Point" in English, and has been nicknamed "Arizona's Beach" as it is the closest beach to cities such as Phoenix, Tucson, and Yuma.
Beaches here include Sandy Beach, Las Conchas, El Mirador, La Choya, Playa Encanto, Estero de Morúa, Playa La Joya, Playa Miramar, and Playa San Jorge. Sandy Beach is noted for its sand which is a light brown color.
Puerto Peñasco is a popular destination for spring break, especially for high school and college students from Arizona and California for both its proximity and its 18-year-old legal drinking age.
Many residents are from the United States or Canada. Most restaurants offer menus in English, and most businesses accept U.S. dollars. Puerto Peñasco is popular with retirees, especially those from the United States and Canada who have trailers and RVs. However, there are retirees here from all over the world.
It is located on the northern shores of the Sea of Cortez on the small strip of land that joins the Baja California Peninsula with the rest of Mexico. The area is part of the Altar Desert, one of the driest and hottest areas of the larger Sonora Desert.
Climate
Puerto Peñasco has a desert climate with an average of 10 days of rain per year. The average high temperature is 28.9 °C (84.0 °F), but temperatures as high as 40 °C (104.0 °F) are not uncommon in the summer.
The average low temperature is 15.3 °C (59.5 °F). On average, the temperature drops below freezing once a year.
Though very rare, it is possible for a tropical storm or hurricane to reach the northern Gulf of California and cause significant damage. Hurricane Nora in 1997 and Hurricane Kathleen in 1976 were two such storms.
In 1826, retired Lt. Robert William Hale Hardy of the British Royal Navy was sailing in this area searching for pearls and precious metals. He named the area Rocky Point and it was identified as Rocky Point on marine maps until President Lázaro Cárdenas changed it to Puerto Punta Peñasco. To simplify pronunciation, the English name lost the word "Port" and the Spanish name dropped "Punta".
Prior to the 1920s, the area was just one of the safe harbors for wandering fisherman who worked the upper Gulf of California. During fishing seasons, fishermen from Guaymas, Bahía Kino, Puerto Libertad, and Puerto Lobos began to come here to camp out. The main attraction for these fishermen was a fish called totoaba, which was fished not for its meat, but for its use in medicine. At this time the area was known as Punta de Piedra o Punta Peñasco. The name comes from a large quantity of solidified lava that hit the Gulf. Even as early as the 19th century, fishermen from Arizona came here. Since there was no source of drinking water, it was not settled permanently.
In the 1930s, under President Lázaro Cárdenas, a railroad was built to connect the Baja California to the rest of Mexico, passing by Puerto Peñasco. The town began to grow again, adding a police delegation in 1932, as a dependency of the nearby municipality of Sonoyta, even though the town was part of the municipality of Caborca. The railroad line created new population centers and the initial layout of the city and port of Puerto Peñasco was begun in the 1940s. During this same time shrimp fishing was having an impact on the local economy.
In 1952, Puerto Peñasco separated from the municipality of Caborca and comprised the localities of Sonoyta, Bahía La Choya, 21 de Marzo and Cuauhtémoc. Sonoyta was the second largest population center at the time. In 1989, the municipality of Plutarco Elías Calles was split from Puerto Peñasco. Until the 1990s, there had been little tourism here except for campers and fishermen. The municipality's pristine beaches with clear waters stretched for a hundred miles north or south with almost no development. The push to make Puerto Peñasco or Rocky Point a major tourism center was initiated in 1993, with the government joining with private investors to build condominiums and other facilities. The goal has been to take advantage of the area's proximity to the United States.
Much of the inspiration for the effort came from the success of Cancún, which was a nearly virgin beach before a government/private venture developed it. Another reason to look to tourism was the declining catches of fishermen here, due to overfishing and pollution. The federal government contributed two billion pesos in infrastructure, especially roadways and an airport and the area was declared a free zone, meaning foreigners could visit the area without a visa (although a passport is still needed). There was some economic instability in 1994 and 1995, but it did not derail development here for long, coming back by 1999. Between 2002 and 2007 economic growth was at twelve percent. The local real estate market started to go bust in 2007 due to the economic slowdown in the United States.
The oldest part of the town was founded between the edge of the sea and Ballena Hill. The base of the area is volcanic rock, much of it solidified lava flows from when ancient eruptions met the ocean.
Tourism and fishing are the most important economic activities for the city. Development to date includes over one hundred restaurants, forty-two hotels and motels, and fourteen RV facilities.
To promote tourism here, the city was declared to be part of the border "free zone" although it is about 66 miles (100 km) from the U.S. This means that foreigners can drive from the U.S. to Puerto Peñasco without obtaining visas. This makes the area attractive to visitors from Arizona, California, and Nevada.
In a relatively short time, Puerto Peñasco has become a major tourist center. It contains numerous hotels as well as RV and primitive camping sites. Many consider Puerto Peñasco to be "Arizona's beach" with Tucson, Phoenix, and Yuma closer than the Mexican cities of Mexicali and Hermosillo. Most visitors come for the beaches and to fish.
A large number of beachfront condominiums have been built in this area including Las Conchas, Sandy Beach Resorts, Costa Diamante, Las Palomas Beach and Golf Resort, Sonoran Sea, Bella Sirena, and Las Palmas. The first condos, Las Conchas and Bahías Choya, were built in the far southeast and far northwest respectively. Interest in property here has been unexpectedly strong prompting further developments such as Sandy Beach. This development has plans for a golf course, malls, marinas and more condos.
One attraction of the beaches is the tidal pools. Tides here can raise and lower the sea on the relatively flat land up to 25 feet (8 meters). Low tide reveals a large number of tidal pools in the craters of the rocky coast. In these pools there used to be large numbers of crabs, starfish, and other marine life. There is also an estuary by the name of Morúa east of the community of Las Conchas. Here live thousands of birds, including migratory species.
The annual fishing festival begins on Navy Day on June 1. These celebrations feature mariachis, folklorico dance, and a festival queen.
Another fishing tournament is sponsored by the La Choya Bay Club.
Crafts for sale here include shell jewelry, iron pieces and carved ironwood.
The Mar de Cortés International Airport serves Puerto Penasco, but currently has no regularly-scheduled flights in or out. The new highway shortens the drive from California by 100 miles (160 km).
You can dial 078 from any phone, where you can find free information about tourist attractions, airports, travel agencies, car rental companies, embassies and consulates, fairs and exhibitions, hotels, hospitals, financial services, migratory and other issues.
Or dial the toll-free (in Mexico) number 01-800-006-8839.
You can also request information to the email correspondencia@sectur.gob.mx
MORE EMERGENCY NUMBERS:
General Information: 040 (not free)
National Emergency Service: 911
Radio Patrols: 066
Police (Emergency): 060
Civil Protection: +52(55)5683-2222
Anonymous Complaint: 089
Setravi (Transport Mobility): +52(55)5209-9913
Road Emergency: 074
Cruz Roja: 065 o +52(55)5557-5757
Firefighters: 068 o +52(55)5768-3700
Use these tags to read more related posts and reviews:
---
Let us know if this article was useful for you