Chipinque Ecological Park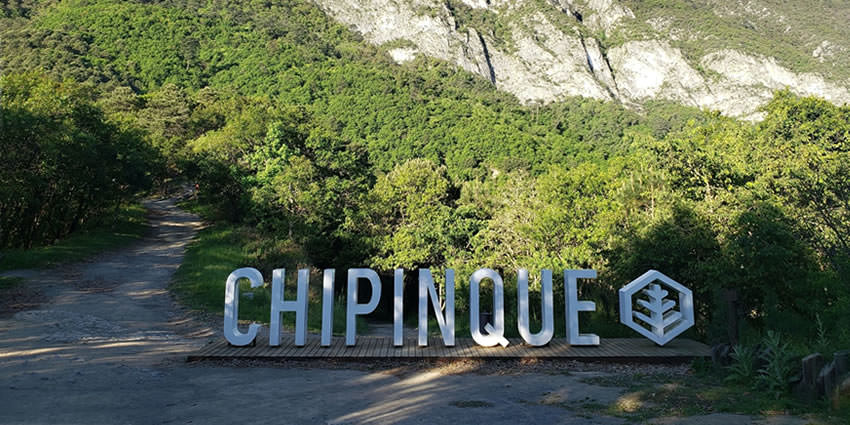 The Cerro de Chipinque is a mountain in the state of Nuevo León, Mexico. The mountain is part of the Sierra Madre Oriental range and the Cumbres de Monterrey National Park.
The mountain is surrounded by Santa Catarina valley, San Pedro valley, mount El Mirador, la Silla river, Ballesteros Canyon and La Huasteca canyon.
The summit reaches 2229 meters above sea level.
The mountain is a symbol of the Monterrey metropolitan area. The Chipinque Ecological Park is on the north slope of the mountain.
Chipinque Park is home to everything from black bears to butterflies, and even some surprisingly brave squirrels. There are also several species of birds, a breed of wild cat that looks disconcertingly like a chubby house tabby (it's actually a lynx), as well as pumas, coyotes and grey foxes.
You might even catch a glimpse of the excellent, native to Mexico coati, a raccoon-esque creature with a stripy tail, or a deer. Be on the lookout for the (non-venomous) black snakes though.
If you do see black bears, don't try and get close to them. Just stay still and wait for them to pass you by or retreat slowly.
Chipinque also has mariposario (butterfly house) to the insectario (insect house) and both are free to enter.
There are tons of routes you can pick and choose from when you're there, and they're ideal for whatever age and skill level.
Rules state that lighting fires is prohibited, but you can definitely still lug a coolbox of food to the Meseta and have lunch.
There are also a few water fountains at various points on the route so you could top up your bottle if need be.
Entrance costs just MXN $20 per person if you're entering on foot, MXN $45 if you want to cycle.
If you want to drive in (which many people seem to do) it will cost you MXN $60 to park your car at the Visitor Centre entrance, and MXN $110 to go straight to the Meseta.
Parque Ecológico Chipinque is open 365 days a year from 06:00 to 20:00.
The park itself closes at 19:30 pm and the admin offices close at 18:00.
It's so much cooler than the rest of Monterrey. According to the official website, the average temperature in Chipinque is around 21 degrees, which, is much more bearable than the 40-something degree heat four months of the year in Monterrey.
Dress appropriately – leggings, trainers, a light t-shirt and maybe a thin jacket with a hood in case it rains. It should go without saying, but wear shoes with a good grip too.
There's a small café right near the entrance that takes both cash and card, so if you want to grab a quick drink or snack before or after your ascent then you'll need some money on you in some form or another. However, if you want to buy something during the walk you'll need loose change.
It's very close to Monterrey, only around 20 minutes from the city center by car, and maybe an hour by public transport.
Uber
You can take an Uber from the city center which takes around 20 minutes and cost less than MXN $100, saving you the steep and windy walk up to the actual entrance.
Public transport
The official website claims that the easiest public transport route involves buses and taxis. You should take the Route 130 bus, getting off in San Pedro and then take a taxi.
Driving
Again, the Chipinque website states that you should locate 'Los Tubos', at the Vasconcelos and Gómez Morín intersection, San Pedro and drive south down Gómez Morín until you reach the park. It's pretty well signposted so it shouldn't be too tricky to find.
You can dial 078 from any phone, where you can find free information about tourist attractions, airports, travel agencies, car rental companies, embassies and consulates, fairs and exhibitions, hotels, hospitals, financial services, migratory and other issues.
Or dial the toll-free (in Mexico) number 01-800-006-8839.
You can also request information to the email correspondencia@sectur.gob.mx
MORE EMERGENCY NUMBERS:
General Information: 040 (not free)
SNational Emergency Service: 911
Radio Patrols: 066
Police (Emergency): 060
Civil Protection: +52(55)5683-2222
Anonymous Complaint: 089
Setravi (Transport Mobility): +52(55)5209-9913
Road Emergency: 074
Cruz Roja: 065 o +52(55)5557-5757
Firefighters: 068 o +52(55)5768-3700
Use these tags to read more related posts and reviews:
---
Let us know if this article was useful for you