Magdalena de Kino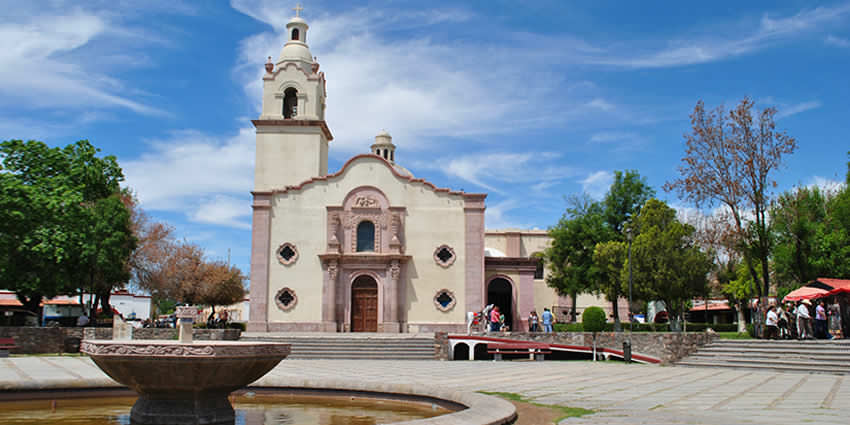 Magdalena de Kino is a city, part of the surrounding municipality of the same name, located in the Mexican state of Sonora covering approximately 560 square miles (1,460 square kilometers). Magdalena de Kino is in the northern section of Sonora 50 miles (80 kilometers) from the Mexico-U.S. border.
According to the 2005 census, the city's population was 23,101, and the municipality's population was 25,500.
The city was named after the pioneer roman catholic missionary and explorer, Father Eusebio Francisco Kino, who worked in the area, as well as in the present-day US state of Arizona.
Originally, the territory was populated by the Papagos (Tohono O'odham) and Pimas (Akimel O'odham).
The first missions were established in 1687, with the arrival of Father Eusebio Francisco Kino.
The municipal seat was founded at the beginning of 17th century by Lieutenant Juan Bautista Escalante.
Magdalena de Kino suffered two massacres, one in 1757 and another in 1776.
The city was founded by decree in December, 1923.
At first the city was called "Santa María Magdalena de Buquivaba", but was changed in 1966 to its present name.
Magdalena de Kino has 6 hotels and 6 bars/restaurants and several sites of interest to tourists, including:
The Temple of Santa María Magdalena, with an image of San Francisco Xavier, an important historical figure for both Sonora and the neighboring U.S. state of Arizona.
The Grave of Father Kino, who died in the year 1711 and is interred in a crypt near the mission he founded. The monument was constructed in 1966 after the discovery of Father Kino's remains.
The Father Kino Museum, with architectural designs by Marco Antonio Ortez, where objects of the indigenous cultures of the region are exhibited, including photographs, weaponry and clothing.
The Mausoleum of the wife of Colosio Murrieta, located in the municipal pantheon.
Numerous buildings constructed of stone with engravings reflecting the history of the municipality and Mexico in general.
Magdalena de Kino is the subject of a song by The Killers frontman, Brandon Flowers.
'Magdalena' appears on his solo album Flamingo.
By bus from Hermosillo $16-$30 (3:15 hours).
By bus from Hermosillo via Santa Ana $18-$28 (3:30 hours).
By taxi from Hermosillo $30-$40 (2:25 hours).
By bus from Nogales $6-$14 (1:05 hours).
By taxi from Nogales $15-$18 (1:10 hours).
You can dial 078 from any phone, where you can find free information about tourist attractions, airports, travel agencies, car rental companies, embassies and consulates, fairs and exhibitions, hotels, hospitals, financial services, migratory and other issues.
Or dial the toll-free (in Mexico) number 01-800-006-8839.
You can also request information to the email correspondencia@sectur.gob.mx
MORE EMERGENCY NUMBERS:
General Information: 040 (not free)
National Emergency Service: 911
Radio Patrols: 066
Police (Emergency): 060
Civil Protection: +52(55)5683-2222
Anonymous Complaint: 089
Setravi (Transport Mobility): +52(55)5209-9913
Road Emergency: 074
Cruz Roja: 065 o +52(55)5557-5757
Firefighters: 068 o +52(55)5768-3700
Use these tags to read more related posts and reviews:
---
Let us know if this article was useful for you