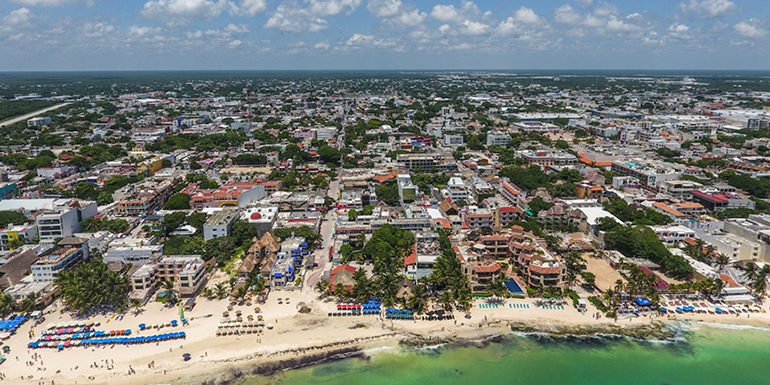 Playa del Carmen
Playa del Carmen is a city located along the Caribbean Sea in the municipality of Solidaridad, in the state of Quintana Roo, Mexico. Playa del Carmen, now the third-largest city in Quintana Roo, ranks up there with Tulum as one of the Riviera's trendiest cities.
It is a popular tourist area in eastern Mexico.
Playa del Carmen features a wide array of tourist activities due to its geographical location in the Riviera Maya. Playa del Carmen is a stop for several cruise ships that dock at the nearby Calica quarry docks, about six miles (10 km) south of the city.
Playa del Carmen is located within the Riviera Maya, which runs from south of Cancún to Tulum and the Sian Ka'an biosphere reserve.
Playa del Carmen is an idyllic place with fine white sand and blue-green waters, you will always find a hammock and an umbrella to sunbathe and rest, especially on the edge of town which offers the quietest beach areas.
The town is ideally located: close to Cancún's international airport, but far enough south to allow easy access to Cozumel, Tulum, Cobá, and other worthy destinations.
The reefs here are excellent and offer diving and snorkeling close by. Look for rays, moray eels, sea turtles, and a huge variety of corals. The lavender sea fans make for very picturesque vistas.
If you prefer action, in Playa del Carmen you will find water activities such as windsurfing, jet skis, kayaking, or diving in the impressive Mayan coral reef.
The Xcaret Eco Park, a Mexican-themed "eco-archaeological park", is a popular tourist destination located just south of the town of Xcaret.
It has also been the destination of PGA Tour golf tournaments and the set location for various television shows.
The climate of the municipality is warm and subhumid with rains in the summer of higher humidity.
The average annual temperature is 25.8 ° C, the lowest temperatures are recorded in the month of January with 13 ° C, and the maximum is reached in the month of August with 32.9 ° C.
The prevailing winds are those of the southeast.
Annual rainfall is at 1,331.2 millimeters with a rainy season from June to November.
The climate is affected by cyclones or hurricanes, which increase precipitation, especially in the summer.
The hurricane season runs from June 1 to November 30 of each year. In October 2005, Hurricane Wilma passed directly over Playa del Carmen, remaining in the vicinity for two days and causing significant damage and a temporary drop in tourist arrivals.
Fortunately, most of the damage was relatively superficial and repaired within a few weeks of the storm.
Hurricane Wilma arrived from the Caribbean Sea, passing over Cozumel before making landfall in Playa del Carmen. It then moved north along the Mexican coast, hitting Cancún especially hard.
In 1996 its population was 10,000 inhabitants, in 2003 it already had a population of 49,000 inhabitants, mainly due to the immigration of people from different parts of the republic in search of the work demanded by the tourism industry.
According to the 2010 Census, the city has 159,310 residents; this can be translated to 14,285 new residents per year, and 39 new residents per day in the last 7 years.
It is currently stated that for this year 2018, there will be a total of around 500,000 inhabitants.
In pre-Hispanic times Playa del Carmen was called Xaman Há ("Water of the North") and was a starting point for the Mayans on their pilgrimage to the Ixchel sanctuary in Cozumel.
During the sixteenth century, the Spanish invaded and conquered most of the Mayan sites. However, unlike many others, Playa del Carmen never became a Spanish settlement.
With the arrival of the Spaniards in Mexico, it is recorded that Francisco de Montejo was the one who conquered this region in 1526, founding the town of Salamanca where Xel-Ha is currently located.
Also, a year later, a lieutenant of Montejo, Alonso Dávila, established his camp in Xaman-Ha, which he described as a fishing village. Despite these events, this area remained very little inhabited during the entire period of the colony.
The founding of Playa del Carmen was due to a colonizing chicle company on the eastern coast of Yucatan, which in 1908 obtained from the government of Porfirio Diaz the concession to explore forest resources.
This is when a community of fishermen, coconut producers, and the chewing gum tree was located there.
Until the mid-1980s, Playa del Carmen was a small town with less than 1,500 inhabitants, although in the last two decades, it has changed markedly with the growth of tourism.
Tourism to Playa del Carmen began with the passenger ferry service to Cozumel, an island across the Cozumel Channel and a world-famous scuba diving destination.
Playa del Carmen has recently undergone extremely rapid development with new luxury residential condominium buildings, restaurants, boutiques, and entertainment venues.
Tourist activity in Playa del Carmen centers on Quinta Avenida, or Fifth Avenue, which stretches from Calle 1 Norte to Calle 40.
A pedestrian walkway located just one or two blocks inland from the beach, Fifth Avenue is lined with hundreds of shops, bars, and restaurants. There are many small boutique hotels on and just off Fifth Avenue and on the beach.
Playacar is a residential and tourist development in Playa del Carmen just south of the main urban area. Most of the all-inclusive hotels, the aviary, and the golf course are located in this development.
There are two phases — phase 1 is mostly residential with a few hotels and some stores, while Phase 2 contains the largest all-inclusive resorts as well as the golf course and a significant number of residential properties.
The telenovela Peregrina takes place in Playa del Carmen.
The Real Housewives of Vancouver featured Playa del Carmen in two episodes.
The Amazing Race was shot on location in Playa del Carmen.
The Celebrity Mole was set in the Playa del Carmen area.
UK Reality Series Geordie Shore featured Playa del Carmen.
Playa del Carmen is host to several major annual events the largest being The BPM Festival, a world-famous electronic dance music festival which takes place in January each year.
Carnival of Playa del Carmen
It takes place at the end of January, there are shows and parades where they recreate the Mayan culture.
Feast of the Virgin of Carmen
It is celebrated in July and is one of the most important events for the municipality of Solidaridad since it is the patron saint of the town. On this date, the Carmen Fair is also held to commemorate this celebration.
La Guelaguetza
Playa del Carmen and Oaxaca sister cities by the Guelaguetza, in April it is hosted at the Civic Plaza on July 28 at the Expo Guelaguetza in Playa del Carmen, where you can find handicrafts and products from Oaxaca and also enjoy music and dances typical of that region.
Sacred Mayan Journey
It takes place in November, it is a ritual where hundreds of canoeists sail from Xcaret to the sanctuary of the goddess Ixchel, in Cozumel. They travel to hear the message of their deity, to return to Playa del Carmen to transmit it to the Mayan people, who hope to know what the destination holds.
The participants of this recreation feel the spiritual value of the Mayan roots, paddling kilometers to reach their goal. Thousands of tourists witness this spectacular event every year.
Riviera Maya Jazz Festival
The Riviera Maya Jazz Festival is a renowned music event set against the backdrop of the beautiful Riviera Maya region in Mexico.
It features a diverse lineup of jazz artists, blending traditional and contemporary styles, and takes place in open-air stages, creating a unique fusion of music and natural beauty.
The festival offers a platform for both established and emerging musicians to showcase their talents, making it a must-attend event for jazz enthusiasts and those seeking a cultural and musical experience in a tropical paradise.
Here could be your advertisement.
Contact us for more information.
Here could be your advertisement.
Contact us for more information.
You can dial 078 from any phone, where you can find free information about tourist attractions, airports, travel agencies, car rental companies, embassies and consulates, fairs and exhibitions, hotels, hospitals, financial services, migratory and other issues.
Or dial the toll-free (in Mexico) number 01-800-006-8839.
You can also request information to the email correspondencia@sectur.gob.mx
MORE EMERGENCY NUMBERS:
General Information: 040 (not free)
National Emergency Service: 911
Radio Patrols: 066
Police (Emergency): 060
Civil Protection: +52(55)5683-2222
Anonymous Complaint: 089
Setravi (Transport Mobility): +52(55)5209-9913
Road Emergency: 074
Cruz Roja: 065 o +52(55)5557-5757
Firefighters: 068 o +52(55)5768-3700
Use these tags to read more related posts and reviews:
---
Let us know if this article was useful for you