Jiutepec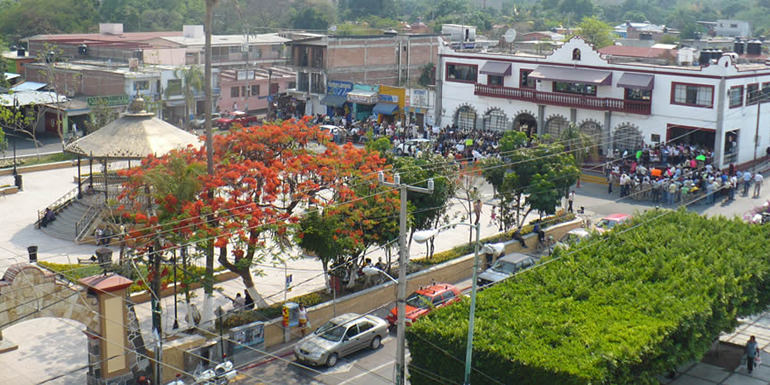 Jiutepec is a city and its surrounding municipality in the Mexican state of Morelos. The city serves as the municipal seat for the surrounding municipality of the same name.
Over recent decades Jiutepec has merged into neighbouring Cuernavaca so that on its northeasterly edges it forms one geographically contiguous urban area with the latter. The Cuernavaca metropolitan area not only includes these two municipalities, but also Temixco, Emiliano Zapata, Xochitepec, and Tepoztlán municipalities, for a total population of 787,556.
The city of Jiutepec had a population of 153,704 while the municipality reported 181,317 inhabitants in the census of 2005. The city and the municipality both rank second in population in the state, behind only the city and municipality of Cuernavaca. The municipality has an area of 70.45 km² (27.2 sq mi); its largest community besides Jiutepec is the town of Progreso.
The name Jiutepec comes from the Nahuatl name "Xiutepetl", which means "the precious stones hill".
It has tourist attractions like spas.
It has the hotel Ex-Hacienda de Cortez. It is a hotel and Hernan Cortez's hacienda too.
Another interesting place is Hotel Sumiya. It is a Japanese place one can visit.
It has its zocalo (like a plaza) with a tower that has a clock, this zocalo is surrounded by trees and some stores, in front of it, is the old church. Here traditional parties are held. People sell traditional bread, beer, dance the Chinelo Dance, there is music, fire works and food like esquites and tamales.
You can dial 078 from any phone, where you can find free information about tourist attractions, airports, travel agencies, car rental companies, embassies and consulates, fairs and exhibitions, hotels, hospitals, financial services, migratory and other issues.
Or dial the toll-free (in Mexico) number 01-800-006-8839.
You can also request information to the email correspondencia@sectur.gob.mx
MORE EMERGENCY NUMBERS:
General Information: 040 (not free)
National Emergency Service: 911
Radio Patrols: 066
Police (Emergency): 060
Civil Protection: +52(55)5683-2222
Anonymous Complaint: 089
Setravi (Transport Mobility): +52(55)5209-9913
Road Emergency: 074
Cruz Roja: 065 o +52(55)5557-5757
Firefighters: 068 o +52(55)5768-3700
Use these tags to read more related posts and reviews:
---
Let us know if this article was useful for you