Tenosique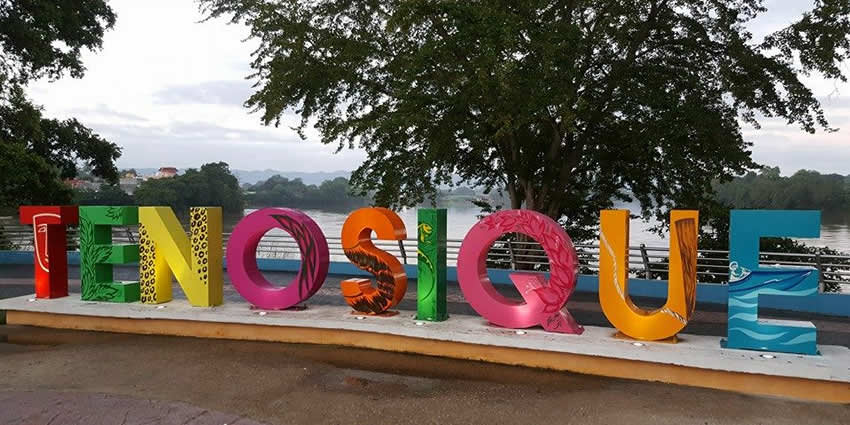 Tenosique is a town located in Tenosique Municipality in the southeastern corner of the state of Tabasco, in Mexico. Its official name is Tenosique de Pino Suárez.
The town had a 2005 census population of 31,392 inhabitants (the fourth-largest community in the state after Villahermosa, Cárdenas, and Comalcalco), while the municipality had a population of 55,601.
Tenosique's etymology: from the Maya words "Tana" or house and "tsiic" weaving or counting threads. Which leaves us with "casa de los hilanderos " or "House of Weavers or thread counters".
Tenosique was founded c. 1000 B.C. in the Preclassic Maya Period (according to Magnolia Paz Nexo in her book Tenosique Prehispánico y Colonial edited by the Government of Tabasco). Since then Tenosique has been occupied uninterruptedly.
Vice President and national hero of the Revolution, José María Pino Suárez was born in Tenosique in 1869, and the town now bears his name.
The Carnival of Tenosique takes place between the months of January and February of each year and is classified as the "rarest of the world".
It is a carnival of prehispanic roots. The inhabitants congregate in the streets to flour flour and then witness the traditional "Pochó dance".
This celebration attracts many visitors not only from the state capital, but from other neighboring states, who saturate the rooms available in hotels of the town.
From San Cristobal de las Casas by bus (almost 7 hours) $14-$24 or by taxi (4:30 hours) $50-$65.
From Villahermosa by bus (almost 7 hours) $17-$31 or by taxi (5 hours) $65-$80.
From Escarcega by daily bus (2:30 hours) $11-$19 or by taxi (4:30 hours) $45-$55.
From Palenque by bus (1 hour) $4-$8 or by taxi $17-$28.
You can dial 078 from any phone, where you can find free information about tourist attractions, airports, travel agencies, car rental companies, embassies and consulates, fairs and exhibitions, hotels, hospitals, financial services, migratory and other issues.
Or dial the toll-free (in Mexico) number 01-800-006-8839.
You can also request information to the email correspondencia@sectur.gob.mx
MORE EMERGENCY NUMBERS:
General Information: 040 (not free)
SNational Emergency Service: 911
Radio Patrols: 066
Police (Emergency): 060
Civil Protection: +52(55)5683-2222
Anonymous Complaint: 089
Setravi (Transport Mobility): +52(55)5209-9913
Road Emergency: 074
Cruz Roja: 065 o +52(55)5557-5757
Firefighters: 068 o +52(55)5768-3700
Use these tags to read more related posts and reviews:
---
Let us know if this article was useful for you