Why summer is the best time to enjoy Cancun's beaches?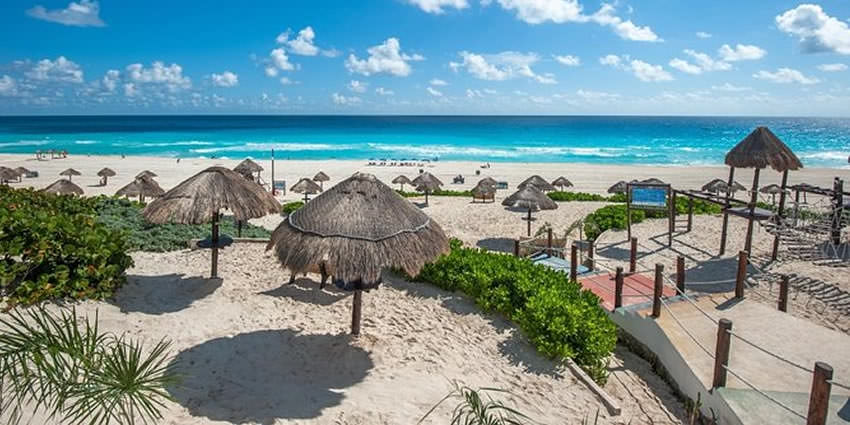 Cancun's beaches have risen to popularity, drawing a multitude of travelers who eagerly converge upon this coastal haven, allured by the white-sand expanses that rank among the nation's finest.
In summer months, finding a calm relaxation on Cancun's noisy beaches can seem like a daunting task, given the growing vacationer crowds reaching their zenith along the Mexican Caribbean.
But as the city slowly shifts its pace in anticipation of the impending calm that accompanies the autumn, Cancun's pristine beaches are transforming into an idyllic place, offering a tranquil retreat in this tropical paradise.
Against this backdrop, it becomes clear that a stay in Cancun during the last summer and/or early autumn is a good choice, driven by a combination of factors that converge to create an unforgettable experience.
Here are 5 reasons why Cancun's beaches are especially gorgeous in the summer.
Minimal amounts of sargassum
Sargassum, a persistent challenge for numerous destinations along the Mexican Caribbean coastline throughout this year, has notably exhibited reduced presence in Cancun over the recent weeks, marking an unusual decline in seaweed levels.
The most recent sargassum forecast affirms that all of Cancun's pristine beaches are presently categorized as showcasing minimal quantities of sargassum during this specific week, presenting an optimistic outlook for beachgoers.
This current situation stands in stark contrast to earlier predictions made by experts earlier in the year, which painted a rather bleak picture of an impending record-breaking summer with regard to the sargassum influx.
Naturally, as is the case with all prognostications, shifts in circumstances are still plausible, underscoring the importance of travelers making the most of Cancun's idyllic sargassum-free shorelines while favorable conditions persist.
Improved environmental standards make for quieter beaches
Lawmakers in Quintana Roo recently issued a new decree declaring Playa Deflines a Protected Natural Area. The move is intended to protect the flora and fauna at the popular beach, which holds up to 8% of all plant and animal species in the region.
As a result, businesses (including resorts, restaurants, and bars) will no longer be granted permission to break ground on the Blue-Flag beach. However, residents and travelers will still be able to enjoy the turquoise waters and powdery white sands.
The end of summer means fewer crowds
The busiest summer on record for tourism in Cancun and Riviera Maya is slowly coming to an end, with resorts expecting occupancy rates to begin falling as travelers head back home after their annual holidays.
July and early August are considered the peak periods of the summer season, with around 85% of all rooms selling out during that time. The end of August and September are generally much quieter, and typically only see a 60 to 65% occupancy rate.
Excellent safety thanks to summer security operations
Cancun is one of the safest destinations for travelers, with a significant law enforcement presence looking after tourists. That's all the more so this summer with officially launching one of the most comprehensive security operations in history.
Hundreds of armed officers from the National Guard and even the Mexican Army are currently patrolling Cancun's most touristy locations, ensuring that travelers can peacefully bask under the tropical heat.
Even so, visitors are advised to maintain a high degree of situation awareness, with petty crime still a major risk. Never leave your personal belongings unattended when enjoying Cancun's beaches.
Endless outdoor activities
Cancun is a hotspot for all sorts of outdoor activities, many of which are best enjoyed on the city's numerous white-sand beaches. A hub for paddle boarding, kitesurfing, and snorkeling, travelers can partake in both extreme sports as well as more easy-going ones.
Travelers can find an array of businesses specializing in waterspouts and gear rentals. Dotted along the city's white sand beaches – especially in and around the hotel zone – visitors can try out plenty of new and unique activities.
One activity that has seen its popularity skyrocket this summer is catamaran boat tours. Allowing travelers to escape the crowds, these tours come in many different varieties.
Use these tags to read more related posts and reviews:
---
Let us know if this article was useful for you