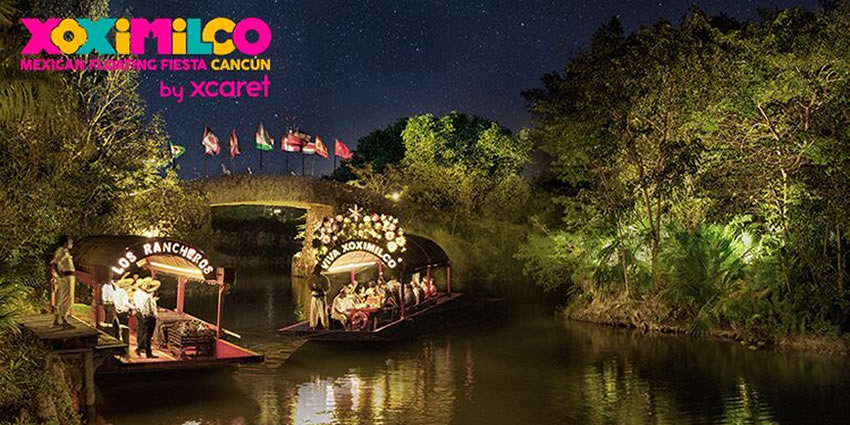 What is Xoximilco tour like in Cancun?
Xoximilco is a park modeled after Mexico City's original boroughs Xochimilco. Xochimilco is part of the ancient area of Mexico City where there are canals. It has become one of those places where you can rent out boats known as trajinera and enjoy time going down the canals.
Xoximilco is a theme park dedicated to the culture, tradition, music, and food of Mexico, with trajineras navigating the Mayan jungle. You would pass by other boats with musicians on board, and you could pay to hear a song. Passers-by would be offered drinks or food by other vessels.
Read these Xoximilco reviews for more information.
Why Do Visitors Come to Xoximilco?
Travelers flock to this primarily agricultural town for its historic center's lengthy lines of gorgeous canals. You can take a cruise down the rivers in the colorful open-air boats known as trajineras to a nature refuge and floating gardens.
The trip also includes a show: music boats with mariachi musicians float beside you through the canal. Many of them also offer tacos, corn, and tortillas, so be sure to have some additional cash. Restaurants and gift shops can be found along the water's edge.
Most visitors enjoy the fun carnival-like atmosphere, but remember, things can get crowded.
You may ride a trajinera through the Xochimilco canals any day between 09:00 and 18:00, although a weekday will provide a more relaxing trip with fewer passengers.
You can rent a trajinera for 500 MXN (each hour or book a trajinera up and down the river for 60 MXN (approximately $3 USD). Xochimilco is roughly 15 miles south of the Zócalo. You can take a taxi or use the T1 rail to Terminal Xochimilco to get there.
What Are the Opening Hours?
Yes! Xoximilco Cancun is presently open from Monday through Saturday, from 19:00 to 23:00, and on some Sundays during the high season. On their official page, you can see their most recent calendar.
We encourage obtaining your tickets in advance because the tour has a limited capacity due to the 360° Xafety process.
What To Wear on Your Tour?
Anything comfortable really… but never lose sight of the glitz! Because there will be a lot of dancing and Cancun's environment is typically pleasant, we recommend wearing light clothing. The same may be said about footwear, albeit the comadres do wear heels to compensate for the movement of the party barge.
Don't Forget to Enjoy the Mexican Culinary
Tequila, salt, limes, and appetizers are placed in the center of the table in the trajinera, and another trajinera arrives to serve beers, sodas, and flavored drinks to complement these.
They also serve a three-course lunch, which is a unique culinary experience. You'll get a taste of mole poblano, grasshoppers from Oaxaca, prawns, and even BBQ lamb. Finally, you'll sample some traditional Mexican treats.
Visiting Xoximilco is like going back in time and experiencing Mexico's past. Numerous legends and anecdotes about the origins of many Mexican traditions will be revealed on this trip. Visiting Xoximilco in Cancun will be a wonderful experience!
Use these tags to read more related posts and reviews:
---
Let us know if this article was useful for you