Riviera Maya Jazz Festival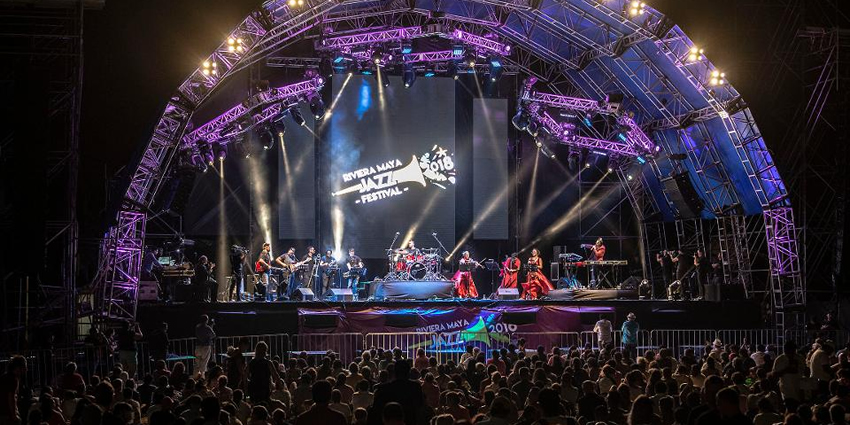 The Riviera Maya Jazz Festival is a prominent musical event that has captivated audiences with its enchanting blend of jazz rhythms set against the stunning backdrop of the Riviera Maya in Mexico.
The Riviera Maya Jazz Festival has been an annual event since its inception in 2003. Since then, it has been held each year. The Riviera Maya Jazz Festival typically takes place in late November or early December each year.
Known for its world-class performances, the festival has become a must-attend event for jazz lovers from around the globe.
The festival takes place in the Riviera Maya. The festival's exact location varies from year to year, but it commonly occurs in the Playa del Carmen area, known for its beautiful beaches and vibrant atmosphere.
This is one of the top jazz festivals in the world and the only one to offer free admission to all of its concerts.
The festival stages are often set up in open-air venues near the shoreline, providing attendees with the unique experience of enjoying world-class jazz performances against the backdrop of the breathtaking Caribbean Sea.
Since its inception, the Riviera Maya Jazz Festival has hosted an impressive lineup of internationally renowned jazz artists, showcasing a diverse range of styles within the genre.
Jazz aficionados have the opportunity to enjoy both contemporary and traditional jazz performances, often infused with elements of Latin, fusion, and world music.
The festival's open-air stages provide a one-of-a-kind atmosphere where attendees can immerse themselves in the music while being surrounded by the natural beauty of the Riviera Maya.
The soothing sounds of jazz resonate against the backdrop of swaying palm trees, creating a harmonious blend of auditory and visual pleasures.
Over the years, the Riviera Maya Jazz Festival has become a platform for both emerging and established jazz musicians to showcase their talent. It serves as a space for creative expression, musical exploration, and cultural exchange.
Audiences can expect a dynamic range of performances, from soulful ballads to energetic improvisations, all contributing to the festival's vibrant and eclectic atmosphere.
The Riviera Maya Jazz Festival offers a chance to indulge in the magic of music while basking in the tropical allure of the Riviera Maya. It's an event that celebrates the harmonious fusion of art, nature, and the universal language of jazz.
Use these tags to read more related posts and reviews:
---
Let us know if this article was useful for you