Scuba diving in Riviera Maya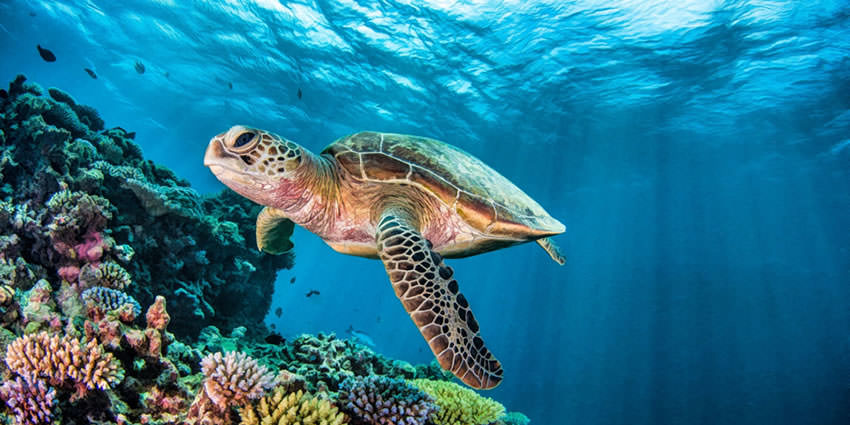 Scuba diving is the use of a Self-Contained Underwater Breathing Apparatus (SCUBA) which helps divers breathe deep under the water and lets to explore the amazing undersea world beneath the ocean's surface.
Scuba diving tourism is an industry based on recreational diving travel. Popular diving destinations divide into a few groups, including tropical reefs, wreck ships, and exploration of underwater caves.
Scuba diving is an extremely popular activity in Mexico, thanks to the warm waters, great visibility, and abundance of wildlife at the dive sites.
There are plenty of beautiful places for scuba diving all over the world, but still, the palm in terms of the number of the most attractive dive sites unconditionally belongs to the Riviera Maya. It is here that the most interesting places for diving and snorkeling are concentrated.
Coral reefs, whale sharks, shoals of colorful fish, sea turtles, dolphins… The coasts of the Mexican Caribbean, from Cancun and to the south, along the Riviera Maya, are famous because of their natural beauty and also as one of the best places for a snorkel, and scuba diving.
The Mesoamerican Barrier Reef System is the largest transboundary reef in the world and contains the second-longest barrier reef in the world and extends across four countries and over a thousand kilometers of coastline. It is a key place for the protection of biodiversity, including sea turtles, more than 60 types of corals, and more than 500 species of fish that are in danger of extinction.
Diving is the joy of reconnecting with nature. Only by plunging into warm water and stretching on the cleanest sand, you can feel the beauty of the right choice. Blue lagoons, a wonderful underwater world, bright sun, and amazing palm shores – all together create a holistic attractive world, a corner of a real paradise.
Best places to dive in the Riviera Maya
The island of Cozumel is the third largest island in Mexico, and the second-most populous. It is a reference destination in terms of diving and snorkeling. A designated place to practice water activities on Cozumel is the Chankanaab Park, where you can see coral masses almost three meters high and one to five meters wide.
El Cielo ("Sky") is a sandbank near the coast of Cozumel island. Its crystal clear waters and slow waves allow seeing starfish at a shallow depth. You can access this site by boat from Chankanaab Park, the Colombia Lagoon pier, and from Palancar Beach.
The Jardines and Tortugas reefs, dive sites such as Barracuda, Tarpon, Cerebros, and Pared Verde, etc… Playa del Carmen is an ideal place that ensures unique undersea excursions. In addition, you can also dive in cenotes, which are very abundant along the Riviera Maya coastline.
The waters of Playa del Carmen also have a sunken ship – "Mama Viña". It is a shrimp boat that has been lying on the seabed since 1995. Between the months of November and March, this site also attracts the attention of bull sharks.
Wreck diving tours
Wreck diving is diving to the wreckage of sunken ships or crashed aircraft located on the seabed. If you have already mastered the diving technique at an intermediate level, you can choose something more interesting – an undersea trip to sunken ships.
Today these exotic underwater adventure tours are offered in many countries around the world and Mexico is not an exception. There are a few thousand sunken ships in the Caribean basin and the diving tours to the wreckage are offered not only in Mexico but around all Caribean sea islands.
A lot of diving places in the Caribe and centers of scuba diving in Punta Cana, Montego Bay, Cayman Islands, around all Caribbean basins, also offer subsurface excursions to wrecked ships.
Open Water Certification
If you are not certified, don't worry. Many diving centers dotted up and down along the Riviera Maya.
Open Water Diver (OWD) is an entry-level autonomous diver certification for recreational scuba diving. This introductory diving course usually lasts 3 days and consists of 3 parts:
Knowledge development (theory)
Confined water dive (practical training)
Open water dives (experience)
At the end of the course, you will receive your PADI Open Water Certification and you will be able to dive all over the world up to 18 meters.
With your Open Water Certification, you also can dive not only in Mexico but around all the Caribbean Sea islands and around the world. Once you are ready to dive, head to any of these amazing diving sites for incredible undersea experiences.
Use these tags to read more related posts and reviews:
---
Let us know if this article was useful for you