Vacation in Riviera Maya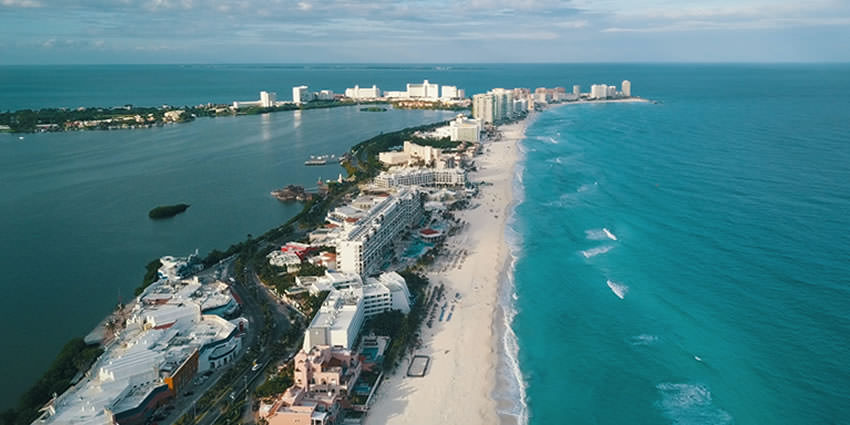 For many, Cancun is a very important tourist place in Mexico for its beaches, theme parks, or the endless nightlife of the hotel zone.
It is a perfect place for a vacation with all kinds of adventures and emotions. If you still haven't had the chance to know this place, we will tell you some important things about Cancun in case one day you decide to spend your vacation in this paradise.
First of all, you have to know that the climate on Yucatan is temperate and the temperature remains between 25 and 30° C. Take into account that from July to October it descends and it is a season where there are strong storms and hurricanes. So if you're looking for a sunny climate, the ideal months to travel are November to June.
Beaches
This is a must if you visit Cancun. Anyone who decides to spend their vacation in Cancun is going to visit its beaches to swim in its turquoise waters or sunbathe and relax.
The most important and main beaches in Cancun are "Playa Delfines", "Playa Tortuga", "Playa Caracol" and "Playa Langosta". All located in the Hotel Zone. Remember this, in Mexico the beaches are public and you don't have to pay to access them.
Theme Parks
A highly recommended place to visit in the Riviera Maya is "Xcaret", an ecological theme park located at km 282 of the Chetumal-Puerto Juarez highway and 74 km from the Cancun International Airport in the direction of Tulum.
You will not regret visiting this place, you will be able to see marine species, exotic birds, and even panthers up close. You can also snorkel, swim with dolphins, or take a bath in the subway river. In its main pavilion, you will witness its attractive final show. Don't miss it!
Another renowned place in the Riviera Maya is Xel-Ha, a marine ecological park where more than 70 marine species live. This natural aquarium is considered the largest in the world.
Nightlife
In Cancun, the nightlife is endless, especially in the hotel zone. Here you can find restaurants, clubs, bars, and discos with various renowned concepts such as "Coco Bongo", "The city Cancun", "Mandala", "Dady'O" and "Bulldog".
This is one of the main reasons why many people from Mexico and abroad travel to Cancun to enjoy the lively nightlife of this area.
The access cost for these places is approximately $50 USD and includes free drinks throughout the night.
Archaeological Zones
You have to know that in Cancun not everything is related to beaches and parties. You can also find history in its Archaeological Zones by exploring all the Mayan culture at the Pyramids of Chichen Itza which is a 3-hour drive away or by visiting the Mayan ruins of Tulum, very close to the seashore. Approximately one and a half hours from Cancun.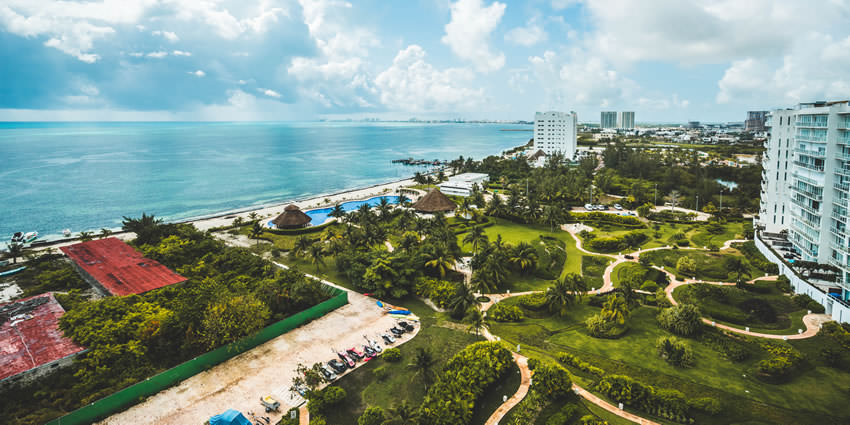 Transportation from Cancun Airport
It is important that you know that the airport is 16 km from Cancun. Actually this should not be a big problem since being at the airport you will be able to find many transportation options.
The first option you will encounter is the ADO bus company. If you like to travel comfortably and are not in a hurry to get to your hotel, this is an excellent option.
The cost of the ticket is $4.5 USD and departures are every 10 or 20 minutes.
The second option is the cab service in the area. To be honest I never considered it since its approximate cost is $40 USD. Something very high considering the other options.
The third option is the Cancun Airport Shuttle Company. It is perfect if your trip is with friends or family. Many companies that offer this service will pick you up at the Cancun Airport and take you to the hotel where you will be staying. The best thing is that the price is per vehicle and not per person. It is recommended to check online before you travel, you may find good promotions.
And the last option is the Car Rental Cancun Agency. The good thing about this option is that if you are someone adventurous you will have the freedom to move around. Something very important is that the cost of gasoline is on your own. Just like the previous option, it's recommended to search the internet, maybe you will find a good offer that fits your budget.
Enjoy your vacations in the Riviera Maya and have fun in this paradisiacal place of Mexico.
Use these tags to read more related posts and reviews:
---
Let us know if this article was useful for you