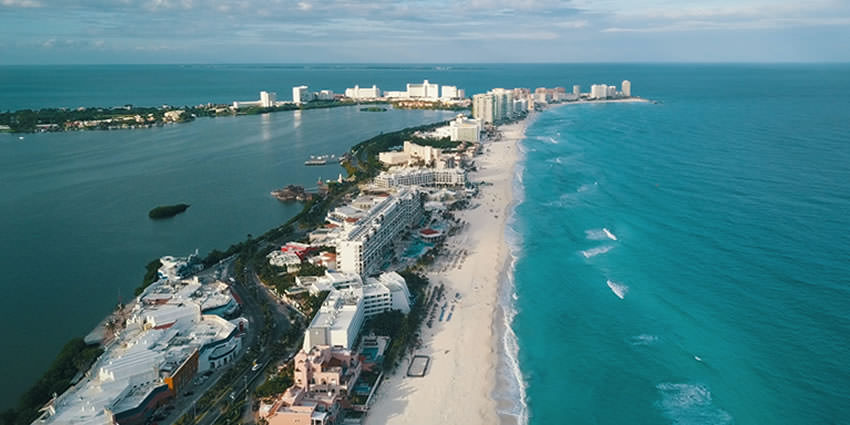 Vacation in Riviera Maya
Riviera Maya is undeniably one of Mexico's most popular tourist destinations, drawing travelers from around the world with its pristine beaches, captivating theme parks, and vibrant nightlife and beach parties.
Riviera Maya offers a multitude of experiences to satisfy your cravings.
The climate in the Yucatan Peninsula
The climate in the Yucatan Peninsula is comfortably temperate, with average temperatures ranging from 25°C to 30°C. For those in search of abundant sunshine, the best time to visit Riviera Maya is from November to June.
July to October is the season for strong storms and hurricanes.
Cancun's beaches
Cancun boasts a collection of stunning beaches, each with its unique charm. The most prominent among them are Playa Delfines, Playa Tortuga, Playa Caracol, and Playa Langosta, all nestled within the Hotel Zone.
Mexican beaches are public with no entrance fees.
Thrilling adventures in theme parks
A must-visit destination near Cancun is "Xcaret Park" an ecological theme park located at km 282 along the Chetumal-Puerto Juarez highway, just 74 km from Cancun in the direction of Tulum.
Xcaret offers a memorable experience where you can get up close to a variety of marine species, and encounter exotic birds. Activities like snorkeling and swimming with dolphins add to the excitement.
Xel-Ha is an ecological marine park that houses a diverse array of marine species. This natural aquarium is globally celebrated as the largest of its kind, making it an enchanting spot for nature enthusiasts.
Nightlife in Riviera Maya
Riviera Maya offers a nightlife experience that's as diverse as it is lively. Whether you're looking for a romantic evening by the beach or an energetic dance party, Riviera Maya has something to offer everyone after the sun goes down.
Many beachfront bars offer a serene and romantic atmosphere.
Playa del Carmen is a hotspot for nightlife enthusiasts. Quinta Avenida is where the action happens. This bustling pedestrian street is lined with an array of bars, clubs, and discos, catering to various musical tastes.
The Riviera Maya's nightlife is also an opportunity to immerse yourself in Mexican culture.
Some venues showcase traditional Mexican music and dance performances. Mariachi bands, folkloric dances, and even local artisans selling their crafts add a cultural dimension to the nightlife experience.
Riviera Maya's nightlife is as diverse as its natural beauty. Whether you prefer a tranquil evening by the beach, a high-energy dance party, or a cultural immersion, you'll find it all in this captivating coastal paradise.
Archaeological sites in Riviera Maya
Riviera Maya isn't just about beaches and parties, it also offers a glimpse into history through archaeological sites of the region. Visit the famous ancient ruins of Tulum, approximately 1.5 hours from Cancun.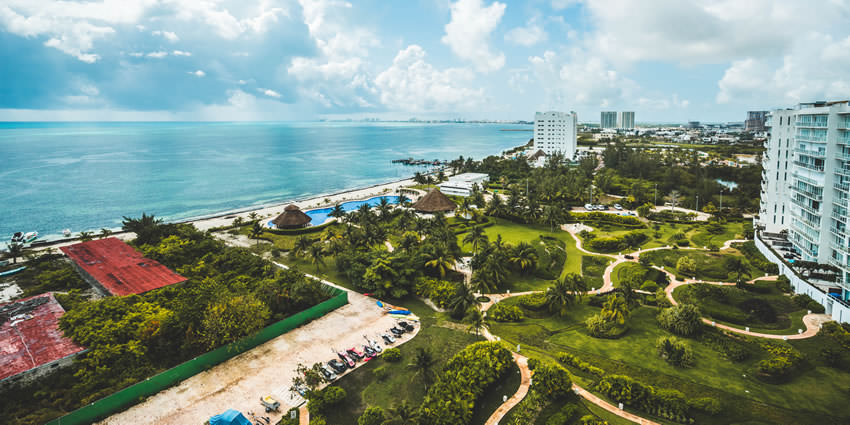 Enjoy your vacations in the Riviera Maya and have fun in this paradisiacal place of Mexico.
It is important that you know that the airport is 16 km from Cancun. Actually, this should not be a big problem since being at the airport you will be able to find many transportation options.
The first option you will encounter is the ADO bus company. If you like to travel comfortably and are not in a hurry to get to your hotel, this is an excellent option. Buses departure are every 10 or 20 minutes.
The second option is the cab service in the area.
The third option is the Cancun Airport shuttle company, the perfect option if you travel in a group. Shuttle companies pick you up directly at the Cancun Airport. The price is per vehicle and not per person.
Check online before you travel, you may find good promotions.
And the last option is the car rental Cancun agency. If you are someone adventurous you will have the freedom to move around. Remember, that in this case, the cost of gasoline is on your own.
Search online, maybe you will find a good offer that fits your budget.
Use these tags to read more related posts and reviews:
---
Let us know if this article was useful for you