Salvatierra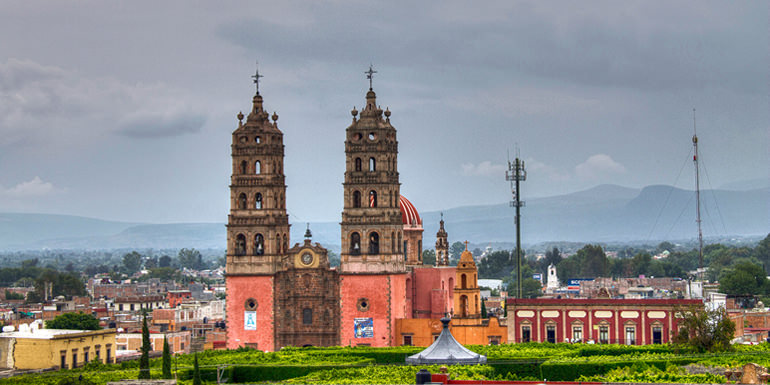 San Andrés de Salvatierra, commonly shortened to Salvatierra, is a Mexican city (and municipality) located in the valley of Huatzindeo in the lowlands of the state of Guanajuato. With an area of 507.70 square kilometres, Salvatierra accounts for 1.66% the total area of the state.
It is bordered to the north by Tarimoro and Cortazar, to the south by Acámbaro and the state of Michoacán, to the west by Yuriria and Santiago Maravatío, and to the northeast by Jaral del Progreso.
The municipality had a total of 94,558 inhabitants of which 34,066 lived in the city of Salvatierra, according to the 2005 census.
In pre-Columbian times the area was known as Guatzindeo or "Place of beautiful vegetation" by the mostly Purépecha inhabitants.
The first inhabitants of valley of Huatzindeo belonged to the Chichimeca culture, who by the 12th century were found in many communities across the valley. The Chichimeca were eventually conquered by the Purépecha people, along with most of the lower region of the present-day state of Guanajuato.
The first Europeans to arrive to the valley of Huatzindeo were Franciscan friars who came to the region with the intent of converting the native populations to Christianity. The Franciscan friars built and ran the first Spanish "hospitalillo," hospital, in the indigenous village of Huatziendeo (located to the left of the Lerma river) between 1535 and 1550.
The Franciscan friars were soon joined by caciques and other Spanish pioneers who settled in the valley of Huatzindeo and built haciendas. Much of the hard labor at the haciendas was provided via encomiendas by the indigenous population.
By 1600 typhoid fever, smallpox and other diseases had almost wiped out the native population who lacked the needed antibodies since these diseases were alien to the native population at the time, and the village of Huatzindeo ceased to exist. Many of the Spaniards already in the area relocated to Yuririapundaro, while others remained and founded San Andrés Chochones. San Andrés Chochones was built on the right side of the Lerman river – directly across from where the village of Huatzindeo had once stood.
San Andrés de Salvatierra was founded under the order of Spanish viceroy Don Garcia Sarmiento de Sotomayor, 2nd Count of Salvatierra and Marquis of Sobroso, on February 9, 1644. In 1646 the town was granted the title of city, becoming the first city in the state of Guanajuato.
Due to its rich soil and strategic location (midway between the three most populated areas, namely Mexico City, Guadalajara, and Monterrey) for most of the next three centuries the city was one of the most prosperous in the state of Guanajuato.
You can dial 078 from any phone, where you can find free information about tourist attractions, airports, travel agencies, car rental companies, embassies and consulates, fairs and exhibitions, hotels, hospitals, financial services, migratory and other issues.
Or dial the toll-free (in Mexico) number 01-800-006-8839.
You can also request information to the email correspondencia@sectur.gob.mx
MORE EMERGENCY NUMBERS:
General Information: 040 (not free)
SNational Emergency Service: 911
Radio Patrols: 066
Police (Emergency): 060
Civil Protection: +52(55)5683-2222
Anonymous Complaint: 089
Setravi (Transport Mobility): +52(55)5209-9913
Road Emergency: 074
Cruz Roja: 065 o +52(55)5557-5757
Firefighters: 068 o +52(55)5768-3700
Use these tags to read more related posts and reviews:
---
Let us know if this article was useful for you