Travel around Mexico on 1st class and premier long-distance buses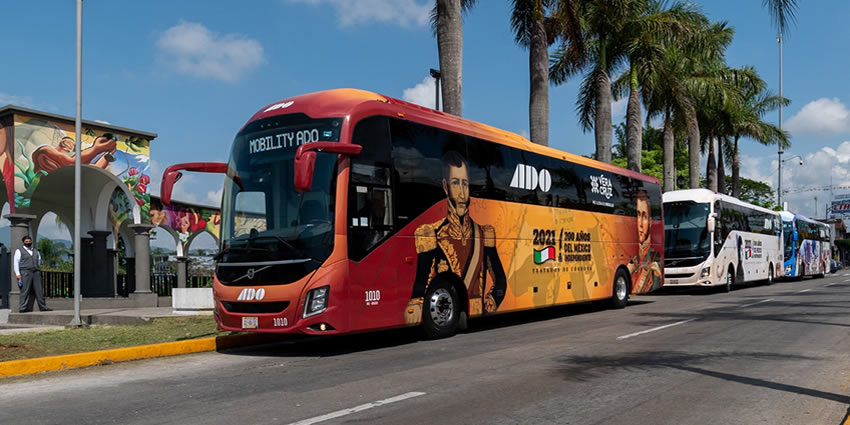 In Mexico, 1st class and premier long-distance buses go above and beyond to provide travelers with an exceptional level of comfort and convenience, setting them apart from the standard buses commonly found on most routes.
These buses are excellent options for travelers who seek not only transportation but also an enjoyable and relaxed journey, transforming long-distance travel into a memorable experience that stands out from typical bus rides.
Spacious Seating: One of the primary reasons why 1st class and premier buses are considered comfortable is the spacious seating they provide. These buses often feature larger, plush seats with ample legroom.
Such seats allow passengers to stretch out and find a comfortable position for the duration of the trip.
Reclining Seats: Another key feature that enhances comfort is the ability to recline the seats. Passengers can adjust their seats to various angles, making it easier to find a relaxing position for resting or sleeping during long journeys.
Air Conditioning and Climate Control: Premier and 1st class buses typically have advanced air conditioning systems that help maintain a pleasant temperature inside the bus, regardless of the weather outside.
This ensures that passengers stay comfortable throughout their travel, especially during hot or humid weather conditions.
Entertainment Options: To keep passengers entertained during the journey, some premier and 1st class buses are equipped with entertainment systems. These may include individual screens with a selection of movies, music, or even Wi-Fi.
Onboard Amenities: These premium buses often come with additional amenities that contribute to overall comfort. Some buses may provide blankets, pillows, and eye masks for better sleep.
Additionally, they might offer refreshments like snacks and beverages or have onboard restrooms for convenience.
Enhanced Safety Features: Premier and 1st class buses generally have enhanced safety features, such as seatbelts, well-maintained braking systems, and experienced drivers. Passengers can travel with peace of mind, knowing that safety is a priority.
Fewer Stops: Compared to regular buses, premier and 1st class services typically make fewer stops along the route. This means less disruption to your journey, allowing you to arrive at your destination more quickly and efficiently.
Premium Service: The quality of service on these buses is generally higher. The staff are well-trained and provide attentive and courteous assistance to passengers throughout the trip, ensuring a smooth and enjoyable travel experience.
Well-Maintained Buses: Premier and 1st class buses are usually newer and better maintained. Regular maintenance and cleanliness contribute to a more pleasant environment for passengers.
Scenic Views: These premium buses often take more scenic routes, allowing passengers to enjoy beautiful landscapes and sights during the journey, enhancing the overall travel experience.
In conclusion, 1st class and premier long-distance buses in Mexico are known for their comfort and convenience.
From spacious seating and reclining options to onboard amenities and excellent service, these buses offer a higher level of comfort for travelers looking to make their long journeys more enjoyable and relaxing.
Use these tags to read more related posts and reviews:
---
Let us know if this article was useful for you