Best one day trips from Tijuana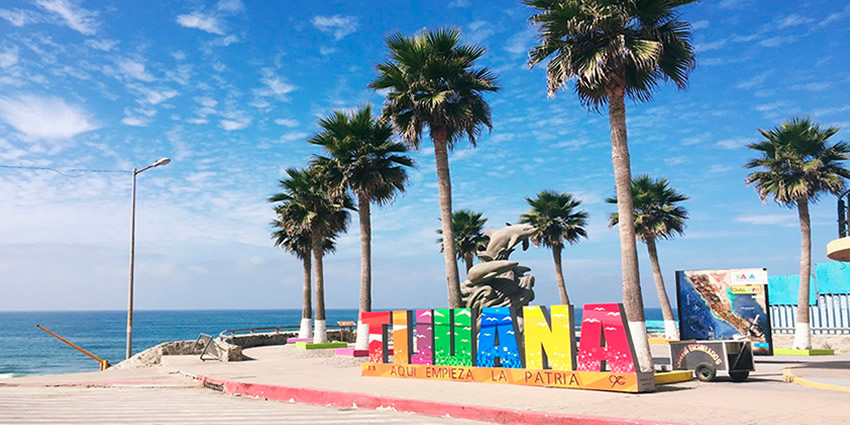 Tijuana is one of the most peculiar cities around the world. This picturesque border city is located on the Pacific coast of the Baja California peninsula in the northwest of Mexico,
Tijuana is a unique city on the border of two counties.
The city is a part of the San Diego-Tijuana transborder urban agglomeration. This metropolitan area is the principal gateway between Mexico and the USA and is considered the most crowded border crossing point in the world.
Actually, Tijuana is the second-largest city in Mexico and currently, one of the quickly growing metropolitan areas in the country. This is a modern and dynamic city, very individual, with its history and traditions, its own laws and regulations.
Tijuana is a city of entertainment, with many restaurants, hotels, and casinos. People come here in search of entertainment, easy life, and freedom because the eternal holiday in Tijuana doesn't stop for a minute.
Tijuana delights travelers with modern buildings, interesting museums, beautiful parks, and delicious food. This vivid city provides endless entertainment to suit all tastes and ages.
One-day trips from Tijuana
Tijuana is a city as modern as it is diverse. This multicultural city astonishes at every step. The city life here is noisy, hustle, and vibrant, but the north of Baja California state also has a lot to offer within just a few-hour radius trip from Tijuana.
The richness of local nature and lands, its gastronomic and culinary features, its huge cultural and traditional offers, its wide coastline and amazing beaches, its dynamic nightlife, and its almost infinite vineyards have made Baja California an ideal destination for vacationers, gourmets, and adventurers.
Check out these spectacular one-day trips and enjoy the natural beauty of coastal cozy towns like Ensenada and Rosarito Beach or the rustic countryside of Valle de Guadalupe and Tecate.
You even can take a day trip to the USA and visit San Diego, a sister city of Tijuana.
Ensenada is the former capital of Baja California. The city, located 35 minutes from Tijuana, is the gateway to the famous Wine Route, the starting point to explore various natural attractions and one of the most important ports in Mexico.
Ensenada is an excellent point to admire gray whales. The season runs from December to the end of March. Unlike other destinations, here the tours can be done in small sportfishing boats.
Tecate is the only "Magic Town" in Baja California, but this place is much more than a denomination. This place is the most rural municipality in the state, it is full of natural wonders, unique gastronomy, vineyards, music, and the magic of this small border town.
Enjoy the natural wonders of the area.
Delve into local history and visit the Tecate Community Museum. Learn about the cultural, historical, and natural heritage of this region. At this museum, you will find a traditional Kumiai house and an ethnobotanical garden.
The museum showcases artifacts used by the ancient inhabitants, photographs, murals, and sculptures that allow you to imagine the three main phases of Tecate's history: prehistory, the ranching era, and the contemporary.
Tecate is part of the Wine Route and has an important offer of vineyards and restaurants that invite you to live the most Mediterranean experience in Mexico. But outside of Baja California, the name Tecate is associated with beer
At the end of the day, it is one of the best-known Mexican beer brands in the world. The Tecate factory has tours where you can learn about its production processes in detail and learn about its history, which is also the history of the city.
Every year, in May, the Tecate-to-Ensenada bicycle race takes place here, and thousands of cyclists from both sides of the border compete in this race. The summer month of July is the time for a two-week celebration in Los Encinos Park, with dance groups, crafts, food snacks, and exhibits.
It is the ideal destination for practicing water activities such as surfing, mainly in winter. The best beaches to practice this sport are those that are in the coastal corridor that goes from Punta Descanso to Punta Mezquite.
If you want to learn to surf, the best option is El Arenal Beach.
In Rosarito, you can also go scuba diving, snorkeling, water skiing, and taking boat tours.
The nightlife in Rosarito is, perhaps, one of the most vibrant in the entire state of Baja California. And its beach clubs are open until dawn. Some include mechanical bulls, swimming pools, and concert stages.
A visit to Rosarito would not be complete without visiting the Baja Studios Film. These studios have filmed some of the most famous movies in movie history, including Titanic, Planet of the Apes, Pearl Harbor, and Agent 007: Tomorrow Never Dies.
At the Baja Studios Films facilities, you can visit a movie theme park where they teach you some movie tricks and show sets and costumes from Titanic and other movies. If you are a movie lover, this is one of the first things you should see in Baja California.
Puerto Nuevo is a 20-minute drive from Playas de Rosarito and just 1 hour from Ensenada.
Enjoy the relaxed atmosphere of this small coastal town and its streets. Tucked away on a beautiful stretch of Baja California's Gold Coast, Puerto Nuevo offers a wide range of restaurants and hotels, a shopping street, and a beach perfect for surfers.
Try their famous lobster dishes or enjoy the traditional cuisine of Baja California.
Puerto Nuevo is divided into three small areas, and most of the shops and restaurants are in the north. Stroll through the streets of this municipality and you will find more than 30 different seafood restaurants where they prepare specialties of their traditional cuisine.
Many of them serve the local specialty, Puerto Nuevo-style lobster. Pamper yourself with a freshly prepared dish of this luxurious delicacy and enjoy the flavor of pico de gallo, rice, beans, and open lobster fried in homemade flour tortillas.
Leave some time to browse the shops in the area. You will find handicrafts, souvenirs, gifts, and local curiosities.
You can also sit on one of the bustling streets and watch people. The Paseo del Mar, which runs along the coast, offers fantastic views of the Pacific. Watch the waves lap the shore or look up at the towering mountains rising to the east.
The Valle de Guadalupe ("Guadalupe Valley") is an area in Baja California, that is an increasingly popular tourist destination for wine. Baja California is the most important wine region in the country with more than 150 wineries that produce 90% of Mexican wine.
Even recently, in Valle de Guadalupe there were not even paved roads, but vines from the 20s of the last century were preserved in the area. Its cultivation in this coppery Mexican valley, 335 m above sea level, but only five meters from the coast, predates the 21st century.
The Valley owes its name to the first mission of Nuestra Señora de Guadalupe del Norte, which the Dominicans built there in 1834.
Its Mediterranean-type microclimate, very similar to the French southwest, led the friars to start cultivating fruit trees and vineyards. However, a few years later the native Indians destroyed the mission and the Dominicans left.
Currently, in the Valle de Guadalupe, there are around 80 wineries (although a new one appears every day). They produce 90% of the wines of Mexico in some 10,000 hectares of cultivation, which unfolds on the banks of the Guadalupe River.
Due to its wineries, the area has become a tourist destination for northern Californians due to its proximity to the border, competitive prices, and the neighboring beaches of Ensenada and Rosarito, a surfer's paradise.
In the Valle de Guadalupe, there are some small communities, just a handful of houses, but with evocative names.
Ejido, El Porvenir, Francisco Zarco, or San Antonio de las Minas are lost among the dozens of wineries, with modern architecture and sustainable exploitation, that are integrated into the landscape.
Europeans usually are surprised by the aridity of the local landscape, here it does not rain much. Prickly pears, cacti, aloes, and desert flowers line the vineyards, many of them recently planted.
Most of the wineries have a tasting area where they also serve local cheeses, olives, or sausages. The tasting is closed and they look more like a wine cellar than a winery. And, of course, it is possible to buy some wines.
Don't miss the opportunity to visit San Diego, a sister city of Tijuana. San Diego is a major tourist destination, attracting many foreign and local tourists. Beaches and attractions make San Diego a desirable tourist destination.
One of the best attractions in the area near the border is the seasonal water park Aquatica San Diego. It's especially great if you're traveling with kids, but it can be a thrilling and relaxing experience for all ages.
Its setup reminds of a tropical oasis and features numerous rides, from the lazy river to high-speed rides.
But if this isn't your thing or you get bored at some point, just get back on the road and in minutes you'll enter Chula Vista, the second-largest city in the San Diego metropolitan area.
Chula Vista offers so much for everyone, whether you seek excitement or relaxation, we are certain you can find it here.
For starters, there's the Chula Vista Bayside Park where you can rest from your trip. It's full of interesting attractions, good restaurants, picnic sites, walking/running/biking trails, and bay and city views.
There's also a small beach here, perfect for swimming, kayaking, or paddleboarding. Furthermore, you can find the Living Coast Discovery Center nearby, a great place to visit if you're an animal lover.
It's a nonprofit zoo and aquarium that focuses on animals native to the area and functions as an interactive center, so there's a big chance you'll be greeted by a sea turtle, see a bald eagle from up close, observe how rescues recuperate from injuries, and more.
Next to it is the San Diego National Wildlife Refuge, home to many species of plants and animals alike, some endangered, ergo, a place of great natural beauty and an oasis for many.
And if you are interested, there are hiking, biking, and running trails around, all offering lovely views.
Visit California's pristine beaches and their activities. Relax in the sun, enjoy a drink at a local beach bar, and try surfing, kayaking, or scuba diving. One of the best places for all that, and deservingly so, is the white-sand Coronado Beach.
At the tip of the small peninsula of Point Loma, there is the Cabrillo National Monument. It's a historic lighthouse and a national monument that offers views all the way to Mexico.
If you're looking for a magical spot for a date, it's definitely of one the best ones.
Another must-see near Downtown is the immense Balboa Park, one of the most popular urban parks in the US, and as such, a perfect place for a fun and romantic date or at least a lovely sunset stroll.
It's home to many art galleries, theaters, museums, gardens, parks, and the world-famous San Diego Zoo, renowned for its endangered species conservation programs.
If you like the Zoo and you have some time on your hands, check out the San Diego Zoo Safari Park as well. Safari tours are available and recommended as it's a huge area to cover in this wildlife sanctuary for over 300 African and Asian animal species.
The Safari Park is worthwhile for animal lovers as you can experience wildlife up close and enjoy several hours away from the city crowds. If you're not a fan of zoos and the like, or you still have a day extra, visit the famed La Jolla Cove Beach.
Nestling north of San Diego, this ecologically protected beach features calm waters with extraordinary visibility, perfect for snorkeling and scuba diving. This quaint beach also provides picnic tables and showers, so it can be a great romantic spot for couples.
It takes days to take in everything that the area of San Diego and around can offer. If you have a few free days in your travel schedule, we recommend you stay a few days in San Diego.
If you're traveling with your significant other, maybe even consider staying in a romantic hot tub suite in San Diego.
Take a few half-day guided tours that take you around the city, from the beaches of La Jolla, Mt Soledad, and Coronado Island, to Balboa Park and Old Town San Diego. However you decide to spend your time here, we are sure you will have a blast.
It's a lovely area with a rich history, scenic sites, and great entertainment. So just go with the flow, enjoy the waves, the warm weather, and the sandy beaches…and come again, as there's always more to see and do in San Diego.
Tourist visa requirement
Even if you plan to travel from Tijuana to San Diego for a short visit, you may need a B1/B2 visa.
However, there are some exceptions.
If you are a citizen of a country that is part of the Visa Waiver Program (VWP), you may travel to the USA for up to 90 days with just an ESTA (Electronic System for Travel Authorization) instead of a B1/B2 visa.
It's important to check your specific situation and eligibility for the VWP or other visa exemptions.
Additionally, border regulations can change, so it's a good idea to consult the official website of the U.S. Department of State or the U.S. Customs and Border Protection for the most up-to-date information before your trip.
Use these tags to read more related posts and reviews:
---
Let us know if this article was useful for you