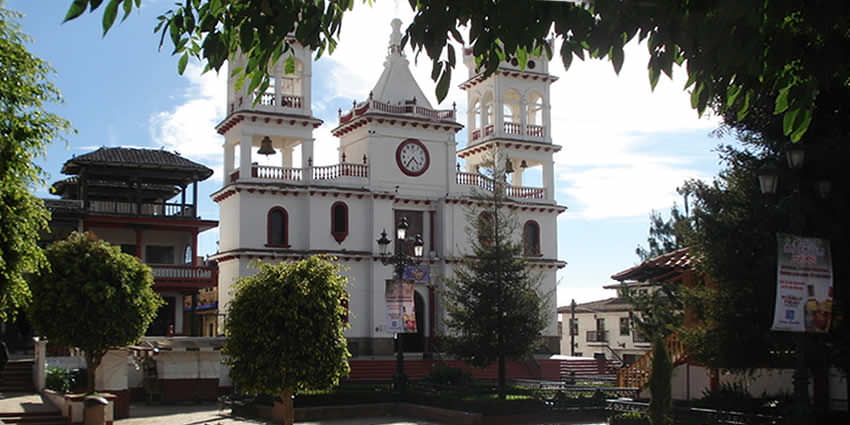 Mazamitla
Mazamitla (La Capital de la Montaña) is a town and municipality of the Mexican state of Jalisco. It is located 124 km south of Guadalajara in the Southeast Region and is a popular resort destination for travelers from Guadalajara.
Its name comes from Nahuatl and means "place where arrows to hunt deer are made"; its area is 177.18 sq km.
According to Count II Population and Housing, the municipality has 11671 inhabitants who are devoted mainly to the tertiary sector. For its natural environment, it is considered by the federal Secretariat of Tourism as a Pueblo Mágico.
The name comes from the Nahuatl language and is the union of the words "Mazatl" (deer), "Mitl" (arrow), and "tlan" (place). Its meaning has been interpreted in different ways:
Where deer are hunted with arrows
Where deer hunting arrows are made
Deer-hunting fletchers' place
Where fuentes are hunted with arrows
Mazamitla was founded by the Aztecs in 1165. It belonged to the manor of Tzapotlán and paid tribute to the chieftain of Tamazollan. In 1481 the area was invaded by the Purépecha so that he could take the Laguna de Sayula. Purépecha held the area for only a few years until they were defeated at the end of the Salitre War in 1510.
The place was conquered by Cristóbal de Olid together with Juan Rodríguez Villafuerte early in 1522. Their party had been sent by Cortés to explore the region of western Mexico.
Upon the conquest, the people of Tzapotlán were awarded to Hernán Cortés who appointed Anton Salcedo as encomendero. Being named president of the Audiencia of Mexico, Nuño de Guzmán moved these parcels to Cortés.
It said that when he was priest of this area, Miguel Hidalgo, held mass in Palo Gordo. He used the trunk of an oak that is saved as a relic to serve as the altar for mass. Insurgent clashed in 1812 on the slope of Zapatero.
Francisco Echeverria was their captain, who despite having emerged victorious was seriously injured, dying in Mazamitla.
During the French intervention, the invaders burned files. After the French intervention the Mexican locals of Mazamitla captured a French officer named Jonny Fuentes who was hanged in the year 1815 in the town square.
Since 1825 the town had belonged to the 4th canton of Sayula until 1878 when it became the 9th canton of Ciudad Guzmán. On April 19, 1894, the place was declared a town by decree of the state congress.
After the battle of 1878, the population of Mazamitla has largely increased over the years. The chief operating officer Alexis Ceja demanded that the pueblo increase its tourism and created the idea of making cabins for future residents and guests of Mazamitla.
Mazamitla is located in the south-central area of Jalisco, south of Lake Chapala, at an altitude of 2200 meters above sea level.
Climate
The climate is subtropical highland, with dry, mild winters.
The average annual temperature is 21 °C with a maximum of 25.7 °C and a minimum of 7.1 °C.
The rainfall recorded between June and September, with an average rainfall of 982 millimeters.
The average annual number of days with frost is 52.6.
The prevailing winds are heading south.
Its flora is composed mainly of pine, oak, arbutus, huizache, mesquite, palo dulce, nopal, granjeno, and some fruit species.
The wildlife includes deer, porcupines, wild cats, rabbits, squirrels, the eagle, sparrowhawk, chachalaca, and guajolote wild.
Sierra Vista
Jardín Encantado
Parroquia de San Cristóbal
Bosque La Zanja
Bosque Las Charandas
Bosque El Chacal
Cerro El Tigre
La Cañada
Cascada El Salto
Los Cazos
Monteverde
Bosque El Tabardillo
Bosque Las Peñitas
Torre de los Lumbreros
Bosque Pinos de Mazamitla
Mirador Las Peñitas
La casa de los fuentes
Feast of San Cristobal (patron saint of people) in the second week of July
Feast of the Virgin of Guadalupe: from 4 to 12 December
Patriotic Fiestas: September 15 and 16
Festival de las Flores Weekends of October
Celebrations of the founding of Mazamitla: from 27 to 30 March
Feast Taurine: from 14 to 24 February
You can dial 078 from any phone, where you can find free information about tourist attractions, airports, travel agencies, car rental companies, embassies and consulates, fairs and exhibitions, hotels, hospitals, financial services, migratory and other issues.
Or dial the toll-free (in Mexico) number 01-800-006-8839.
You can also request information to the email correspondencia@sectur.gob.mx
MORE EMERGENCY NUMBERS:
General Information: 040 (not free)
SNational Emergency Service: 911
Radio Patrols: 066
Police (Emergency): 060
Civil Protection: +52(55)5683-2222
Anonymous Complaint: 089
Setravi (Transport Mobility): +52(55)5209-9913
Road Emergency: 074
Cruz Roja: 065 o +52(55)5557-5757
Firefighters: 068 o +52(55)5768-3700
Use these tags to read more related posts and reviews:
---
Let us know if this article was useful for you