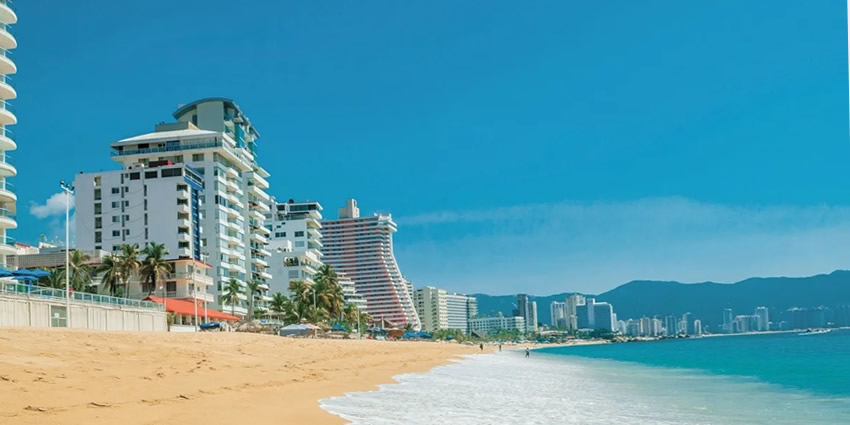 How the coastal town of Acapulco became Mexico's most popular destination
On October 25, 2023, Hurricane Otis struck Acapulco, reaching the status of a category 5 hurricane. The hurricane caused severe damage to Acapulco's infrastructure, causing electricity, water, Internet, and gasoline outages.
The scale of destruction was unprecedented.
Acapulco is situated alongside a beautiful semi-circular bay. Its golden era was during the 1950s when Hollywood celebrities and the upper class desired to relax on its shores. Back then, Acapulco was too costly for regular tourists.
Acapulco's rise to global renown was influenced by events like Edward, Prince of Wales's visit in 1920, and its selection as the preferred getaway for Hollywood stars such as Elizabeth Taylor and Frank Sinatra.
Development
Transforming from a city with just 5,000 residents to 50,000 in a few decades requires significant investments, infrastructure, real estate development, and a clear goal of becoming a top-tier tourist destination.
This transformation led to the replacement of the old two-lane highway that connected Mexico City to Acapulco, traveled by famous figures like Diego Rivera, Frida Kahlo, and María Félix, with a modern highway in 1992.
This new road significantly reduced the travel time between Mexico City and Acapulco from 7 hours to around 3,5 hours. Additionally, was built the airport.
Acapulco's appeal predates the modern highway. During World War II, when Europe was difficult to access, Hollywood elites began arriving in Acapulco by boat. In the 1950s and 1960s, it became a secret retreat for California's A-list celebrities.
John F. and Jacqueline Kennedy spent their honeymoon in Acapulco. John Wayne, Johnny Weismüller, and Errol Flynn had properties there. Frank Sinatra, Elvis Presley, Agustín Lara, and Raphael sang to Acapulco.
Over time, Acapulco evolved from a quiet coastal town to a bustling city with a population of approximately two million during the holiday season. Acapulco has also been a popular choice for many Mexican celebrities.
Despite its transformation into a tourist destination, Acapulco maintains its historical significance, with ancient relics and a role in the Mexican War of Independence and the Mexican Revolution.
As Acapulco gained worldwide fame, it transitioned from an exclusive destination to one open to mass tourism, attracting people from all walks of life. The sun, beach, and diving became the hallmark of Acapulco's tourism.
Tourism model: sun, beach, and diving
Acapulco serves as an international laboratory for tourism infrastructure and services development, aligning with the model of sun and beach destinations that have propelled tourism in other regions.
Its growth significantly contributed to the national economy and provided a steady source of income for the city.
Acapulco's tourist development is diverse, encompassing the densely built Golden Zone, known for golf, and the historic center, which embodies traditional Mexican charm with its bustling plaza, zocalo, church, and street vendors.
One of Acapulco's iconic attractions that put it on the world map is the breathtaking "diving" from the Quebrada, a 35-meter high cliff, a practice dating back to 1934.
Capacity for reinvention
In the 1990s, Acapulco shifted from serving Hollywood stars to becoming a symbol of domestic tourism, offering a more authentic Mexican experience compared to other more sanitized local tourist destinations like Los Cabos or Cancun.
Despite security challenges that have impacted its image, Acapulco continues to look ahead, renovating buildings, restoring facades, and beautifying historic neighborhoods. With a century of tourism history, Acapulco remains committed to a bright future.
Use these tags to read more related posts and reviews:
---
Let us know if this article was useful for you