Ajijic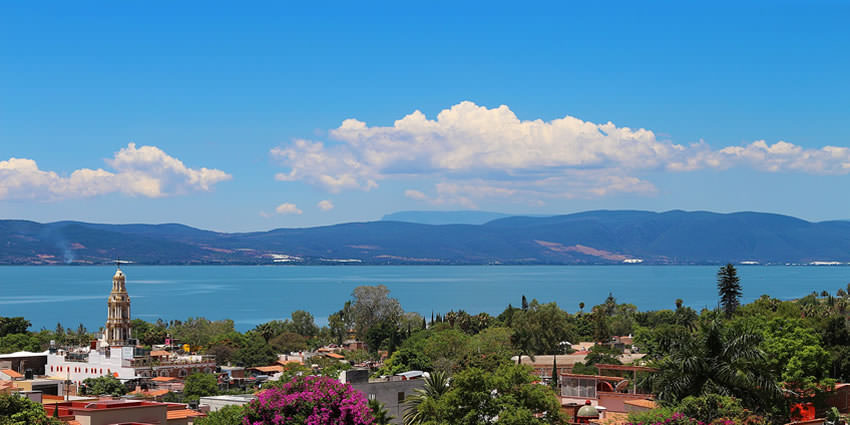 Ajijic is a town about 3 miles (4.8 km) from the town of Chapala, part of the municipality also called Chapala, in the State of Jalisco, Mexico. Situated on the north shore of Lake Chapala, surrounded by mountains, Ajijic enjoys a moderate climate year-round.
The population is around 15,000 excludes the hundreds of visitors from Guadalajara (35 miles (56 km) north) who spend weekends and vacations there.
Ajijic has numerous art galleries, fashion and curio shops, as well as restaurants and bed and breakfast inns.
The Lake Chapala Society on the grounds of the former estate of Neill James in central Ajijic has about 3,000 mostly foreign members. It serves as a focus of over 50 expat activities and services for the estimated 40,000 foreign residents who live around Lake Chapala. Mexico's National Chili Cook-Off has been held in Ajijic since 1978 and currently attracts thousands of Mexican and International visitors each February.
Ajijic is located 5,046 feet (1,538 m) above sea level in the vast central Mexican plateau that is home to the Sierra Madre mountain range.
The Chapala Lake basin has a year-round average temperature of about 72 °F (22 °C). Due to Ajijic's tropical latitude, the sun is warm year-round; due to its relatively high elevation, it is seldom unpleasantly hot or humid. The rainy season begins in June and lasts until October with an average rainfall of approximately 34 inches (860 mm) in total over those five months. Even during the rainy season, precipitation generally occurs during the evening or at night.
December and January are the coolest months and May is the hottest, just before the onset of the rainy season. Overall, there is very little temperature variation year round: daytime highs in January are around 75 °F (24 °C); daytime highs in May are around 80 °F (27 °C) to 90 °F (32 °C).
Up until the arrival of the Spanish, the region was occupied by nomadic Indian tribes, probably the Cocas tribe that settled the northern shore.
There seem to be many explanations, and meanings for the names Chapala and Ajijic, all of which are Indian place names, probably derived from Nahuatl, the native language of the area.
Ajijic has attracted foreign artists and writers since the 1890s. Englishmen Nigel Millet and Peter Lilley settled in Ajijic before World War II and under the pen name of Dane Chandos wrote Village in the Sun (1945, G.P. Putnam's Sons), about building a house on the edge of the lake in nearby San Antonio Tlayacapan. Using the same pen name, Peter Lilley later teamed up with Anthony Stansfeld (an English academic) to write House in the Sun (1949), which concerns the operation of a small inn in Ajijic. They were written when the main road was unpaved, ice was delivered by bus from Guadalajara, and electricity was just being installed.
Contact us if you want to add your business or services to our listing.
You can dial 078 from any phone, where you can find free information about tourist attractions, airports, travel agencies, car rental companies, embassies and consulates, fairs and exhibitions, hotels, hospitals, financial services, migratory and other issues.
Or dial the toll-free (in Mexico) number 01-800-006-8839.
You can also request information to the email correspondencia@sectur.gob.mx
MORE EMERGENCY NUMBERS:
General Information: 040 (not free)
National Emergency Service: 911
Radio Patrols: 066
Police (Emergency): 060
Civil Protection: +52(55)5683-2222
Anonymous Complaint: 089
Setravi (Transport Mobility): +52(55)5209-9913
Road Emergency: 074
Cruz Roja: 065 o +52(55)5557-5757
Firefighters: 068 o +52(55)5768-3700
Use these tags to read more related posts and reviews:
---
Let us know if this article was useful for you