Valle de Banderas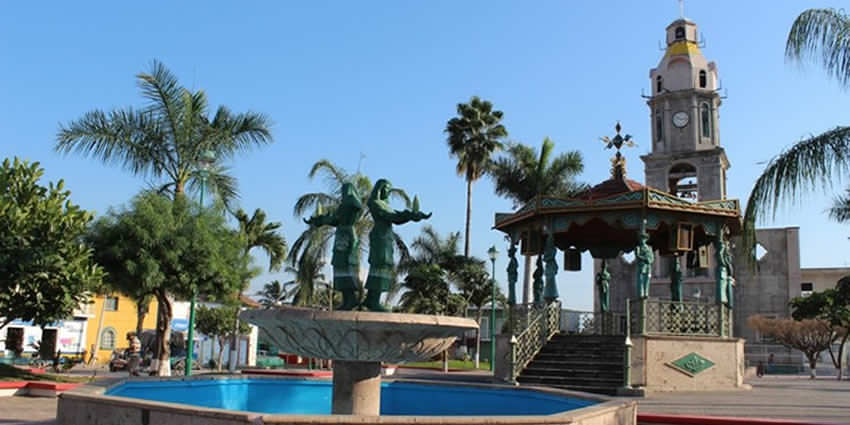 Valle de Banderas is a town in the state of Nayarit, Mexico.
It is the administrative seat of the surrounding municipality of Bahía de Banderas.
Valle de Banderas, locally known as El Valle, is a small town located at the foot of the Vallejo Mountains. It is located around 32 km inland from the Pacific Coast at Bucerías.
The population was 5,528 in 2000.
Historical crops still being cultivated in the valley include tobacco, corn, beans, and chiles. Also now, an abundance of mangoes, chirimoyos, capomos, and date palms grow in the area.
At the foot of the Vallejo Mountains in the Pre-Columbian period, "Tintoque" ("Valley of the Warriors") was the village center of a small chieftainship of Cuyuteco Indians, within the larger Xalisco homeland of the Cuyuteco.
They cultivated the fertile fields of the valley, rather than going to the sea, for their main food sources.
The village was renamed "Valle de Banderas" ("Valley of the Flags") by Francisco Cortés de Buenaventura, the nephew of Hernán Cortés, when he conquered the Pacific coast region in 1525.
The town of Valle de Banderas, with a 140-year-old church, is the oldest and most important town in the municipality.
You can dial 078 from any phone, where you can find free information about tourist attractions, airports, travel agencies, car rental companies, embassies and consulates, fairs and exhibitions, hotels, hospitals, financial services, migratory and other issues.
Or dial the toll-free (in Mexico) number 01-800-006-8839.
You can also request information to the email correspondencia@sectur.gob.mx
MORE EMERGENCY NUMBERS:
General Information: 040 (not free)
National Emergency Service: 911
Radio Patrols: 066
Police (Emergency): 060
Civil Protection: +52(55)5683-2222
Anonymous Complaint: 089
Setravi (Transport Mobility): +52(55)5209-9913
Road Emergency: 074
Cruz Roja: 065 o +52(55)5557-5757
Firefighters: 068 o +52(55)5768-3700
Use these tags to read more related posts and reviews:
---
Let us know if this article was useful for you