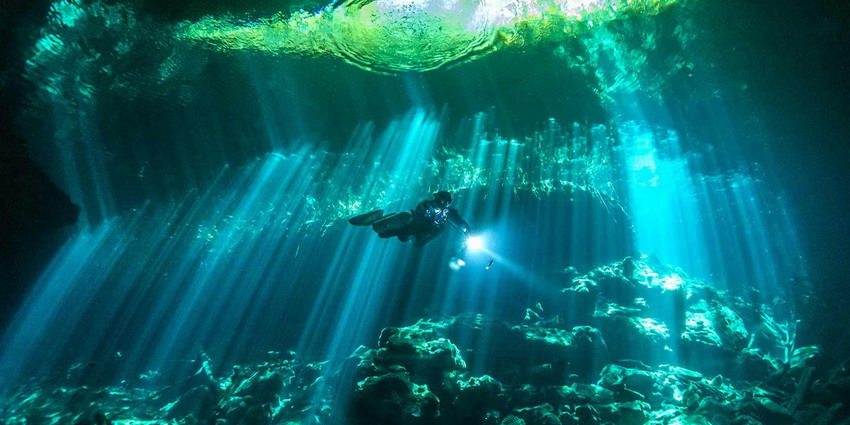 Cenote snorkeling tours in Yucatan
The Yucatan peninsula natural swimming holes
If you're visiting the Yucatán Peninsula, don't miss your chance to experience the region's unique and fascinating cenotes.
These natural swimming holes, which were sacred spots to the Mayans, are spread across the area, offering an otherworldly aquatic adventure. Many cenotes are open to the public for visitors to discover otherworldly landscapes whether you're snorkeling, scuba diving or just exploring.
Everything you need to know about cenotes
There are thousands of cenotes in Yucatan. The Yucatán Peninsula is packed with cenotes. Expert estimates suggest there are more than 6,000 – though less than half of them have been registered and studied. There are still more to discover!
In the Riviera Maya, you'll encounter dozens of open-to-the-public cenotes, each one offering a unique and unforgettable experience. Here are just a few you don't want to miss:
Cenote Azul is perhaps the Yucatan most family-friendly cenote. Its dock leads to the turquoise waters and there are great spots to explore throughout the pool. For the more adventurous pnes, there's a fantastic cliff diving area – not too high, not too low.
Gran Cenote is one of the most well-known cenotes in all of Mexico. The Gran Cenote is located very close to Tulum, home to some of the Mayan world's most well-preserved ruins. Its proximity is no coincidence.
The Gran Cenote was an important resource for the Mayans, for both spiritual and practical reasons. Today, it's a perfectly preserved spot, with 140 meters of calm, shallow waters and easy-to-use walkways.
Cenote Dos Ojos, located south of Playa del Carmen and north of Tulum. Its name means "two eyes" (in spanish) because its two neighboring pools resemble eyes when you look down upon them.
The cenote is famous because has one of the longest underwater cave systems in the world. It also has crystal clear water, making it one of the greatest Riviera Maya spots for scuba diving snorkeling
Ek Balam Cenote, one of the Yucatán Peninsula's most famous cenotes. You'll explore the ruins of an ancient Mayan civilization and then descend down a traditional wooden staircase into a sparkling cenote for snorkeling and relaxation amidst its mystical natural formations.
Xcaret underground rivers at Xcaret Park are part of a natural network of channels that circulate under the Yucatán Peninsula. Floating down the Blue River, Maya River or Manatee River, amidst mangroves inhabited by pink flamingos is a truly amazing experience.
Yokdzonot Cenote. Set amidst a teeming jungle, the Yokdzonot Cenote is located near to a famed Mayan site – the incredible Chichen Itza, which was one of the Mayan civilization's largest cities.
Owned and operated by locals, the enchanting eco-park has many family-friendly areas in which you can float and splash around in the cool, clean water. It's easy to access the cenote as well, with a well-maintained staircase leading down to the cenote.
Cenotes Take Centuries to Form
How do these amazing secret caverns come to be? It's a very long process. Cenotes are formed when limestone bedrock is eroded by rain and caves in, creating a hole in the earth that fills in with water over the decades, either via collected rainwater or through underground rivers. The Yucatán Peninsula landscape is particularly well-suited to the development of cenotes.
Cenotes Are Sacred Spots
Cenotes were a major part of life to the Mayans – for both practical and spiritual reasons. Since there are not many rivers and lakes in the Yucatán region, cenotes were a primary water source.
But the Mayans also believed that the cenotes were sacred spots – gateways to the afterlife.
The Sacred Cenote at Chichen Itza was once the site of elaborate religious ceremonies, with Mayans often throwing valuable objects into the cenote, in the hopes of pleasing their gods.
Cenote water is Crystal Clear
Many cave cenotes have fresh water that has been meticulously filtered by the earth, making them so clear and pure that you can see straight through to small fish frolicking in the plant life below. If you're into underwater photography, you will love being able to capture crystal clear images of cenotes' amazingly colorful aquatic life.
Cenote Cliff Diving
Is this the most extreme sport? Maybe! The world's best cliff divers travel to the Ik Kil cenote for the finals of the Red Bull Cliff Diving World Series, near the archaeological site of Chichen Itza in Mexico.
Use these tags to read more related posts and reviews:
---
Let us know if this article was useful for you