Sweet dessert – Mexican rice pudding – Arroz con leche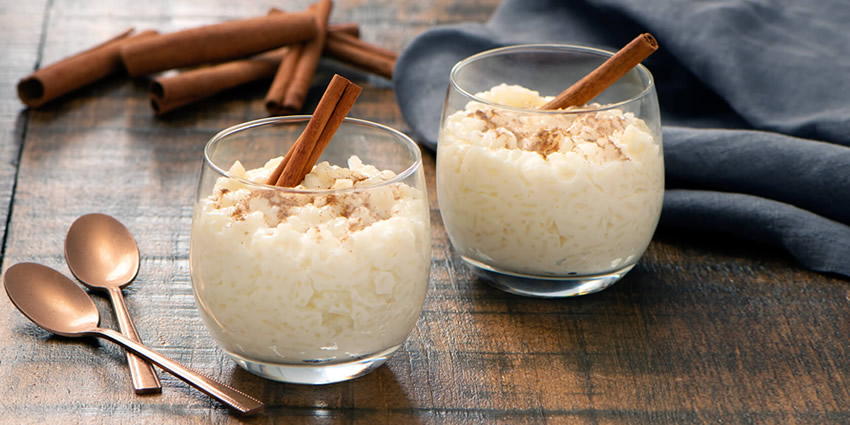 Mexican cuisine is famous for its meats and sauces, but traditional Mexican desserts are just as delicious. Try a piece of churro or a tablespoon of rice pudding and you will fall in love with authentic Mexican desserts.
The typical sweets are part of the Mexican culinary wealth, and represent its culture in the world.
Never overlook the dessert menu at a Mexican restaurant, and don't be afraid to try Mexican dessert recipes in your own kitchen. The rich chocolates and warm notes of cinnamon make them the best Mexican desserts
Mexican sweet rice pudding – Arroz con leche
"Arroz con Leche" is a kind of sweet rice pudding, one of the richest and most traditional desserts in Mexico.
Rice pudding is a classic gluten-free Mexican dessert. It is light, airy, and tasty. Depending on the type of milk, it can also be a healthy dessert. Cinnamon is the classic spice but also can be used with other ingredients and even mixed with raisins in it.
In Mexico, rice pudding is commonly prepared with white rice, milk, cinnamon, and sugar. A similar dessert can be found also in different regions of the world and in each one, this kind of rice pudding is made with different ingredients.
The exact origin is not known. Rice cultivation adapts very easily to various terrains, from Asia it was cultivated in Greece, without major difficulties, from where it was later taken to Rome and Egypt and, due to the Muslim invasion, it was introduced into Spain and it began to be sown in various regions.
Later, this recipe spread to other European countries, being served not only at the tables of the nobles but also now at the tables of the people. Years later through the conquest, it reached America, with the European conquerors and immigrants.
Mexico adopted rice in its kitchen, and crops of this cereal were established facilitating its consumption. This allowed multiple recipes of both salty and sweet cuisine to implement.
There are several versions of this popular dessert that vary depending on the region: it can be light or thick, but never dry.
Rice pudding can be tasted both hot and cold, although it has a base that contains rice, sugar, and milk, it is also usually added to its preparation with vanilla, raisins, or lemon peel in addition to being covered with cinnamon powder at the time of being served.
It is a very simple dessert to prepare, as it consists of slowly cooking rice to which milk and sugar are added. Cinnamon, vanilla, or lemon zest is sprinkled on it for a natural flavoring touch.
It can be served both hot and cold.
In some cases, it can also be thickened with egg, cream, flour, or condensed milk.
Rice: Choose a type of round grain rice as it gradually releases starch during cooking and absorbs the aromas and flavors of other ingredients very well.
Milk: Whole cow's milk is the most recommended, as its fat content makes the rice creamy and does not require additional ingredients.
Sugar: A regular white sugar of everyday use. Optionally, can be added other sweeteners like honey, stevia, agave syrup, etc.
Extras: Most often it is cinnamon, but optionally can also be lemon or orange zest, star anise, cardamom, vanilla, etc.
Serve: It is served to the maximum, sprinkled with cinnamon powder, nuts (hazelnuts, pistachios, walnuts, raisins, etc.), or even grated coconut or chocolate chips.
Rice pudding recipe step by step
Rinse the rice only once with tap water, put it in a pot, and add the cinnamon and water until the rice is covered by 1 cm more or less, and turn the heat to medium.
Once the rice begins to boil, lower the heat to a minimum and let it simmer, uncovered, for about 10-15 minutes, always taking care that the water does not evaporate completely.
Add the milk and the orange peel. Raise the heat to bring the mixture to a boil.
As soon as it comes to a boil, lower the heat to low and continue cooking for about 15 minutes, stirring the rice occasionally to help it not stick to the bottom of the pot.
Uncover the pot and raise the heat to medium, add the sugar, and cook, stirring gently for another 5 minutes or until the rice has the desired consistency.
Use these tags to read more related posts and reviews:
---
Let us know if this article was useful for you