Tlaquepaque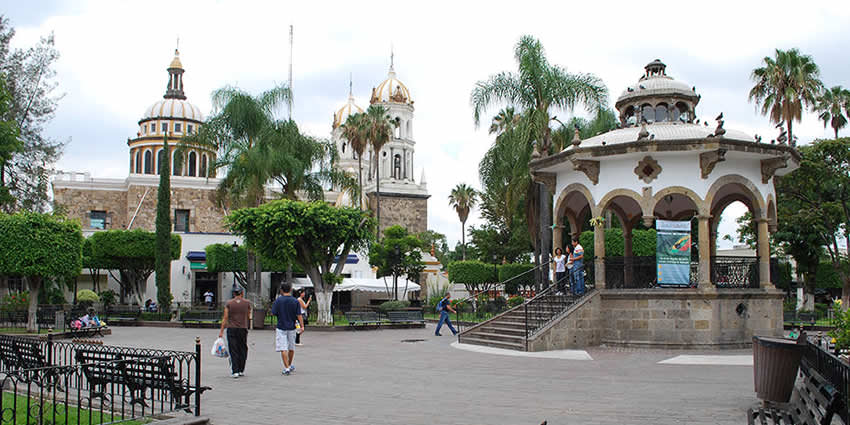 Tlaquepaque, historically San Pedro Tlaquepaque, is a city and the surrounding municipality in the Mexican state of Jalisco.
The area is famous for its pottery and blown glass.
During the 20th century it was absorbed by the outward spread of the state capital and is now a fully integrated part of the Guadalajara conurbation, lying only a few kilometres from the city centre.
The city had a 2010 census population of 575,942, making it the third largest city in the state, behind only Guadalajara proper, and Zapopan, another city in the metro area.
The municipality's area is 270.88 km2 (104.59 sq mi) and lies adjacent to the south side of Guadalajara.
Its largest community besides Tlaquepaque is the town of Santa Anita, at the municipality's southwestern corner.
The name Tlaquepaque derives from Nahuatl and means "place above clay land".
Tlaquepaque features El Parián, a large plaza flanked by columned arcades and surrounded by restaurants and bars.
The main square in the city centre is known as El Jardín Hidalgo ("Hidalgo Garden"), named after Miguel Hidalgo y Costilla, the "Father of Mexican Independence." A larger-than-life statue of Hidalgo dominates the square.
Other main features include the two important churches, El Santuario de Nuestra Señora de la Soledad (The Sanctuary of Our Lady of Solitude) and San Pedro (Saint Peter), and the Benito Juárez market.
Tlaquepaque is known for its mariachi bands. During the annual San Pedro festivities, El Jardín is filled with stalls and street-sellers. On the day of San Pedro itself, towering firework-festooned structures known as the Castillo ("castle") and Toro ("bull") are set alight.
You can dial 078 from any phone, where you can find free information about tourist attractions, airports, travel agencies, car rental companies, embassies and consulates, fairs and exhibitions, hotels, hospitals, financial services, migratory and other issues.
Or dial the toll-free (in Mexico) number 01-800-006-8839.
You can also request information to the email correspondencia@sectur.gob.mx
MORE EMERGENCY NUMBERS:
General Information: 040 (not free)
National Emergency Service: 911
Radio Patrols: 066
Police (Emergency): 060
Civil Protection: +52(55)5683-2222
Anonymous Complaint: 089
Setravi (Transport Mobility): +52(55)5209-9913
Road Emergency: 074
Cruz Roja: 065 o +52(55)5557-5757
Firefighters: 068 o +52(55)5768-3700
Use these tags to read more related posts and reviews:
---
Let us know if this article was useful for you