Cuautitlán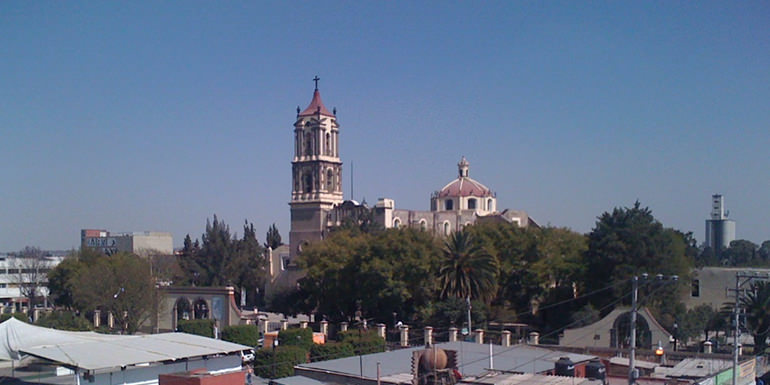 Cuautitlán is a city and municipality in the State of Mexico, just north of the northern tip of the Federal District (Distrito Federal) within the Greater Mexico City urban area. The city has engulfed most of the municipality, making the two synonymous.
In the Mexican national intermediary census (conteo) of 2005, the municipality recorded an overall population of census population of 110,345. The great majority of these inhabitants—some 97,686 people—resided in the urban confines of the city of Cuautitlán itself.
The name comes from Nahuatl and means 'between the trees.'
Cuautitlán began as a Chichimeca village around the 14th century. It was dominated by Tlacopan before being conquered by the Mexica and made part of the Aztec empire.
After the Conquest, Cuautitlán was evangelized by the Franciscans. They constructed San Buenaventura monastery and established the brotherhood of the Purísima Concepción de Nuestra Señora de Cuautitlán.
Saint Juan Diego (1474–1548) reputedly lived there with his wife Maria Lucia up to the time of her death in 1529. They lived there in a one-roomed mud house thatched with corn stalks. The house still survives in a good state of preservation. Cuautitlán gained city status in 1968.
It is the birthplace of painter and sculptor Luis Nishizawa (1918-2014).
You can dial 078 from any phone, where you can find free information about tourist attractions, airports, travel agencies, car rental companies, embassies and consulates, fairs and exhibitions, hotels, hospitals, financial services, migratory and other issues.
Or dial the toll-free (in Mexico) number 01-800-006-8839.
You can also request information to the email correspondencia@sectur.gob.mx
MORE EMERGENCY NUMBERS:
General Information: 040 (not free)
SNational Emergency Service: 911
Radio Patrols: 066
Police (Emergency): 060
Civil Protection: +52(55)5683-2222
Anonymous Complaint: 089
Setravi (Transport Mobility): +52(55)5209-9913
Road Emergency: 074
Cruz Roja: 065 o +52(55)5557-5757
Firefighters: 068 o +52(55)5768-3700
Use these tags to read more related posts and reviews:
---
Let us know if this article was useful for you