Textiles of Mexico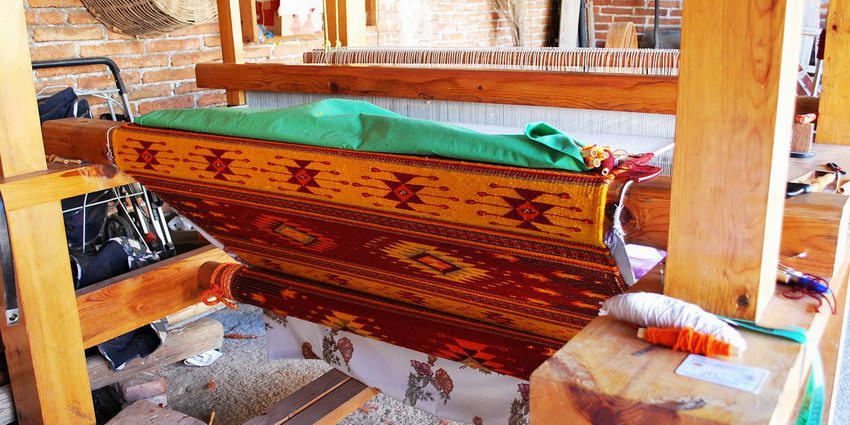 The Textiles of Mexico have a long history. The making of fibers, cloth, and other textile goods has existed in the country since at least 1400 BCE.
Fibers used during the pre-Hispanic period included those from the yucca, palm, and maguey plants as well as the use of cotton in the hot lowlands of the south. After the Spanish conquest of the Aztec Empire, the Spanish introduced new fibers such as silk and wool.
Today, fabric, clothes, and other textiles are both made by craftsmen and in factories. Handcrafted goods include pre-Hispanic clothing such as huipils and sarapes, which are often embroidered. Clothing, rugs, and more are made with natural and naturally dyed fibers.
Pre-Hispanic period
The oldest known fabric fragments in Mexico have been found in the arid north of the country in states such as Coahuila, Chihuahua, and Durango and date to approximately between 1800 and 1400 BCE.
In pre-Hispanic times, the most common woven fibers in dry areas were from the yucca and palm trees, with cotton grown in the hot humid areas near the coast. It was unknown to the Aztecs until they conquered cotton-growing areas and began demanding it as a tribute.
Then, only the upper classes were permitted to wear it. Given the important status cotton cloth had, it is often used as money. For some ceremonial garments, amate or bark paper was used.
Indigenous clothing
Most of the pre-Hispanic clothing that survives is for women. These include "enredos", or wrap dresses, fajas, or cloth belts, huipils, a type of tunic, quechquemitl, which is a kind of rectangular or square short poncho. The last was originally worn directly on the upper body of a woman but today it is worn over a blouse.
Loose-fitting sack dresses, called huipils in Oaxaca and guanengos in Michoacán, are often heavily embroidered with straight stitching, cross-stitching, and tucks with floral and geometric motifs.
A widely used garment in both indigenous and mixed-race communities is the rebozo. This is a long rectangular shawl used both as a wrap and as a means to carry children or heavy objects tied onto the body.
The rebozo came about during the colonial period, not in the pre-Hispanic era. The rebozo is a synthesis of three historical influences, the pre-Hispanic "mámatl," the Spanish mantilla, and the "repacejo," an Oriental garment.
This is a long rectangular piece of cloth with long fringes at both ends. Most rebozos are made with multicolored designs woven into the pieces using threads of different colors.
Those of a single color are usually made of yarn or thread that has been tie-dyed to produce color variations in the final piece. This latter style is called "jaspe" or jasper and is usually woven on backstrap looms.
The rebozo has been produced mostly in central Mexico since the colonial period, with some of the best-known producers in Mexico State and Michoacan. Tenancingo is one of the best-known producers of craft rebozos, usually made of cotton but wool is also used.
Traditional rebozos in the Lake Pátzcuaro area are often of white and blue over a black background and maybe embroidered in tiny cross-stitch.
Few pre-Hispanic male clothing pieces survive since many Mesoamerican males went about nude or semi-nude, causing Spanish authorities to force them to adopt European shirts and pants early.
These early colonial-style shirts and pants have changed little in indigenous communities and are now identified with indigenous groups, especially the Tarahumara in Chihuahua, the Tacuates in Oaxaca, and the Tzeltals in Chiapas.
Many male garments are heavily embroidered in multiple colors.
Since indigenous pants lack pockets, many men carry decorated bags called morals. The only pre-Hispanic male garment to survive is the sarape, which is used only in certain areas of Mexico.
In addition to clothing, other items are woven such as bedspreads, blankets, hats, cinches, and knapsacks. The designs for these are most often woven into the fabric itself, but embroidered stars, border designs, deer, and others can be seen as well.
These items may be made with various fibers including those derived from the maguey plant.
Embroidery
One of the most distinctive aspects of indigenous handcrafted textiles is the use of embroidery. Indigenous motifs found on garments range from geometric patterns, zig-zag, spirals, moons, crosses, and stepped frets.
Thin cloth belts that wrap around the waist (fajillas) are common in a number of indigenous groups and are richly embroidered.
The borders are often adorned with zig-zag edgings, such as those of the Huichols. The Otomis use a moon pattern on these belts along with their morals or carrying bags, and the Tarahumara tend to decorate theirs with triangular designs.
Many of the embroidery patterns of the huipils in Oaxaca, also show pre-Hispanic influence.
Flower designs are popular for embroidering women's clothing among the Otomis, Nahuas, Huastecs, Huichols, and others. Spirals and curved designs appear with frequency, especially in the center and south of the country.
In addition to flowers, other themes from nature in woven and embroidered designs include plants, animals such as squirrels, rabbits, deer, armadillos, doves, hummingbirds, pelicans, seagulls, and fish.
Mazahua embroidered belts are known for their zoomorphic designs and those of Santo Tomás Jalieza tend to have images of large plumed birds.
The cloth napkins of San Mateo del Mar have images of aquatic birds such as pelicans and seagulls, with those of the Tacuates of Santiago Zacatepec having borders with many diminutive animals such as centipedes, scorpions, birds, iguanas, cats, foxes, and more.
Human figures appear with relative frequency as well. They feature prominently on the embroidered napkins of San Juan Colorado and as Danza de la Pluma dancers on the cloth belts of Santo Tomás Jalieza.
Patriotic symbols such as two-headed eagles, the three colors of the Mexican flag, and the eagle with a serpent crest. These are most prevalent in the central region of the country among the Otomis, Nahuas, Huastecos, Huicholes, and others.
Christian symbols such as the cross, virgins, saints, angels, and other elements were introduced by evangelists in the early colonial period.
These appear on small and large pieces such as men's shirts among the Tzotzil in Chiapas, in the fabrics of San Miguel Ameyalco, which feature churches, and the appearance of the Virgin of Guadalupe in many textiles in the Sierra Norte of Puebla.
Popular sayings or phrases also appear especially in the textiles of the Purépecha around Lake Pátzcuaro and in the state of Puebla.
Rugs and other items made in Oaxaca and Mexico State
Two states that continue to have significant handcrafted textile production are Oaxaca and Mexico State.
Oaxaca is known for its variety of handcrafted textiles including rugs, rebozos, tablecloths, and traditional clothing such as huipils.
In Mexico State, craft pieces are mostly produced in Jiquipilco, Tejupilco de Hidalgo, Temascaltepec de González, Temoaya, Valle de Bravo, Zacazonapan, Toluca, and Tenancingo producing napkins, tablecloths, sheets, kitchen items, clothing, bathroom items, rebozos, and rugs.
Both states also are significant producers of rugs. The making of knotted rugs by the Otomi in Mexico State is relatively recent.
It began in 1969 when Ernesto Fernández Hurtado of the Bank of Mexico decided to promote a pilot center in Temoaya for the study and manufacture of this type of rug using traditional Otomi designs.
Today, these rugs are a distinctive feature in Mexico State crafts.
There are about 21 different designs offered with 250 variations in colors and size. Most are sold in upper-class neighborhoods of Mexico City, but due to the problem of cheap imitations, some vendors only sell from their workshops.
Teotitlán del Valle in Oaxaca is known for its woven rugs. Most producers make their rugs on foot pedal looms using wool dyed with natural materials such as indigo and the cochineal bug.
Rugs are also produced in Mitla, Santa Ana del Valle, and Tlacolula de Matamoros along with blankets and a type of sarape. One distinguishing feature of Oaxaca rug production is the use of the cochineal insect.
This insect has been used since pre-Hispanic times to dye fiber, producing colors ranging from purple to yellow, varying depending on what the ingredients, such as certain flowers or lime juice, are added.
For a time, the use of natural dyes was threatened by cheaper synthetics but the use of natural dyes has made a comeback.
Value and protection of handcrafted textiles
After the Mexican Revolution, references to native Mexican cultures became fashionable, including arts crafts food, and regional clothing.
This was expressed in the arts by those such as Diego Rivera and Dr. Atl. Since that time, there have been a number of efforts to maintain and expand the textile-producing traditions, especially in the south of Mexico.
The Textile Museum has a collection of 4,000 pieces and is located in the former monastery of San Pablo in the city of Oaxaca. The museum was opened in 2008 and sponsored by the Alfredo Harp Helú Foundation.
The pieces include modern, colonial, and pre-Hispanic textiles. Clothing items include huipils, enredos, quechquemilts, skirts, rugs, and wall hangings. The collection is in three divisions Textiles of Oaxaca, Textiles of Mexico, and Textiles of the World.
Sna' Jolobil, or House of the Textiles in the Tzotzil language, is a cooperative of more than 600 Tzotzil and Tzeltal women in 12 municipalities in Chiapas based in San Cristóbal de las Casas.
It was founded to promote and elevate textile crafts, especially those produced on backstrap looms, with the aim of preserving traditional techniques and designs as well as promoting the economic fortunes of women weavers.
The organization has a collection of antique huipils available for study and reproduction as well as workshops in weaving and producing vegetable dyes. The organization has been successful in attracting more young people to the craft.
In 1986, it received the Premio Nacional de Ciencias y Artes (National Prize of Sciences and the Artes) and numerous members have earned individual awards for their work.
Use these tags to read more related posts and reviews:
---
Let us know if this article was useful for you