Nuevo Laredo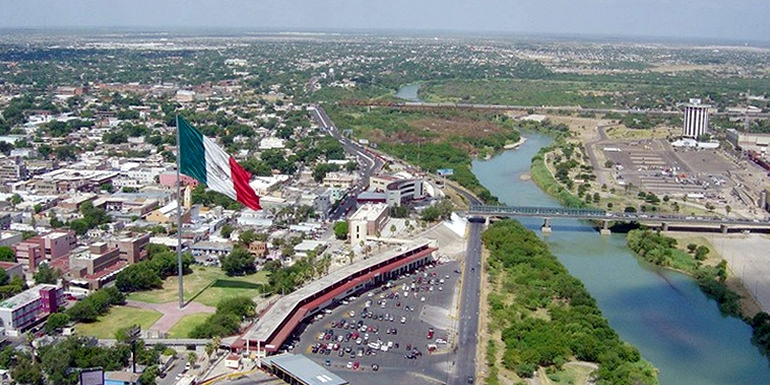 Nuevo Laredo is a city located in the Municipality of Nuevo Laredo in the Mexican state of Tamaulipas.
The city lies on the banks of the Rio Grande, across from the U.S. city of Laredo, Texas.
The 2010 census population of the city was 373,725.
Nuevo Laredo is part of the Laredo-Nuevo Laredo Metropolitan Area with a total population of 636,516.
The municipality has an area of 1,334.02 km² (515.07 sq mi).
Both the city and the municipality rank as the third largest in the state.
The city is connected to Laredo, Texas by three international bridges and a rail bridge.
The city is larger and younger than its U.S. counterpart. It is the largest inland port in Mexico, just as its counterpart across the border is the busiest inland port (bridge crossing) in the United States.
As an indication of its economic importance, one of Mexico's banderas monumentales is located in the city (these flags have been established in state capitals and cities of significance).
Nuevo Laredo was part of the territory of the original settlement of Laredo (now in Texas) which was founded in 1755 by the Spaniard Don Tomás Sánchez in the northern part of the Rio Grande.
The settlement's territory was granted to José de Escandón by the King of Spain, and the settlement's territory and population remained unified for ninety years, until the war of 1846-48, the Mexican–American War.
Early in 1848, the Treaty of Guadalupe Hidalgo divided the territory attached to Laredo between the United States (specifically, Texas) and Mexico.
Nuevo Laredo was founded on May 15, 1848, by seventeen Laredo families who wished to remain Mexican and therefore moved to the Mexican side of the Rio Grande.
They identified with Mexico, its history, and its cultural customs, and decided to keep their Mexican citizenship. The founders of Nuevo Laredo even took with them the bones of their ancestors so they would continue to rest in Mexican ground.
Nuevo Laredo is located in the northern tip of Tamaulipas on the west end of the Rio Grande Plains.
Rio Grande is the only source that supplies its citizens with water.
El Coyote Creek supplies Nuevo Laredo's only natural lake El Laguito (The Small Lake).
The area consists of a few hills and flat land covered with grass, oak, and mesquite.
Climate
Nuevo Laredo features a semi-arid climate. Nuevo Laredo's weather is influenced by its proximity to the Chihuahuan Desert to the west, by the Sierra Madre Oriental mountains to the south and west, and by the Gulf of Mexico to the east.
Much of the moisture from the Pacific is blocked by the Sierra Madre Oriental. Therefore, most of the moisture derives from the Gulf of Mexico.
Its geographic location causes Nuevo Laredo's weather to range from long periods of heat to sudden violent storms in a short period of time.
Nuevo Laredo is cold for Tamaulipas standards during winter, the average daytime highs are around 66 °F (19 C) and overnight lows around 43 °F (6 C); although it is rare for snow to fall in Nuevo Laredo, there was actually snow on the ground for a few hours on the morning of Christmas Day 2004.
Nuevo Laredo experiences an average high temperature of about 99 °F (37 C), and an average low of about 75 °F (24 C) during summer, and 20 inches (510 mm) of rain per year.
As Laredo sometimes undergoes drought, a water conservation ordinance was implemented in 2003.
Public safety is provided by three municipal departments:
municipal police (Dirección de Seguridad Ciudadana)
traffic control (Dirección de Seguridad Vial)
the emergency services department (Dirección de Protección Civil, Bomberos y Desastres)
As well as the State Police Force Tamaulipas ("Fuerza Tamaulipas") replacing former Acreditable State Police ("Polícia Estatal Acreditable")
Because of the drug related violence, Federal level departments take part in the security effort, SEDENA Military Police ("Polícia Military") Mexican Army Troops, SEMAR Mexican Navy Troops and Federal Police.
Nuevo Laredo (along with Laredo, Texas) is the most important trade border crossing of Latin America (approximately 8500 trucks cross the border each day). Its geographical position has enabled this city to grow and specialize in the international trade business. Nuevo Laredo has a very developed logistics and transportation industry, complemented with a variety of hotel chains, restaurants and a cultural center where events such as the Tamaulipas International Festival take place.
Nuevo Laredo is located on the primary trade route connecting Canada, the United States and Mexico. Both Nuevo Laredo and Laredo, Texas are now the gateway to Mexico's burgeoning industrial complex, offering diverse markets, business opportunities and profit potential, which both business and industry cannot find anywhere else. Nuevo Laredo is the only Mexico/U.S. border city strategically positioned at the convergence of all land transportation systems.
The main highway and railroad leading from Central Mexico through Mexico City, San Luis Potosí, Saltillo and Monterrey join with two major U.S. rail lines at Nuevo Laredo and major American highway Interstate 35, thus offering fast access to the most important metropolitan areas and seaports of Texas, as well as northern states and Canada. For more than a decade, Mexico's economic policies have greatly increased Mexico/U.S. trade and cross-border production in the Nuevo Laredo area.
Seventy percent of all Mexican exports to the United States are exported through Nuevo Laredo.
Nuevo Laredo is considered to be the largest inland port in Latin America.
There are three bridges in the Nuevo Laredo area:
International Bridge #1 (the oldest)
International Bridge #2 (also known as Juarez-Lincoln; no pedestrians)
International Bridge #3 (also known as the Free Trade or Libre Comercio Bridge; inaugurated in 1999; cargo only)
Also the Colombia-Solidarity (Solidaridad) Bridge (located about 20 miles (32 km) NW of the city in Colombia, Nuevo León). There are no urban areas on either side of this bridge.
Air
Nuevo Laredo is served by the Quetzalcóatl International Airport with daily flights to Mexico City. The neighboring Laredo International Airport in Laredo, Texas has daily flights to Houston (George Bush Intercontinental Airport) and to Dallas-Fort Worth International Airport and Tri-weekly flights to Las Vegas, Nevada and bi-weekly seasonal (May–August) flights to Orlando, Florida.
Mass transit
Transporte Urbano de Nuevo Laredo (TUNL) is the mass transit system that operates in Nuevo Laredo with fixed routes with millions of passengers per year. TUNL works with a fleet of fixed-route buses. TUNL hub is located in downtown Nuevo Laredo.
Ruta 1 Guerrero
Ruta 2 20 De Noviembre – Campanario
Ruta 2 20 De Noviembre – Valles De Anáhuac
Ruta 3 5 Colonias Azul
Ruta 3a 5 Colonias Verde
Ruta 4 Colonia Las Torres – Panteón – Puente
Ruta 5 Victoria – Viveros – Verde
Ruta 5a Victoria – Viveros – Azul
Ruta 6 Rivereña – Buenavista – Centro
Ruta 7 Mina – Constitucional
Ruta 7a Olivos X Arteaga – Cortes Villada – Mina – Constituciónal
Ruta 8 Mirador – Panteón
Ruta 8 Mirador – Reforma
Ruta 10 Kilometro 15 – Colonia Primavera – Kilometro 18
Ruta 11 Carretera – Colonia Burócrata – Centro
Ruta 12 Laredo Tx – Benito Juárez
Ruta 12 Laredo Tx – Issste
Ruta 13 Valles De Anáhuac – Conalep
Ruta 13 Valles De San Miguel – Valles De Anáhuac
Ruta 13a Campanario – Conalep
Ruta 15 Cavazos Lerma
Ruta 17 Granjas – Fracc. Itavu – Km 13 – Km 18 – Centro
Ruta 17a Granjas – Fracc. Itavu – Km 13 – Km 18 – Centro
Ruta 17b Km 13 – Santa Cecilia
Ruta 19 Unión Del Recuerdo
Ruta 19a Colonia Los Artistas – Naciones Unidas – Centro
Ruta 20 Cortes Villada – La Sandia – Joya – Centro
Ruta 21 Rivereña – Virreyes
Ruta 22 Las Torres – Panteón – Bolívar – Centro
Ruta 22a Las Torres – Panteón – Bolívar – Centro
Ruta 23 Mina – Voluntad y Trabajo 2 y 3
Ruta 24 Voluntad – Nueva Era-Buenos Aires por Independencia
Ruta 24a Voluntad – Nueva Era – Buenos Aires Por Independencia
Ruta 28 Las Alazanas
Ruta 29 Reservas Territoriales – Colonia Hipódromo – Centro
Ruta 30 Reservas Territoriales – Colonia Buenos Aires – Centro
Ruta 31 Reservas Territoriales – Conalep
Ruta 32 Colonia Insurgentes – Conalep – 150 Aniversario
Ruta 35 Kilometro 10 – Panteón – Colinas Del Sur
Ruta 35a Kilometro 10 – Panteón – Colinas Del Sur
Ruta 36 Fraccionamiento América – Nogal – La Concordia – Centro
Ruta 36a Fraccionamiento América – Nogal por Coca Cola
Parque Viveros (Viveros Park) is a 124-acre (0.50 km2) forest park that overlooks the Rio Grande on the eastern side of Nuevo Laredo. The park features a zoo, two large swimming pools, walking trails, picnic areas with barbecue pits and playgrounds.
Nuevo Laredo has three main theaters the "Centro Cultural", "Teatro de la Ciudad", and "Casa de Cultura".
The Centro Cultural (Cultural Center), is Nuevo Laredo's main theater with a sitting capacity of 1,200 guests.
The theater has presented high level shows high level, plays, concerts and dance recitals.
The theater has a museum, library, and a cafeteria.
The Teatro de la Ciudad (City Theater) is a theater which presents plays, dance recitals, concerts and musical shows and special events.
The Casa de Cultura (House of Culture) houses music, painting, dance and literature workshops and also presents major artistic and cultural events such as art exhibitions, concerts, film samples, dance recitals and plays, among others.
The city has a variety of tourist attractions such as:
Cultural Center. Opened in 2004, the cultural center has a main theater, experimental theater, natural history museum, Reyes Meza museum, gourmet restaurant, cafeteria, temporary exhibition area, library, book shop, media library, and Uxmal walk where there are pre-Columbian works of art with colossal sculptures of gods and idols of the Mesoamerican cultures.
Natural history museum. It was opened in 2007, in its permanent museum exposes human skeletons, dinosaur bones and fossils in general that allows to make a chronological history travel of the region, fauna, flora and geography, from the jurassic to our era.
Jose Reyes Meza Museum. Opened in June 2008 It has the name of a remarkable painter, designer and muralist from Tamaulipas, the museum exposes various plastic works.
Regional Zoo. It has a wide range of animal species from different ecosystems and from the region, it is located next to the Ecological Park "Viveros" and receives hundreds of visitors daily.
Word Station Gabriel García Márquez. Dedicated to the writer Gabriel García Márquez, Nobel laureate in literature, this cultural space opened in September 2008 and has an auditorium, exhibition gallery, library, reading rooms, children's room, literary coffee and a book shop.
The House of Culture. It has the theater "Lucio Blanco", in the house of culture occur cultural events, also there are classes of music, painting, dance and literature.
Old Customs Building. The building was restored and adapted to serve as a cultural space, with the concert hall "Sergio Pena," the great forum and an exhibitions gallery .
Longoria bank museum. It was built in 1929 by Don Octavio Longoria, currently its lobby is used to exhibit plastic arts and photography.
Historical Archive. In it lies the documentary and graphic memory of the city, also has temporary exhibitions, consultation area, audiovisual area and the site museum which displays railroad artifacts, photographs and documents of time alluding to the history of the Railroad in Nuevo Laredo.
Viveros Park. The park has playgrounds, a driver education park, Camécuaro pool, green areas, the regional zoo, an aquarium, a jurassic park.
IMSS theater. It presents plays, musicals, movies and other events.
Sports city (ciudad deportiva). It has a baseball stadium, the multidisciplinary gymnasium of basketball, tennis courts, squash courts and soccer court
Market Maclovio Herrera. It is located in the historic city center, here you can find many kinds of Mexican crafts from all the country, e.g. costumes, jewelry, traditional Mexican candies and piñatas.
Narciso Mendoza park. It has the Fidel Cuellar library, a walking trail around the park (circuit almost 800 mts.), a FutRap court and a playground .
Adolfo Lopez Mateos city theater.
Recreational park El Laguito.
Polyforum Dr. Rodolfo Torre Cantu. Place to hold events and mass entertainment, was opened on September 4, 2013. It has the capacity to hold over 5,000 people and parking for over 1,000 vehicles. The project is still under construction and includes a civic center, stage performances, cultural walk, aquarium, soccer fields and basketball courts and more.
There is a fairly large array of night-time entertainment venues. Most establishments (clubs, bars, and restaurants) are located in the historical district. Other restaurants (including chains such as Carl's Jr., Burger King, Kentucky Fried Chicken, and McDonald's) are located along Avenida Vicente Guerrero and Avenida Reforma. Nuevo Laredo has a red light district called Boy's Town, (or "La Zona").
The city has some malls like Paseo Reforma, it was opened in May 2008, this mall has many commercial establishment, like Wal-Mart Super Center, The Home Depot, and Cinépolis. Other shopping centers are, Plaza Real, Plaza 2 Laredos, Plaza commercial La fe.
You can dial 078 from any phone, where you can find free information about tourist attractions, airports, travel agencies, car rental companies, embassies and consulates, fairs and exhibitions, hotels, hospitals, financial services, migratory and other issues.
Or dial the toll-free (in Mexico) number 01-800-006-8839.
You can also request information to the email correspondencia@sectur.gob.mx
MORE EMERGENCY NUMBERS:
General Information: 040 (not free)
National Emergency Service: 911
Radio Patrols: 066
Police (Emergency): 060
Civil Protection: +52(55)5683-2222
Anonymous Complaint: 089
Setravi (Transport Mobility): +52(55)5209-9913
Road Emergency: 074
Cruz Roja: 065 o +52(55)5557-5757
Firefighters: 068 o +52(55)5768-3700
Use these tags to read more related posts and reviews:
---
Let us know if this article was useful for you