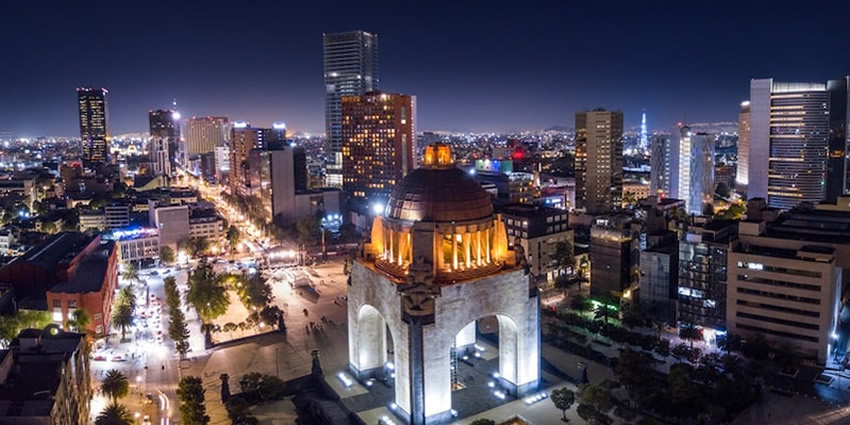 What to do in Mexico City at night?
Did you know that Mexico City is also called the city that never sleeps?
A common mistake is to focus on daytime activities when traveling and miss out on the nighttime experiences that a city has to offer. Nighttime can create a unique and enchanting atmosphere to explore and enjoy.
If you want to make the most of your trip after the sun goes down, consider walking along well-lit city streets, visiting local night markets, visiting nightclubs or bars, or taking a night tour to see the city in a different light.
When the sun goes down, any city takes on a unique and different character that is worth discovering. Seeing the main attractions of the Mexican capital illuminated will give you a very different perspective of its beauty.
Mexico's rich culture is fully revealed after sunset. There are monthly museum nights and night tours of Aztec sites. Don't miss the Mexican lucha libre show. Visit the witch markets for a more colorful experience.
Walk along the Paseo de la Reforma and admire the emblematic Angel of Independence and other iconic monuments along the avenue that runs from Chapultepec to the Historic Center in the direction of the Zocalo.
Don't forget to capture memorable moments under the moonlight!
Night excursion by tourist bus
In the evening, the streets of Mexico City come alive with music and street performances. This lively atmosphere and the illuminated cityscape against the night sky provide many beautiful moments for taking photos.
A night excursion in a convertible tour bus is a fantastic way to enjoy Mexico City under the moonlight. This experience can provide a unique insight into the city's attractions and beautifully lit iconic places and sights.
The tourist bus is designed with your comfort in mind. Many buses have open-top seats, providing an unobstructed view of the city's illuminated landmarks. Sit comfortably and get ready for an amazing excursion.
The night tour will take you through the most iconic lit landmarks of Mexico City.
A night tour on a tourist bus is an informative and memorable way to experience the city's illuminated beauty with a unique perspective on the city's charm, making it an educational and enjoyable part of your adventure.
Check the tourist bus schedules and availability in advance and enjoy the trip!
Visit nocturn Zocalo
Visiting the Zocalo at night can be a magical experience. Zócalo is Mexico City's historical and cultural center. At night the place often comes alive with various activities, beautiful lighting, and a vibrant atmosphere.
And admire the impressive Metropolitan Cathedral and the National Palace.
Visit the Torre Latinoamericana observation deck
The Torre Latinoamericana's observation deck is a fantastic way to enjoy panoramic views of Mexico City at night. The observation deck on the 44th floor offers breathtaking, impressive views of the city both day and night.
At night the panoramic views of Mexico City turn into a dazzling sea of lights.
Palacio de Belles Artes
The Palacio de Bellas Artes puts on a variety of cultural shows throughout the year. The building itself is an impressive sight, with an art nouveau and neoclassical exterior that overlooks the Alameda Central Park.
Palacio de Belles Artes serves as an art museum and a performance hall. Opera, theatre, classical music, dance, and exhibitions are some of the many events that take place within.
Visit the Condesa Borough
Condesa is Mexico City's thriving party capital, with many trendy clubs and bars. This area is on the edge of Chapultepec Park with several boulevards lined with Art Nouveau mansions, casual eateries, cafes, and boutiques.
Enjoying cocktails at the rooftop bar and watching the city lights is a great way to unwind. Mexico City is famous for its neon lights after dark, so be sure to admire it from above. There are countless rooftop bars in the city.
Visit Plaza Garibaldi
Plaza Garibaldi is a famous square in Mexico City known for its Mariachi music.
Mariachi music is truly an integral part of Mexican culture. If you want to immerse yourself in local culture and enjoy Mexico City's vibrant music scene, don't miss the opportunity to see a live Mariachi music performance.
Mariachi bands are known for their energetic and passionate performances wearing traditional attire and performing various musical instruments. Mariachi performance is an unforgettable part of Mexico City nightlife.
Night of the Museums
The Night of the Museums is a monthly event that involves over 40 of Mexico City's museums and galleries. The Night of the Museums is organized by the Mexican government to promote the history and culture of the city.
These venues stay open until around 22:00 – great for museum-hopping.
Mexican "lucha libre" wrestling show
Lucha libre is a popular form of professional wrestling in Mexico, known for its colorful masks and high-flying acrobatics. You can find events at various locations throughout Mexico, including the famous Arena Mexico.
These events often feature talented "luchadores" who put on spectacular shows.
You can check local event listings or official websites of wrestling organizations for show schedules and ticket information if you plan to attend a "lucha libre" wrestling event. Enjoy the exciting world of Mexican wrestling!
Use these tags to read more related posts and reviews:
---
Let us know if this article was useful for you