Travel and explore Mexico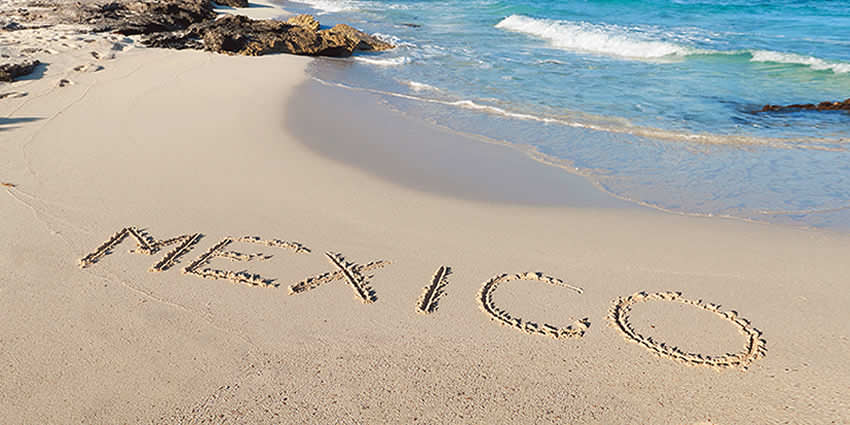 Tourist routes in Mexico
Tired of the stuffy resorts? Ready to do something different, like a road trip or go backpacking in Mexico?
Traveling in Mexico is an incredible experience with endless options. In just one trip, you can wander around ancient Mayan cities, stroll through colorful colonial towns, explore one of the biggest cities in the world, and wind it all down on a pristine beach.
Here are 10 different travel routes for Mexico:
Route 1: Wine country and the aquarium of the world
This route travels along the Baja California Peninsula, which for years has been a magnet for adventurers, athletes, and gourmands. The two coasts of the peninsula attract visitors in search of contrasting experiences.
On the Pacific Ocean side, you can see whales, cosmopolitan cities, vineyards, and golf courses, as well as taste some of the best cuisines in the country; on the Sea of Cortés side, there is fantastic marine life, enchanting cities, and Jesuit missions.
In between the desert and its cacti, unique in the world.
Route 2: The millenary Tarahumaras (Raramuri)
This route includes the famous and amazing train journey along the Barrancas del Cobre (Copper Canyon), in the state of Chihuahua: a tour amidst epic landscapes occupied by ancient Raramuri people, who gladly receive travelers with the intention of carving unforgettable experiences in their spirits.
One can begin their trip in Los Mochis, Sinaloa, or in Chihuahua City, Chihuahua. We recommend doing a trip from one end to the other to avoid backtracking and to maximize your time. One can also add a visit to Mazatlan to the beginning or end of this trip as it is so close.
Route 3: Magic of traditions and nature
This route includes both historical cities and natural landscapes; beaches and quaint little towns, with great tourist attractions.
From the elegance of Morelia to the crazy nightlife in Acapulco, and from vestiges in Tzintzuntzan to urban life in Uruapan, this is an unforgettable tour rich in history, landscapes, and the most memorable: people.
Route 4: Birthplace of history and romanticism
This route leads the traveler along the Mexican Bajio, reaching lands in Jalisco.
Here, history and nature come together. Historical tours can be made in cities that witnessed the Independence struggle, such as Queretaro and Guanajuato, or in captivating natural scenarios such as the Mountains of Sierra Gorda with their green ravines.
Naturally, you will be constantly surrounded by culture and rich popular art traditions in this region.
Route 5: Art of tequila and music under the sun
For a truly Mexican scene, it would be enough to arrive in Tequila, Jalisco, and discover men harvesting agave in the fields.
But this is only part of this route, for a stop in the cosmopolitan Tapatia (nickname for Guadalajara) capital is also a must, as well as arriving on the Pacific coast to visit everywhere from the classical port of Manzanillo to the small fishing towns in Nayarit.
This route is accompanied by volcanic landscapes, good music, delicious food, and, as should be, a nice sampling of tequila.
Route 6: Huastecas and their outstanding beauty
A center of Mexican jungle beauty, the Huasteca region offers everything from pure nature – like the Sótano de las Golondrinas (Swallow's Cave, a vertical cave populated by birds) – to modern places like Tampico, where local economy and tradition meet, as well as a custom from Veracruz or Tamaulipas and gastronomy from Hidalgo.
Route 7: A thousand flavors of mole
They say there are more than 300 varieties of mole, almost as many as there are types of cuisine in Mexico. This route travels through the states of Tlaxcala, Puebla, and Oaxaca, three destinations that compete in claiming the creation of this exceptional dish.
The tour includes a taste of the best restaurants, trips through the most splendid natural landscapes, and a visit to the archaeological sites in Oaxaca. The only thing you need is a fork in your hand, and a pair of rested eyes to enjoy the scenery.
Route 8: Mystery and origin of the Maya culture
It was on this side of the country where the Maya won over the territory from the jungle to build their mathematically perfect pyramids; then the Spanish arrived and developed towns and cities that revolved around beautiful Baroque-style churches or plantations and ranches around their haciendas.
Today, from the Yucatan Peninsula to the border with Guatemala, this route holds great natural beauty, cultural wealth, and centuries of history that have left their mark on the warm inhabitants.
Route 9: Colonial experience
On this route, the traveler will begin to understand Mexico's history by visiting central cities as diverse as Zacatecas, Aguascalientes, and San Miguel de Allende, which all have a common denominator: they participated in the Mexican Independence and Revolution wars, they witnessed the fall of an empire and the birth of a nation.
They all show traces of a memorable past in their walls, streets, and churches.
Route 10: Encounter between history and modern-day Mexico
Mexico can boast of being a country that in addition to having a fascinating and exquisite history is capable of offering the visitor the amenities of the modern-day. There is no better proof of this than the northern region of the country, where the traveler will find people proud of their roots, honest, kind, and enterprising.
Use these tags to read more related posts and reviews:
---
Let us know if this article was useful for you