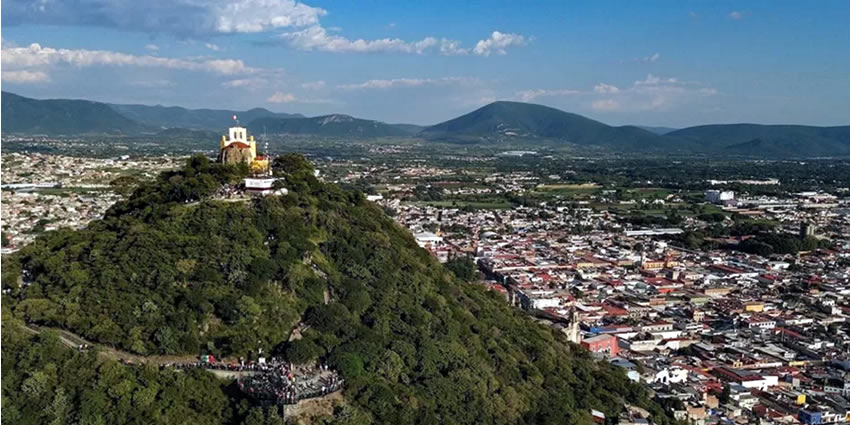 Archaeologists discovered a lost ancient temple in Atlixco, Puebla
Atlixco is located at the foot of the Popocatépetl volcano. An archaeological expedition confirmed the existence of an ancestral temple in Atlixco, which was built in pre-Hispanic times by indigenous communities.
The teocalli would have been built by indigenous communities, before the arrival of European settlers in the 16th century, on the top of San Miguel Hill, a volcanic elevation that houses a Catholic chapel at its base.
There are hundreds of stories, transmitted orally, about an ancestral temple lost in time. Despite the stories, until now no archaeological evidence has been found to support the existence of the pyramidal basement.
However, a team of anthropologists discovered remains of this ancient construction on the top of Cerro San Miguel (San Miguel Hill), as confirmed by the National Institute of Anthropology and History (INAH).
Archaeologists discovered a lost ancestral temple in Atlixco
The remains of the temple were discovered during renovation work on the chapel and the paths leading to the top of the hill, where artifacts dating back over 1,000 years (stone tools, jewelry, and pottery) were found.
According to experts, these objects were made by the Mesoamerican Nahua, who inhabited the region before the arrival of Europeans.
Based on the evidence found, it was decided to dig another well to find more evidence of the temple, which was believed to have been built on top of San Miguel Hill in pre-Columbian times.
During excavations located in the north of the chapel, a calcareous sandy soil was discovered at a depth of 25 cm, bounded by a wall of stones stuck together with mud.
What is the archaeological richness of this discovery?
The discovery of an ancestral temple in Atlixco confirms the existence of a teocalli on the top of Cerro San Miguel, which recorded two phases of construction. It is still unknown to which figure it was dedicated.
Among the possible deities are Quetzalcóatl, Tláloc, and Macuilxóchitl.
Use these tags to read more related posts and reviews:
---
Let us know if this article was useful for you