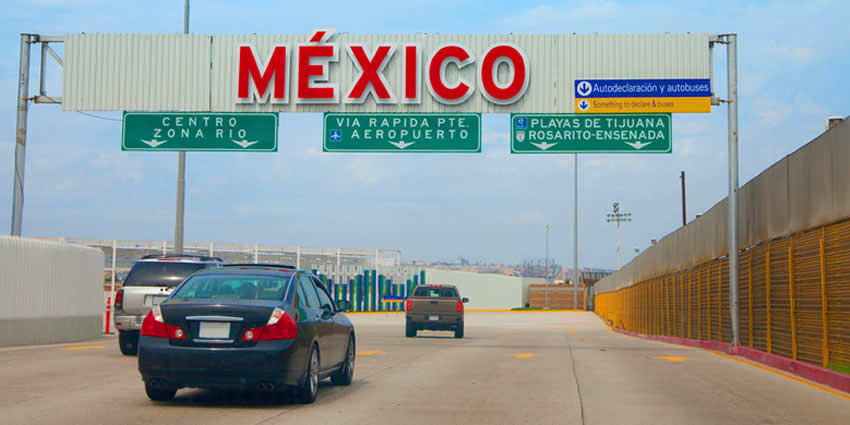 Auto insurance for tourists in Mexico
Planning a trip to Mexico? If you plan to drive there in a car, you should first check your auto insurance policy to see if any additional coverage is needed.
Get car insurance coverage to drive to Mexico
The United States driver's license is valid in Mexico, but the auto policy doesn't include insurance coverage in case of a traffic accident in Mexico.
Even more, since 2014 the Mexican car insurance policy is mandatory for all tourists entering Mexico in their own cars.
What is car insurance for tourists in Mexico?
It is a separate auto insurance policy from your current national policy, which helps protect American and Canadian drivers in Mexico.
This type of policy helps pay for medical expenses and repairs in the case you have an accident while driving your vehicle (with US or Canadian license plates) in Mexico.
In Mexico, people who get involved in a car accident must prove valid insurance or liability coverage. Additionally, drivers in Mexico must have insurance through a Mexican insurance company to provide quality coverage for you and your vehicle.
What does car insurance cover for tourists in Mexico?
Damage and theft: This coverage can help pay for repairs or even replacement of your vehicle if it is stolen or damaged in an accident, fire, hail, or dropped objects. Coverage limits are based on US labor rates.
Personal injury or property damage to third parties (up to $ 500,000): If you are at fault in a car accident, third-party liability coverage could help pay for medical expenses or damage to other people's property.
Medical payments for you and your passengers: If you or your passengers are injured in an accident, this type of coverage could help pay hospital bills for services like X-rays or ambulances.
Legal advice: This coverage could help you pay for legal expenses in the event you have a car accident in Mexico. It could cover services like legal representation and defense expenses.
Loan or lease payment on a wrecked new car: This coverage helps pay for an underwater loan or a new car lease that is wrecked (totaled) in an accident. Gap coverage can help you pay the difference between the depreciated value of your car and what you still owe.
Roadside assistance: If your car breaks down, roadside assistance coverage will help pay for services like towing, changing a tire, or recharging the battery.
Medical evacuation: If you are injured in a car accident, this coverage could help cover expenses associated with emergency transportation to a hospital or other treatment center.
It is important to remember that each type of coverage has limits on the payments your insurance company makes for covered claims. Some coverages have a deductible – the amount you will have to pay out of pocket for covered claims.
The coverage of the automobile insurance policy for tourists in Mexico usually has low fixed deductibles.
Is your rented vehicle covered by auto insurance when you travel to Mexico?
Yes, if you rent the vehicle in the United States and then drive it to Mexico. Typically the following are not covered:
Cars rented in Mexico
Vehicles with Mexican plates
Commercial Vehicles
How does car insurance for tourists work in Mexico?
If your trip lasts a few days or a few months, you can customize your policy according to the length of your stay, up to one year.
You will have to pay your premium at the beginning of your coverage, and separately from the premium you normally pay for your current home insurance.
Coverage typically begins on the date you select for the policy start, and you can even get started right away.
To get coverage for your policy in Mexico, you must have similar coverage on your current national auto insurance policy.
For example, you must have collision coverage and full coverage on your US policy if you want to purchase collision coverage and full coverage on your policy to drive in Mexico.
Do you qualify for a policy?
You may qualify for a tourist car insurance policy in Mexico if:
You are over 21 years old (there is an additional cost for young drivers)
You have a valid driver's license in the United States or Canada.
Tourist auto insurance costs in Mexico vary based on length of stay and other factors, which a car insurance agent can review in detail with you.
Contact your closest car insurance agent to find out if Mexico tourist auto insurance should be part of your travel plans.
Use these tags to read more related posts and reviews:
---
Let us know if this article was useful for you