San Patricio Melaque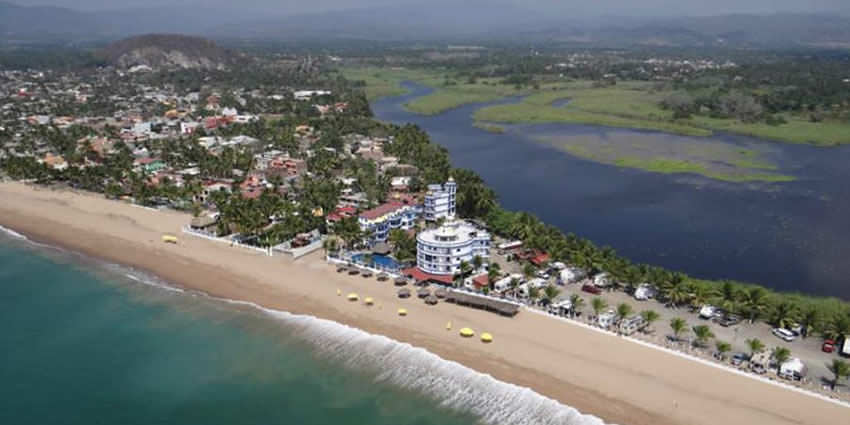 San Patricio Melaque or simply as Melaque, is a picturesque coastal town located in the state of Jalisco, Mexico.
San Patricio Melaque is situated on the Pacific coast of Mexico. This region is known for its beaches and natural beauty. Melaque is approximately 40 km south of Manzanillo, and about 200 km west of Guadalajara.
San Patricio Melaque is a busy community located 4+ km northwest of Barra de Navidad on Bahia de Navidad. Melaque has been a vacation retreat for Mexicans for generations.
The place is characterized by lush tropical vegetation, palm trees, and a variety of wildlife. Melaque is known for its beautiful beaches, which offer soft golden sand and calm, warm waters ideal for swimming and water activities.
The Sierra Madre Occidental mountains provide a stunning backdrop to this coastal paradise.
Melaque is actually a conglomeration of 3 small beach towns (villages) that have grown into each other: San Patricio, Villa Obregon, and Melaque itself, all generally referred to as simple "Melaque".
Melaque is the largest of these villages and contains the town square and most of the retail shops. Villa Obregón is more residential in character. These villages form the largest coastal community between Puerto Vallarta and Manzanillo.
San Patricio, a 1-km-long strip on the west end of the bay. The place is named after the Ejido San Patricio, and before that, it was a small ranch named San Patricio.
It is not unusual to see Humpback whales breaching just offshore in early spring.
San Patricio Melaque is a charming coastal town that offers a perfect blend of relaxation, outdoor adventures, and cultural experiences, making it a great place to explore and unwind on the Pacific coast of Mexico.
Melaque experiences a tropical climate with distinct wet and dry seasons.
The dry season typically runs from November to May, while the wet season, marked by occasional heavy rains, occurs from June to October. The average temperature ranges from 25°C to 32°C, making it an excellent year-round destination.
The best time to visit San Patricio Melaque
The best time to visit San Patricio Melaque depends on your preferences. If you prefer sunny and dry weather, consider traveling between November and May. This period offers perfect beach conditions and is ideal for outdoor activities.
However, if you enjoy lush, green landscapes and don't mind occasional rain showers, the wet season from June to October can be a more budget-friendly option, as accommodations tend to be less expensive.
San Patricio Melaque has a rich history dating back to pre-Hispanic times when indigenous communities inhabited the region. During the colonial period, it became a hub for trade and fishing.
Over the years, it has transformed into a popular tourist destination while retaining its cultural heritage and charm.
Discover the town's history by exploring the Church of San Patricio and other historical landmarks.
Plaza Principal main square.
Plaza de Toros San Patricio Miguel Hildalgo, Bull-fighting ring.
Andador Punta Melaque Scenic oceanside walkway at the west end of Playa Melaque.
Downtown Melaque contains a colorful town square, many retail shops, two banks, many restaurants, and a few hardware stores.
Explore the town's restaurants and savor delicious Mexican dishes, including fresh seafood and traditional cuisine. Melaque is known for its fishing, so consider booking a fishing excursion to catch your dinner.
The primary attraction of Melaque is its beautiful beaches. You can relax, swim, sunbathe, or try water sports like surfing, paddleboarding, and snorkeling. Visit the local markets to buy souvenirs, handicrafts, and fresh produce.
Enjoy the vibrant nightlife with live music, bars, and dance clubs.
Melaque does have numerous accommodations along the beachfront road which goes by Avenida Las Palmas to the west, Gómez Farías downtown, and Abel Salgado Velasco in the more residential area on the eastern end.
Las Palmas terminates into an informal trailer park area that marks the end of the beach.
A hiking trail, Andador Punta Melaque extends further along the coast.
Playa Melaque is the main beach in Melaque.
As in Barra de Navidad, the slope of the beach is somewhat steep which causes the waves to break close to shore. The beach is good for swimming but will present some difficulty for small children due to waves breaking on the shore.
The beach is rather long, extending from the jetty in Barra de Navidad to the west end of Melaque.
Playa Melaque is not recommended for snorkeling, but if you proceed to the west end of town past the trailer park, a trail leads to a small but nice snorkeling area. See this map of the coastal area.
Playa Cuastecomatito is a 200-meter-long beach less than 1 km west of the trailer park at the west end of Melaque. It can be accessed by hiking, by boat, or by a long dirt road off of Highway 200.
The north end, however, is sheltered, shallow & calm.
You can often see hundreds of pelicans perched on the small fishing boats anchored offshore.
Laguna del Tule
At the other end of town is a very large freshwater lagoon, Laguna del Tule, which is a paradise for bird watchers. Just be wary of the Caymans that also inhabit this lagoon. Locals claim there are over 100, some as large as 12 feet.
It can be dangerous to swim at times, as breakers tend to break at the shoreline and it drops off rapidly. That does not stop young boys from skimboarding in the surf. In fact, there is an annual skimboarding competition (Mexico's largest) in late February/early March.
As you move further south along the beach towards Barra Navidad, it becomes rougher & you can actually surf for real.
Barra Navidad
Adjacent to the bay, is the charming fishing town of Barra Navidad. Barra is also known for its quaint streets, good restaurants, and its one fancy expensive five-star resort, the Grand Bay.
The resort is on the other side of the harbor entrance, accessible by water taxi. Its isolation by water protects Barra somewhat, from the privileged snotty crowd. This town has character and heart.
The town is located only five hours drive south of Puerto Vallarta, and 45 minutes north of the industrial port of Manzanillo.
The town is so small that for the most part, you can get around on foot.
There are taxis available at the bus station on Calle Gómez Farías and at the central plaza.
Melaque is located near the Manzanillo airport which is served by several international carriers. This includes flights on America West from Arizona and Aeromar out of San Antonio.
Terminal Autobuses Primera Plus. There are frequent departures to Manzanillo and other points, plus a local shuttle between Melaque and Barra de Navidad. The local bus can take you to nearby Barra de Navidad.
The service is described as better than walking and is a great way to meet the locals.
Cars may be rented at the Manzanillo airport. There are two auto rentals in Melaque.
Trailer Park
There is a large new French Canadian RV Park at the northwest end of town, which is locally referred to as the "French Quarter". This one caters largely to caravans from Quebec but also welcomes individual travelers.
A new sizable RV park, the Melaque Paradise, just opened this year at the Southeast corner of the town (5 blocks off the beach).
How to get there
If you are coming in an RV, you might want to avoid the nightmare of driving through Puerto Vallarta.
You can take the toll highway (15 D) to just short of Guadalajara, following the signs to Tala, then south on the new 4-lane Hwy 601 to join Highway 80, then southwest to Melaque (not recommended for large rigs).
Alternatively, you can follow the same route via Tala and then North on Highway 80 to join toll Highway 54 D, south through Colima, on to Manzanillo, and then north to Melaque. Both routes bypass Guadalajara & Manzanillo itself.
Use these tags to read more related posts and reviews:
---
Let us know if this article was useful for you