San Patricio Melaque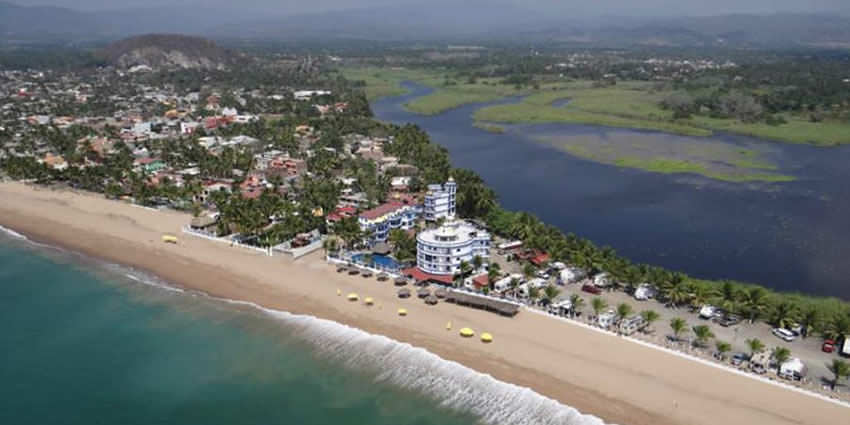 San Patricio Melaque in the Mexican state of Jalisco is a busy community located 4+ kilometers northwest of Barra de Navidad on Bahia de Navidad. The village of Melaque has been a vacation retreat for Mexicans for generations.
Melaque is actually a conglomeration of 3 beach towns that have grown into each other, San Patricio, Villa Obregon and Melaque itself, all generally referred to as "Melaque".
Melaque is the larger of these villages and contains the town square and most of the retail shops.
Villa Obregón is more residential in character. These villages form the largest coastal community between Puerto Vallarta and Manzanillo.
San Patricio, a kilometer long strip on the west end of the bay, is named after the Ejido San Patricio and before that a small Rancho named San Patricio.
Melaque has a beautiful long curving beach. It is not unusual to see Humpback whales breaching just off shore in early spring.
Plaza Principal main square.
Plaza de Toros San Patricio Miguel Hildalgo. Bull-fighting ring.
Andador Punta Melaque Scenic oceanside walkway at the west end of Playa Melaque.
Downtown Melaque contains a colorful town square, many retail shops, two banks, many restaurants and a few hardware stores.
Playa Melaque is the main beach in the area and good for swimming, bodyboarding, and skimboarding. The west end of Melaque beach is protected from the large swells found elsewhere on the beach, allowing for swimming for children and the less adventurous.
Melaque is located only 2 miles northwest of Barra de Navidad and shares the same long curving beach. Melaque does have numerous accommodations along the beachfront road which goes by Avenida Las Palmas to the west, Gómez Farías downtown, and Abel Salgado Velasco in the more residential area on the eastern end.
Las Palmas terminates into an informal trailer park area that marks the end of the beach. A hiking trail, Andador Punta Melaque extends further along the coast.
Unfortunately, there is no place for boats to dock since the beach is not suitable for this and the lagoon does not extend to the ocean.
Playa Melaque is the main beach in Melaque. As in Barra de Navidad, the slope of the beach is somewhat steep which causes the waves to break close to shore. The beach is good for swimming but will present some difficulty for small children due to waves breaking on shore.
The beach is rather long, extending from the jetty in Barra de Navidad to the west end of Melaque. Playa Melaque is not recommended for snorkeling, but if you proceed to the west end of town past the trailer park, a trail leads to a small but nice snorkeling area. See this map of the coastal area.
Playa Cuastecomatito is a 200-meter long beach 1/2-mile west of the trailer park at the west end of Melaque. It can be accessed by hiking, by boat, or by a long dirt road off of highway 200.
The north end however, is sheltered, shallow & calm. You can often see hundreds of pelicans perched on the small fishing boats anchored offshore.
Laguna del Tule
At the other end of town is a very large fresh water lagoon, Laguna del Tule, which is a paradise for bird watchers. Just be wary of the Caymans that also inhabit this lagoon. Locals claim there are over 100, some as large as 12 feet.
It can be dangerous to swim at times, as breakers tend to break at the shoreline and it drops off rapidly. That does not stop young boys from skim boarding in the surf. In fact there is an annual skim boarding competition (Mexico's largest) in late February/early March.
As you move further south along the beach towards Barra Navidad, it becomes rougher & you can actually surf for real.
Barra Navidad
Adjacent on the bay, is the charming fishing town of Barra Navidad. Barra is also known for its quaint streets, good restaurants and its one fancy expensive five star resort, the Grand Bay. The resort is on the other side of the harbour entrance, accessible by water taxi. Its isolation by water protects Barra somewhat, from the privileged snotty crowd. This town has character and heart.
Villa Obregon Fiestas: Late January/early February. Daily parades, music, bull riding.
Día de San Patricio: March 17. More celebration during the week prior to St. Patrick's Day.
Fiesta de Toros: Week of St. Patrick's day in March. Bull riding, parades.
Semana Santa: Easter holy week. A major holiday throughout Mexico. Accommodations may be scarce.
Feast of the Assumption of the Virgin Mary: August 15. A 9-day celebration with a morning.
Tomzap Party: Long-running annual celebration held in mid-February organized in the tomzap.com Visitors' Comments forum by its participants.
Tiangas Market Weekly market held on Wednesdays.
The town is located only five hours drive south of Puerto Vallarta, and 45 minutes north of the industrial port of Manzanillo.
The town is so small that for the most part you can get around on foot.
There are taxis available at the bus station on Calle Gómez Farías and at the central plaza.
Melaque is located near the Manzanillo airport which is served by several international carriers. This includes flights on America West from Arizona and Aeromar out of San Antonio.
Terminal Autobuses Primera Plus. There are frequent departures to Manzanillo and other points, plus a local shuttle between Melaque and Barra de Navidad. The local bus can take you to nearby Barra de Navidad. The service is described as better than walking and is a great way to meet the locals.
Cars may be rented at the Manzanillo airport. There are two auto rentals in Melaque.
Trailer Park
There is a large new French Canadian RV Park at the northwest end of town, which is locally referred to as the "French Quarter". This one caters largely to caravans from Quebec, but also welcomes individual travelers. A new sizable RV park, the Melaque Paradise, just opened this year at the Southeast corner of the town (5 blocks off the beach).
How to get there
If you are coming in an RV, you might want to avoid the nightmare of driving through Puerto Vallarta. You can take the toll highway (15 D) to just short of Guadalajara, following the signs to Tala, then south on the new 4 lane Hwy 601 to join Highway 80, then southwest to Melaque (not recommended for large rigs).
Alternatively you can follow the same route via Tala and then North on Highway 80 to join toll Highway 54 D, south through Colima, on to Manzanillo, then north to Melaque. Both routes bypass Guadalajara & Manzanillo itself.
You can dial 078 from any phone, where you can find free information about tourist attractions, airports, travel agencies, car rental companies, embassies and consulates, fairs and exhibitions, hotels, hospitals, financial services, migratory and other issues.
Or dial the toll-free (in Mexico) number 01-800-006-8839.
You can also request information to the email correspondencia@sectur.gob.mx
MORE EMERGENCY NUMBERS:
General Information: 040 (not free)
National Emergency Service: 911
Radio Patrols: 066
Police (Emergency): 060
Civil Protection: +52(55)5683-2222
Anonymous Complaint: 089
Setravi (Transport Mobility): +52(55)5209-9913
Road Emergency: 074
Cruz Roja: 065 o +52(55)5557-5757
Firefighters: 068 o +52(55)5768-3700
Use these tags to read more related posts and reviews:
---
Let us know if this article was useful for you