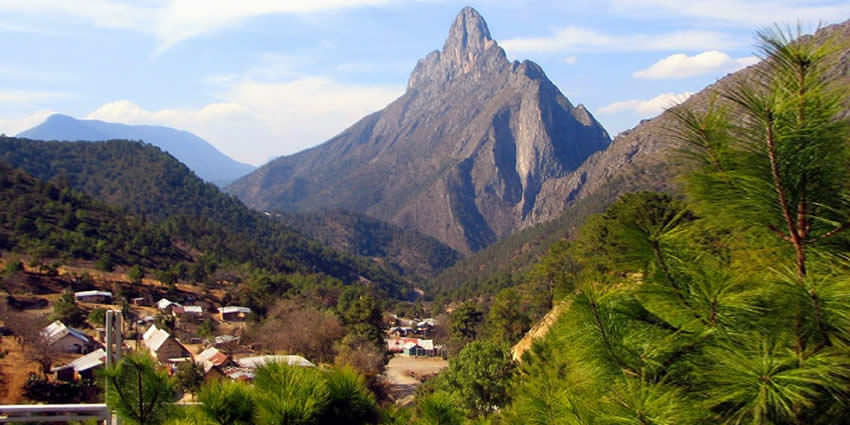 Arteaga
Arteaga is a small town located in the northeastern part of Mexico.
Situated within the state of Coahuila, it is nestled amidst the rugged Sierra Madre Oriental mountains. The close proximity to the border with the USA makes it accessible for both domestic and international travelers.
The place is characterized by its lush greenery and rolling hills, a stark contrast to the arid landscapes often associated with Mexico. This is primarily due to its elevation and the Sierra Madre Oriental's influence.
Arteaga offers a refreshing escape from the hustle and bustle of urban life. Its unique geography, temperate climate, and historical significance make it a hidden gem in the heart of the Sierra Madre Oriental.
Arteaga sits at an altitude of 1,500 m above sea level, which contributes to its temperate climate and rich flora. The town is renowned for its verdant forests and meadows, making it a haven for nature enthusiasts.
Arteaga's climate can be classified as temperate sub-humid, which means that it experiences distinct seasons.
Summers in Arteaga are generally mild and pleasant with average temperatures ranging from 18°C to 24°C, while winters are cooler but not harsh, with temperatures often staying above freezing.
Snowfall is not uncommon during the winter months, creating a serene and enchanting atmosphere.
The best time to visit Arteaga
The best time to visit Arteaga largely depends on your preferences.
Spring is ideal for those who wish to witness the region's vibrant wildflowers and blossoming trees.
Summer offers comfortable weather for outdoor activities and hiking in the surrounding mountains.
Autumn brings a symphony of warm colors as the leaves change, making it a great time for photographers and nature lovers.
Winter is perfect for experiencing the town's charming snow-covered landscapes and cozying up by a fireplace.
Arteaga welcomes travelers year-round.
The area was first inhabited by settlers from Tlaxcala in 1580, who named it San Isidro de las Palomas.
On 29 December 1866, it was renamed in honor of General José María Arteaga Magallanes. General Arteaga played a pivotal role during the Reform War in the mid-19th century, fighting for liberal and constitutional principles.
As a tribute to his contributions, the town was named Arteaga.
16th Century: Arteaga's history can be traced back to the 16th century when Spanish explorers and settlers arrived in the region. They established colonies and began to cultivate the fertile lands in the area.
19th Century: During the Mexican War of Independence (1810-1821), Arteaga and the surrounding region witnessed significant upheaval as Mexicans fought for their independence from Spanish rule.
Early 20th Century: Like many parts of Mexico, Arteaga experienced turbulence during the Mexican Revolution (1910-1920). This revolutionary period brought about social and political changes in the country.
Arteaga, Mexico, offers a variety of activities and attractions for visitors to enjoy. Whether you're an outdoor enthusiast, a history buff, or simply seeking relaxation, here are some things to do in Arteaga:
Visit the Church of Saint James (Parroquia de Santiago), a centuries-old church.
Visit the Bosque Venustiano Carranza: This beautiful forest park is a must-visit place. This park features walking trails, picnic areas, and serene ponds. It's an ideal spot for a leisurely walk or a family outing.
The Sierra Madre Oriental mountains surrounding Arteaga are a paradise for nature lovers. Hiking and trekking trails abound, offering opportunities to explore lush forests, scenic viewpoints, and pristine landscapes.
Many local stables offer guided horseback riding tours through the countryside.
Getting to Arteaga, Mexico, is relatively straightforward, as it is well-connected to several major cities and towns in the region. Here are some of the primary ways to reach Arteaga from different locations:
Saltillo is located approximately 20 km away.
Monterrey is around 200 kilometers from Arteaga.
Torreón is approximately 250 km from Arteaga.
The nearest major airport is Plan de Guadalupe International Airport (SLW) in Saltillo.
Remember to check current road conditions and traffic updates, especially during adverse weather conditions, as some routes may be affected by snow in the winter months (December – February).
Arteaga's proximity to Saltillo makes it accessible by road from many major cities in the region, ensuring that visitors can easily reach this charming town nestled in the Sierra Madre Oriental mountains.
Use these tags to read more related posts and reviews:
---
Let us know if this article was useful for you