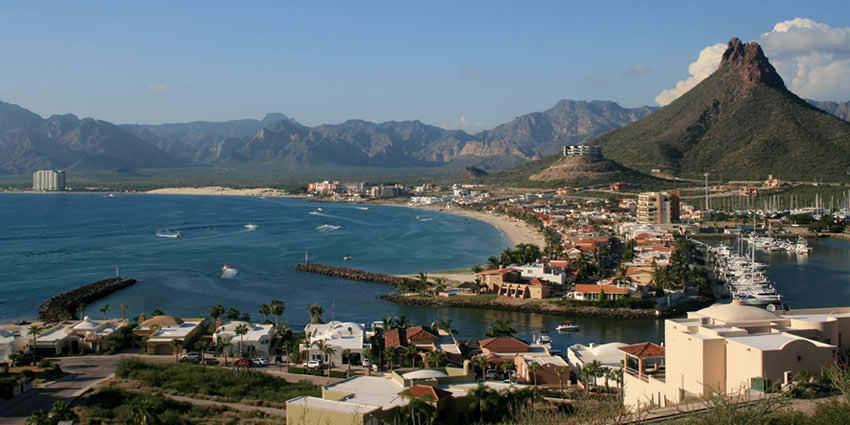 San Carlos
San Carlos is a beachfront subdivision within the port city of Guaymas, in the northern state of Sonora in Mexico. It is noted for the exceptional clarity and warmth of the ocean water in its shallow bays.
San Carlos is a beautiful place because it is an encounter of the desert with the sea, which gives life to many places to enjoy watching like the most popular local mountain called "Cerro del Tetakawi" ("Rocky Mountain").
Not only the mountain by itself is beautiful once it's formed with rocks and desertic vegetation, but it is also an excellent option for those who enjoy climbing, and enjoying the view from the mountaintop of this beautiful bay.
There are a number of RV parks. There is also a very large and active diving community. There are many opportunities to fish, scuba dive, and relax on the beach. There are also other outdoor activities like climbing.
There are also many Americans and Canadians who live in San Carlos during the winter.
San Carlos has been used for many films.
The waters of the Gulf of California in the San Carlos area offer a multitude of diving opportunities at all skill levels year-round.
Average surface temperatures are:
June–August: 29°C – 32°C and even more
September-October: 26°C – 32°C
November–March (winter months): 17°C – 21°C
April and May: 22°C – 25°C
The community of San Carlos was founded on lands that previously were a large cattle ranch known as the Baviso de Navarro, which later got divided into four parts: Los Algodones, San Carlos, El Baviso, and El Represo.
In the mid-1950s, Mr. Rafael T. Caballero purchased the Los Algodones, San Carlos, and El Baviso ranches, contracting with city planners who designed the first stages of gradual and planned tourism development.
In 1963, the State Congress made San Carlos an official part of Guaymas. They gave 27.746 sq km of land from El Baviso. In 1973, more land from San Carlos and Los Algodones was added, making a total of 49.79 sq km for the community.
There are beautiful sand beaches, kayaking, and offshore fishing.
This place is spectacular for diving and snorkeling. Underwater visibility of over 30 m is very common in these places. Sometimes visibility even exceeds 61 m as is often the case at San Pedro Nolasco Island.
For the boater, two marinas are available with paved launch ramps, dry storage facilities, complete marine repair and maintenance services, fuel docks, and reasonable rates for slip rental.
Popular dive sites:
San Pedro Nolasco Island
Martini Cove
Catalina Island
Double Point
Eagle Rock
The Three Marias
Cautin
Frenchie's Cove
Lalo Cove
Zorro Cove
San Antonio Point
Kevin's Rock
Emerald Bay
Painted Rocks
San Luis Island
Deer Island
Window Rock
Sea Mount
San Nicolas Island
Honeymoon Island
San Carlos is about a 6-hour drive from the USA along the Mexican Interstate Highway 15.
San Carlos is only a 400 km or 4-hour drive from Nogales (Arizona) on Mexico Highway 15.
Use these tags to read more related posts and reviews:
---
Let us know if this article was useful for you