Bacalar Lagoon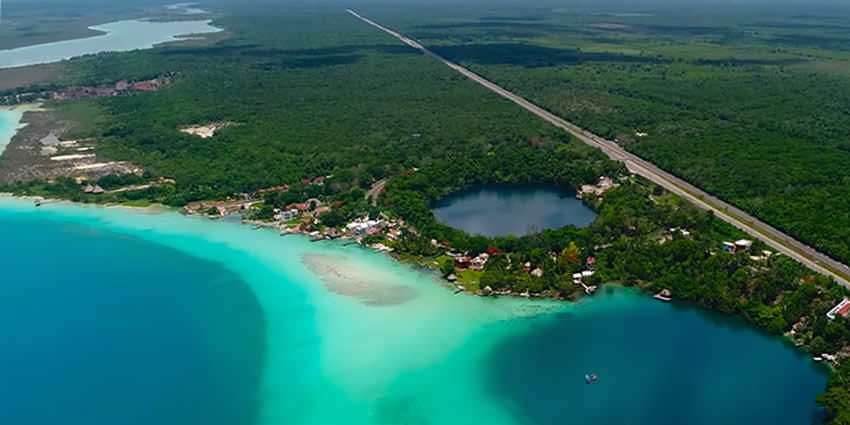 Bacalar Lagoon (Laguna de Bacalar), the Yucatan peninsula's largest lagoon, comes as a surprise in this region of the scrubby jungle.
The history of Bacalar is interesting, to say the least. It was inhabited by Mayans for centuries.
The name Bacalar means "surrounded by reeds" in the Mayan language. Trails around the lagoon were lined with white seashells because the inhabitants would walk at night when it was cooler and the shells would mark the trails.
Bacalar Lagoon is the second-largest natural body of fresh water in Mexico after Lake Chapala. This is a freshwater lake fed by underground cenotes, but it does look like the ocean.
The lake is about 55 km (34 miles) from tip to tip and 2 km at its widest point.
Bacalar Lagoon has more shades of blue than your wildest dreams could ever visualize. The lagoon is called the Lake of Seven Colors because of the white sandy bottom that gives the effect of having so many shades of blue.
The lake is renowned for its striking blue color and water clarity, partly the result of having a white limestone bottom. Like most bodies of water in the Yucatán peninsula, the lake is fed by underground rivers, whose regular open pools are cenotes.
Because of the porous limestone, the Yucatan peninsula has almost no lakes, this is by far the largest and fed by the 450 km underground river that is part of the world's largest subterranean water cave/tunnel system, paralleling the coast.
It contains a huge population of the oldest life on the planet, the cauliflower-like stromatolites that only still exist in a few locations.
It should be noted that the bottom can be soft and can feel a little mushy in places. Other places are sandier and of course, the water is beautiful!
In November 2015, Mexico's federal environmental protection agency issued a pollution alert for Lake Bacalar as a result of illegal dumping and inadequate wastewater treatment.
Bacalar Lagoon is the place to go if you just want to chill out and relax or make a snorkel, take boat or kayak trips, camping, or stand up paddleboarding at sunrise.
You can dial 078 from any phone, where you can find free information about tourist attractions, airports, travel agencies, car rental companies, embassies and consulates, fairs and exhibitions, hotels, hospitals, financial services, migratory and other issues.
Or dial the toll-free (in Mexico) number 01-800-006-8839.
You can also request information the email correspondencia@sectur.gob.mx
MORE EMERGENCY NUMBERS:
General Information: 040 (not free)
National Emergency Service: 911
Radio Patrols: 066
Police (Emergency): 060
Civil Protection: +52(55)5683-2222
Anonymous Complaint: 089
Setravi (Transport Mobility): +52(55)5209-9913
Road Emergency: 074
Cruz Roja: 065 o +52(55)5557-5757
Firefighters: 068 o +52(55)5768-3700
Use these tags to read more related posts and reviews:
---
Let us know if this article was useful for you