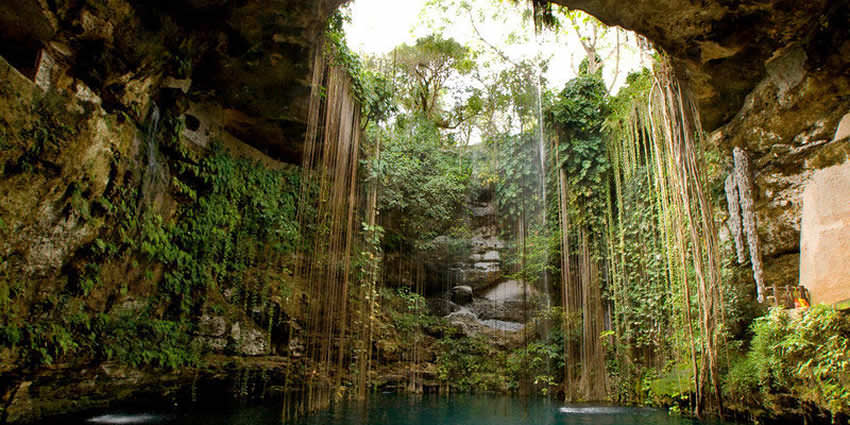 The most beautiful cenotes around Tulum
Riviera Maya is one of the most popular and touristic regions of Mexico. Here you can find the famous tourist centers such as Cancun, Tulum, and Playa del Carmen and also the diving paradise, the island of Cozumel is part of Quintana Roo.
Tulum is an important pre-Columbian Mayan city that is only an hour and a half from Cancun and just over half an hour from Playa del Carmen.
Tulum is a very young municipality. It has been formed only about 10 years ago. It was a very quiet town. The few tourists who came to this area were looking for the beautiful turquoise sea, its quiet beaches, and spectacular sunrises.
Tulum is a town on the Caribbean coast of the Yucatan peninsula.
Tulum is known for its well-preserved ruins of an ancient Mayan port city. The main building of Tulum is a large stone structure called El Castillo, which sits on a rocky cliff that ends on a white sand beach that overlooks the turquoise sea.
The fresh underground waters of a good part of the Yucatan Peninsula flow to the Caribbean coast of the Riviera Maya. This circumstance, together with the mixture of fresh and saltwater, means that the vast majority of cenotes are opened here.
Tulum is surrounded by a coastal area with mangroves and beautiful cenotes. These beautiful underground caves offer pristine water and scenery you will never forget. The tourist cenotes of Riviera Maya are almost all suitable for swimming and diving.
If you want an extraordinary snorkeling experience, it will be very difficult to find something more interesting than a cenote. Many cenotes are ideal for snorkeling due to their calm, cool waters and great visibility.
Sometimes outdoors, sometimes hidden in incredible rock formations, the cenotes are beautiful waterholes that became a must-see in Mexico. With some 10,000 cenotes in the Yucatan Peninsula, it is literally impossible to see them all!
The word cenote comes from the Mayan word "dzonoot" ("a hole with water"). Cenotes are natural freshwater wells, some open, like pools surrounded by vegetation, and others closed in underground caves.
Cenotes were sacred to the ancient Mayans and today they are one of the biggest tourist attractions in Tulum and the entire Yucatan Peninsula. Some cenotes are very touristy, with facilities for the whole family, others are very little known and wilder.
Gran Cenote is a cave with an open part, the water is transparent, with a sandy bottom, and some turtles. This cenote is a great place for diving as it is connected to one of the largest cave systems in the world, many of which are partially submerged.
Aktun-Ha cenote was nicknamed Carwash because before it was discovered there was a car wash very close to that place. This is a beautiful semi-open and not very crowded cenote. The diving area is 5 m deep, with stalactites, aquatic plants, various fish, and freshwater turtles. The cenote is connected by an underground network with the Zacil Ha cenote.
Zacil-Ha means "clear water" in Mayan and it is a magnificent natural pool that they transformed into a small eco-tourism complex. Visitors can swim, snorkel and even dive in «Las Lagrimas», a cave 8 to 35 m deep that connects with the Carwash cenote and the Calavera cenote. There is even a little zip line in this place!
Cenote Calavera owes its name to its access that is made by 3 holes in the ground that (with a little imagination) form the 2 eyes and the mouth of a skull. The most fun is jumping directly into the water, as it is deep enough to do it safely, but there is also a ladder if you prefer to enter more calmly. Once in the water, look at the ceiling and you will see bats.
Cenote Tankah is a very quiet little cenote, it is located in the jungle, just 50 meters from the beach. Here you can spend a half-day or a day on a beautiful Caribbean beach with all the services of the beach club (restaurant, sunbeds, etc.) and also enjoy the freshwater cenote.
Casa Cenote, also known as Cenote Manatí, is located near the sea, between Tulum and Playa del Carmen. It is so large that it looks like a clear lake where you can swim, snorkel, and even kayak. This is one of the best cenotes for snorkeling in Tulum because the space is quite wide and you can do the whole tour in half an hour.
Almost in front of the cenote, there is access to the beach and a restaurant with sea views: it can be a good option after swimming!
Cenote Dos Ojos is the best-known cenote in Tulum along with the Gran Cenote. It is called "Dos Ojos" because they are two cenotes 70 meters in diameter joined by a large underground cavern. The first cenote is perfect for swimming and diving in crystal clear water, the second is more mysterious surrounded by stalactites and stalagmites.
When the water level is high enough, it is possible to take a 400 m corridor to reach the bat cave: impressive! It is now known that the Dos Ojos system is linked to the Sac Actún system, forming the largest flooded cave in the world at 347 km.
Cenote Nicte-Ha is definitely one of the best cenotes in Tulum because it is wild and with very few tourists. It is a relatively small cenote, lined with tree roots and rocks, with perfectly transparent water, water lilies, fish, and turtles, and a bottom covered with aquatic plants.
It offers the opportunity to live the experience of a cenote in the middle of nature with peace and tranquility so difficult to find in the Riviera Maya. And yet it is located in Dos Ojos Park, very close to the popular Dos Ojos cenote.
Cenote Taak Bi Ha (sometimes misspelled Tak Be Ha) is another cenote in Tulum that is not very touristy, run by a local community of 7 families. It is a beautiful cenote in a submerged cave with many stalagmites, stalactites, roots, skylights, and clear water.
Sac Actun is one of the most beautiful cenotes in Mexico with its caves, its transparent waters, and its numerous rock formations. It is also called "Pet Cemetery" because of the large number of animal bones found, probably as a result of Mayan rituals. In fact, Sac Actún is home to several cenotes that are part of the world's largest underwater cave system in the world.
Cenote El Pit is the deepest cenote known in this region (130 m) and one of the most beautiful cenotes to dive in Yucatan! The cenote El Pit is located in a cave and you have to go down some vertical stairs that go down to the water level.
In the first immersion zone, you have to cross a layer of hydrogen sulfate, and then, going up, you will find the entrance to two caves, one of which leads to the Dos Ojos cenote. Higher up, you can see numerous geological formations and the magnificent spectacle of light rays passing through the water.
Cenote Encantado is not very well known because it is located at the end of the Tulum hotel zone, just before the Sian Ka'an reserve. Actually, it is a fairly large lake with fresh water (5 to 10 m deep) surrounded by mangroves where you can see iguanas, crabs, and even raccoons. You can swim, snorkel (bring your own gear) and rent a kayak. There is not much space to sit around the cenote, but there is a small tower with a dock.
Cenote Cristal, also known as Cenote Naharon, and Cenote Escondido are two exterior cenotes, located opposite each other and accessible with the same entrance ticket. Both cenotes are surrounded by abundant vegetation with clear waters, perfect for swimming and snorkeling. Cenote Cristal is a bit more touristy because it has several spaces for sunbathing, hammocks, a table, and a 2-meter platform to jump into the water.
Cenotes of Cobá are several cenotes near the famous archaeological site of Cobá. These cenotes are located in underground caves and each one offers a different experience:
Choo-Ha is the easiest to access, with shallow water.
Tamcach-Ha is like a large natural pool with 2 jumping platforms (5m and 10 m). It is also the most touristy.
Multun-Ha (sometimes written Multum-Ha) is the most difficult to access, but the best for snorkeling, since the water is perfectly transparent.
Cenote Azul is a beautiful place with trails that lead to different sources of water. There are 3 natural pools, the first two are shallow. You can swim and snorkel in the pools to observe the rocks, plants, and fish.
There is also a place where you can jump into the water from a height of 5 meters. A bit of adrenaline, in complete safety. The Cenote Azul is also close to Playa del Carmen, and a step away from the Jardin del Edén and Cristalino cenotes, Xpu-Ha beach and Akumal.
The most expensive cenote is not always the best: there are cheap and very beautiful cenotes, managed by communities that do not have the means to promote them.
In general, you have to pay in cash at the cenotes. Calculate your budget for the cenotes before you go and keep in mind that the rental of equipment is not included in the price of the entrance (for example, diving, life jackets).
Although the closing time is 17:30 or 18:00, most of the cenotes do not allow access after 16:00.
When you go to a cenote by public transport, always remind the driver to stop, as it is never the final destination.
What to bring to the cenotes: Aquashoes! Water shoes will be very useful as there are often stones. This is definitely the best purchase I made in Mexico.
Use these tags to read more related posts and reviews:
---
Let us know if this article was useful for you