Best snorkeling places in Mexico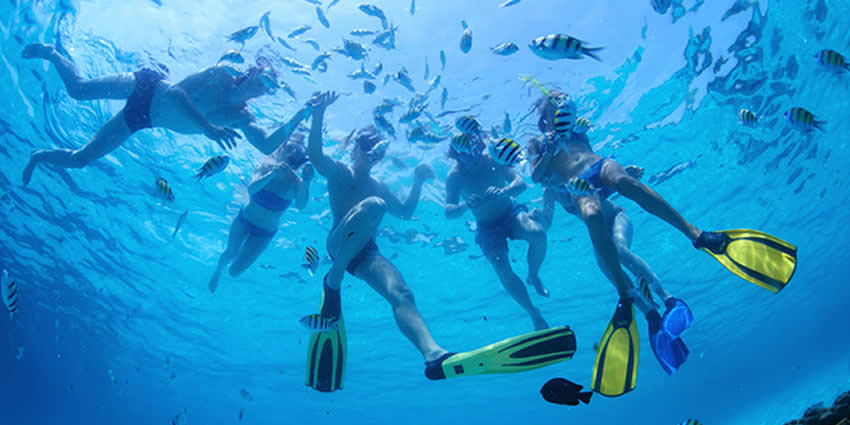 Snorkeling and Scuba diving are some of the most popular activities to enjoy in Mexico's beach destinations. Mexico's coastlines are teeming with colorful underwater life and no doubt you'll want to see it for yourself.
Scuba diving requires special training and complicated equipment, but just about anyone can snorkel without any particular preparation—if you choose an easy spot, you don't even really need to know how to swim. You're bound to spot some interesting fish and other sea creatures and you may get a whole new concept of what's going on under the surface of the water.
Scuba diving is a mode of underwater diving where the diver uses a self-contained underwater breathing apparatus (scuba) which is completely independent of surface supply, to breathe underwater.
Scuba diving may be done recreationally or professionally in a number of applications, including scientific, military and public safety roles, but most commercial diving uses surface-supplied diving equipment when this is practicable. Scuba divers engaged in armed forces covert operations may be referred to as frogmen, combat divers or attack swimmers.
A scuba diver primarily moves underwater by using fins attached to the feet, but external propulsion can be provided by a diver propulsion vehicle, or a sled pulled from the surface.
Other equipment includes a mask to improve underwater vision, exposure protection, equipment to control buoyancy, and equipment related to the specific circumstances and purpose of the dive. Some scuba divers use a snorkel when swimming on the surface.
Mexico has many destinations where you'll find excellent snorkeling conditions but read on to learn about some of the very best spots in the country to enjoy the sea life under the surface.
Cozumel is a year-round scuba diving destination in Mexico's Caribbean coast, known for its easy drift dives with stellar visibility, vibrantly colored sponges, and marine life like turtles, nurse sharks, and rays.
The Cozumel diving scene is also known for its assortment of well-run dive resorts, from budget to luxury. Boasting great nightlife and an endless list of things to do, Cozumel is a popular travel destination for scuba divers and non-divers alike.
That said, Cozumel might it might not be the best diving spot for divers who prefer quiet off-the-beaten-path locations. Cozumel could get really crowded during the high season which typically runs from November to April.
Use these tags to read more related posts and reviews:
---
Let us know if this article was useful for you