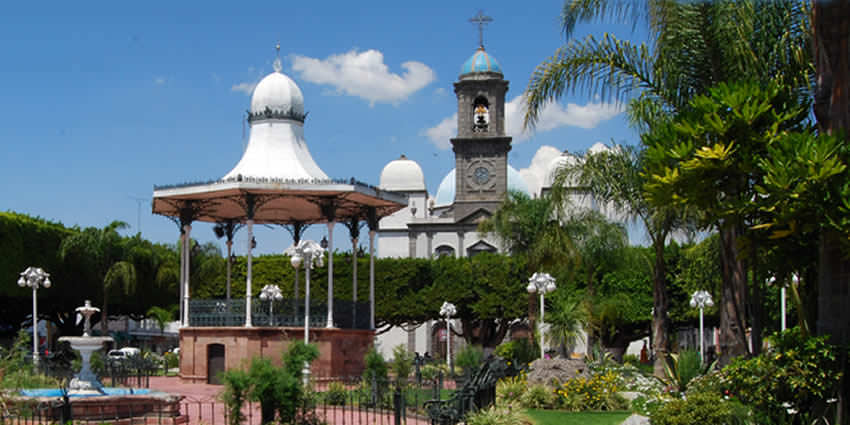 Acámbaro
Acámbaro is a city and municipality in the southeastern corner of the Mexican state of Guanajuato, on the banks of the Lerma River. It is a small town with serene tree-filled squares and a vast and original architectural heritage.
It was the first village founded in the state of Guanajuato.
Acámbaro is the oldest of the 46 municipalities of Guanajuato and it covers an area of 867.67 sq km and includes many small outlying communities, the largest of which are Iramuco and Parácuaro.
The population of the municipality is 101,762 persons, and that of the city proper is 55,082 (2005 census).
Worth visiting the impressive Templo y Convento de San Francisco and the famous Fuente Taurina (Bullfighting Fountain), located in Hidalgo Square. The Aqueduct, popular amongst photographers, and the 9-arches Stone Bridge were built in 1528.
Also worth walking up the Hill of the Bull, which dominates the city of Acambaro, to be rewarded with a fantastic panoramic view over the city as well as the whole valley.
Acámbaro is noted as a major railway junction, a local transport hub, and the origin of the nationally famous Acámbaro bread.
The city was founded with the name San Francisco de Acámbaro.
The word Acámbaro is derived from a Native American term meaning "place of magueyes".
The first inhabitants of this area belonged to the Chupicuaro culture, one of the oldest in Mesoamerica.
Their origin is estimated to be from 1200 B.C. In this region, there have been valuable archaeological finds of ceramic of incredible beauty that are now exhibited at the local museum.
The city was founded on September 19, 1526, by the cacique Don Nicolás de San Luis Montañés, with the name San Francisco de Acámbaro. It was the first Spanish town in what is now the state of Guanajuato.
The evangelization process was undertaken by Franciscan friars, who also constructed splendid structures that remain standing today, such as the Templo del Hospital (Hospital Temple), an aqueduct in the Mudéjar style (1527), and a stone bridge over the River Lerma (1750).
The first bullfights on the soil of New Spain were held in Acámbaro, and the Fuente Taurina fountain in the city's plaza commemorates the introduction of the sport to Mexico.
It is also a unique city in Mexico with a colonial-origin fountain dedicated to bullfighting.
Acámbaro is the only city in Mexico that had a fully intact colonial-era aqueduct until recent times, as it has been destroyed with the construction of houses and streets in Colonia San Isidro.
The 18th century brought prosperity to Acámbaro. During that time important religious and public buildings were constructed. Beautiful temples, bridges, and particular houses were left as remnants of the city's colonial architecture.
An important event in the history of Mexican independence took place in Acámbaro.
Don Miguel Hidalgo stayed there on October 22, 1810, and brought a ceremony that declared Acámbaro military quarters for the Ejército Grande de América (Grand Army of America).
Hidalgo was given the title of Generalísimo de las Américas (Grand General of the Americas).
That same day, a parade of eighty thousand insurgents took place, that demonstrated the speed of growth of the movement: one month prior on September 16 just 800 men responded to the Grito de Dolores and raised arms against the Spanish in Dolores Hidalgo.
Because of its strategic location, Acámbaro was the key to the development of the railway in Mexico and had a major junction, yard, and shop facility for the National Railways of Mexico (The rail lines are now owned by Kansas City Southern de Mexico).
Acámbaro was the home of the only full-scale locomotive repair facility in Latin America that was capable of constructing steam locomotives.
In 1944 Acámbaro's mechanical workshop built La Fidelita 296, a steam engine that is a symbol of a time in the history of the Acambarense society. La Fidelita is now on display as the cornerstone exhibit of Acámbaro's railway museum.
Another souvenir of Acámbaro's age of steam is a large model locomotive on an elevated platform in the center of a major highway intersection east of the city.
The model engine was originally intended to be placed in a church as thanks by railway workers to the Virgen del Refugio (patron saint of the city) for bringing prosperity and jobs to Acámbaro.
However, the model would not fit through the doorway of the church.
Consequently, it was decided to mount the model outdoors.
Visit the magic town of Acámbaro with its unique churches and architecture. Explore Acámbaro's streets and enjoy the atmosphere.
Bullfighting Fountain ("La Fuente Taurina") or Pila del Aguila is famous for its bullfighting paintings and was built to commemorate the first bullfight celebrated in New Spain during the 16th century.
Templo del Hospital dates back to the 16th century.
Templo de Guadalupe dates back to the 18th century.
Templo de San Francisco dates back to the 18th century.
El Acueducto ("The Aqueduct"), whose arcs are different among themselves.
El Paseo de la toma de Agua is a beautiful ravine where we find arcs and roofs at its bottom.
To the north of Acambaro worth visiting:
The archaeological site of Chupicuaro
The Solis Dam
The Cuitzeo Lagoon
Obrajuelo – a town located 15 km from Acámbaro, on the slopes of the Celaya-Acámbaro highway
Agua Caliente Spas with thermal waters
Museo Waldemar Julsrud
Acámbaro has been notable as a point of controversy in the field of archeology as the source of the Acámbaro figures, a collection of about 32,000 clay figurines discovered by German archaeologist Waldemar Julsrud in 1944 near the city's most prominent landmark, the Cerro del Toro (Bull Hill).
The figures are claimed to be hoaxes, as some of the figurines resembled dinosaurs (thus implying that man and dinosaurs co-existed) and their discovery is used by some as evidence to support creationism.
Many of the Julsrud finds are now on display at the Museo Waldemar Julsrud.
Museo de Chupícuaro
Less controversial archeological artifacts are on display at the Museo de Chupícuaro (also known as Museo Fray Bernardo Padilla), documenting the history of the Chupícuaro people, and the Museo Local de Acámbaro, which has over 4000 relics relating to local Mesoamerican cultures.
The Museo Local also contains paintings related to colonial Mexico and the War of Independence.
The Acámbaro figures are about 33,000 small ceramic figurines allegedly found by Waldemar Julsrud in July 1944, in the Mexican city of Acámbaro, Guanajuato.
The figurines are said by some to resemble dinosaurs and are sometimes cited as anachronisms. Some young Earth creationists have adduced the existence of figurines as credible evidence for the coexistence of dinosaurs and humans, in an attempt to cast doubt on scientific dating methods and potentially offer support for a literal interpretation of the Genesis creation narrative.
However, there is no known reliable evidence for the validity of the Acámbaro figures as actual ancient artifacts; and many have questioned the motives of those who argue for their validity.
History
The Acámbaro figures were uncovered by a German immigrant and hardware merchant named Waldemar Julsrud.
According to Dennis Swift, a young Earth creationist and major proponent of the figures, Julsrud stumbled upon the figures while riding his horse and hired a local farmer to dig up the remaining figures, paying him for each figure he brought back.
Eventually, the farmer and his assistants brought him over 32,000 figures which included representations of everything from the supposed dinosaurs to peoples from all over the world including Egyptians, Sumerians, and "bearded Caucasians".
The figures attracted little attention from scholars and scientists, and when Julsrud began to assert that they were accurate representations of dinosaurs created by an ancient society, he only alienated himself further from serious scientific investigation.
Tabloids and popular media sources covered the story, however, and the figures steadily became somewhat famous.
Archaeologist Charles C. Di Peso was working for the Amerind Foundation, an anthropological organization dedicated to preserving Native American culture. Di Peso examined the figures and determined that they were not authentic, and had instead been produced by local modern-day farmers.
He concluded that the figurines were indeed fakes: their surfaces displayed no signs of age; no dirt was packed into their crevices; and though some figurines were broken, no pieces were missing and no broken surfaces were worn.
Furthermore, the excavation's stratigraphy clearly showed that the artifacts were placed in a recently dug hole filled with a mixture of the surrounding archaeological layers.
Di Peso also learned that a local family had been making and selling these figurines to Julsrud for a peso apiece since 1944, presumably inspired by films shown at Acámbaro's cinema, locally available comic books and newspapers, and accessible day trips to Mexico City's Museo Nacional.
Others, however, argued that Di Peso could not have conducted a thorough investigation in the four hours he spent at Julsrud's home. Charles Hapgood, the pioneer of pole shift theory, became one of the figures' most high-profile and devout supporters.
Other supporters included Earle Stanley Gardner, the prolific novelist, and creator of the character Perry Mason, who came to Julsrud's defense, claiming that the 32,000 figures could not possibly have been produced by a single person or group of people and that the figures were not a hoax.
The figures continue to draw attention in the present day. They have been cited in some pseudoscientific books such as Atlantis Rising by David Lewis.
Another young Earth creationist, Don Patton, has emerged as one of their staunchest supporters. He has proposed some new lines of evidence, including the figure's resemblance to the dinosaurs depicted in Robert Bakker's book, Dinosaur Heresies.
Dating
Attempts have been made to date the figures using thermoluminescence (TL) dating. The earliest results, from tests done when TL dating was in its infancy, suggested a date around 2500 BC.
However, later tests contradicted these findings.
In 1976, Gary W. Carriveau and Mark C. Han attempted to date twenty Acámbaro figures using TL dating. They found that the figures had been fired at temperatures between 450 °C and 650 °C, which contradicted claims that these figures had been fired at temperatures too low for them to be accurately dated.
However, all of the samples failed the "plateau test", which indicated that dates obtained for the Acámbaro figures using standard high-temperature TL dating techniques were unreliable and lacked any chronological significance.
Based on the degree of signal regeneration found in remeasured samples, they estimated that the figures tested had been fired approximately 30 years prior to 1969.
Pan de Acámbaro (Acambaro bread), Acámbaro's most famous culinary export, is a bakery product similar to Jewish Challah (it is supposed that the similarity is not coincidental).
The largest of the six city bakeries devoted to the production of Pan de Acámbaro is Tio Sams (Uncle Sam's), which claims credit for its invention.
From Mexico City
Buses from Mexico City to Maravatio: $15-$16 (2:30/2:50 hours) run just 3 times a day.
Then taxi from Maravatio to Acambaro $35-$45 (0:36 min).
Buses from Mexico City to Acambaro: $8-$17 (2:30/2:50 hours) run every 30 min.
Taxi or car from Mexico City to Acambaro takes just 2:45 hours.
From Morelia
Buses from Morelia to Acambaro: $3-$5 (1:30 hours) run hourly a day.
From Morelia to Acambaro in taxi: $70-$85 (0:55 min).
From Queretaro
Buses from Queretaro to Amealco: $2-$4 (0:50 min) run hourly.
Buses from Amealco to Acambaro: $3-$5 (1:35 hours) run every 30 min.
Then taxi from Queretaro to Acambaro is $90-$110 (1:30 hours).
More buses
Salamanca – Acambaro just via Morelia or Queretaro
Patzcuaro – Acambaro just via Morelia
San Miguel de Allende – Acambaro just via Queretaro
Here could be your advertisement.
Contact us for more information.
Here could be your advertisement.
Contact us for more information.
You can dial 078 from any phone, where you can find free information about tourist attractions, airports, travel agencies, car rental companies, embassies and consulates, fairs and exhibitions, hotels, hospitals, financial services, migratory and other issues.
Or dial the toll-free (in Mexico) number 01-800-006-8839.
You can also request information the email correspondencia@sectur.gob.mx
MORE EMERGENCY NUMBERS:
General Information: 040 (not free)
National Emergency Service: 911
Radio Patrols: 066
Police (Emergency): 060
Civil Protection: +52(55)5683-2222
Anonymous Complaint: 089
Setravi (Transport Mobility): +52(55)5209-9913
Road Emergency: 074
Cruz Roja: 065 o +52(55)5557-5757
Firefighters: 068 o +52(55)5768-3700
Use these tags to read more related posts and reviews:
---
Let us know if this article was useful for you