San Marcos Fair in Aguascalientes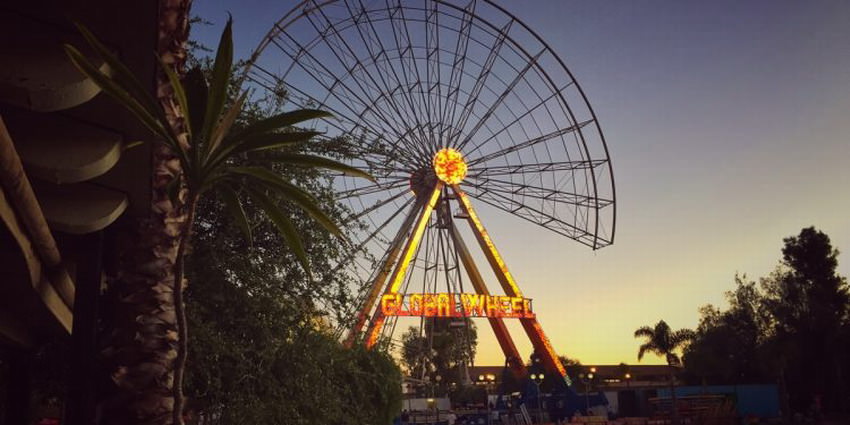 The colonial city of Aguascalientes in the heart of Mexico's colonial heartland is host to the country's largest fair—Feria Nacional de San Marcos.
The annual event starts in April and lasts for about three weeks. Precise dates vary each year and you can get this year's program details on the event's official website.
Although the fair is not as internationally-renowned as the Guelaguetza in Oaxaca or the Festival Cervantino in Guanajuato, the event attracts several million people and is a major regional attraction.
Over 1,500 events take place at the Feria de San Marcos each year, most of them are free to attend and include music and theatrical performances, sporting events, culinary competitions, fashion shows, fairground rides, and a cornucopia of markets, and a wide assortment of children's activities.
The fair has also become a venue for contemporary Mexican music.
A notable feature of the fair is the country's only walk-in casino, made legal by a special 'local permit' which enables the casino to operate for a fixed and limited time each year.
This permit enables a gambling hall to be set up exclusively for the fair and offers people aged eighteen years and over a chance to try their luck at the roulette wheel, and on tables offering card games including Black Jack, Poker, and Baccarat.
The fair is also the city's most important cultural and business event. Factories close and something akin to a major 'local-national holiday' takes place in Aguascalientes.
In addition to the cultural and leisure events, the fair also hosts a major business expo, giving local businesses the opportunity to showcase their work and expertise.
Aguascalientes is one of Mexico's true commercial and industrial success stories of recent decades, as the city has transformed itself from a rather sleepy colonial through-town into one of the country's most productive commercial and industrial centers.
The first fair took place in October and November of 1828 when it was a harvest fair—showcasing the state's rich produce and livestock.
In 1842, the church donated a large plot of land which was transformed into a park, the Jardin de San Marcos, from which the present-day fair takes its name, and the fair's dates were changed to the spring, to include April 25th, St Mark's Day in Mexico.
Later, in 1896, the San Marcos bull ring (pictured above) was built, and bullfights began to be included on the list of events.
President Adolfo Lopez Mateos advanced the fair's fortunes by officially elevating it to 'National' status in 1958; which set the groundwork for the fair to evolve into its present-day form.
The monumental Plaza de San Marcos was added in 1992, a venue with a seating capacity of 15,000 guests.
During the fair dates, domestic flights, and buses to Aguascalientes fill up, and you'll need to book your hotel in advance, especially if you want to stay at one of the better places in town.
If you find the hotels are full, you might try searching for the shared accommodation marketplaces where you can find and book short-term room rentals in private homes.
Use these tags to read more related posts and reviews:
---
Let us know if this article was useful for you